Doc­tors across the coun­try are hear­ing more and more com­plaints about dis­eases we typ­ic­ally as­so­ci­ate with his­tory books or sud­den, pixelated deaths on The Ore­gon Trail. Measles, a dis­ease that was es­sen­tially erad­ic­ated in the United States in 2000, is spread­ing, with 288 cases rep­res­ent­ing 15 sep­ar­ate out­breaks re­por­ted na­tion­wide just in the first five months of this year. That's a 20-year high. Mean­while, pertussis, or whoop­ing cough, cases are up 24 per­cent over last year.
And the Cen­ters for Dis­ease Con­trol and Pre­ven­tion is pin­ning the blame on par­ents who won't vac­cin­ate their chil­dren.
The United States elim­in­ated measles in 2000 (mean­ing that the coun­try stopped ex­per­i­en­cing home-grown measles out­breaks) thanks in large part to the pop­ular­ity of the measles, mumps and ru­bella vac­cine, known as MMR. Pertussis has been much more dif­fi­cult to erad­ic­ate, al­though the vac­cine is also a re­quire­ment for entry to most schools.
But as the num­ber of people in the United States who re­quest ex­emp­tions to avoid vac­cin­at­ing their chil­dren for either re­li­gious or philo­soph­ic­al reas­ons con­tin­ues to grow, the num­ber of people who are at risk of con­tract­ing measles and pertussis is in­creas­ing along with it.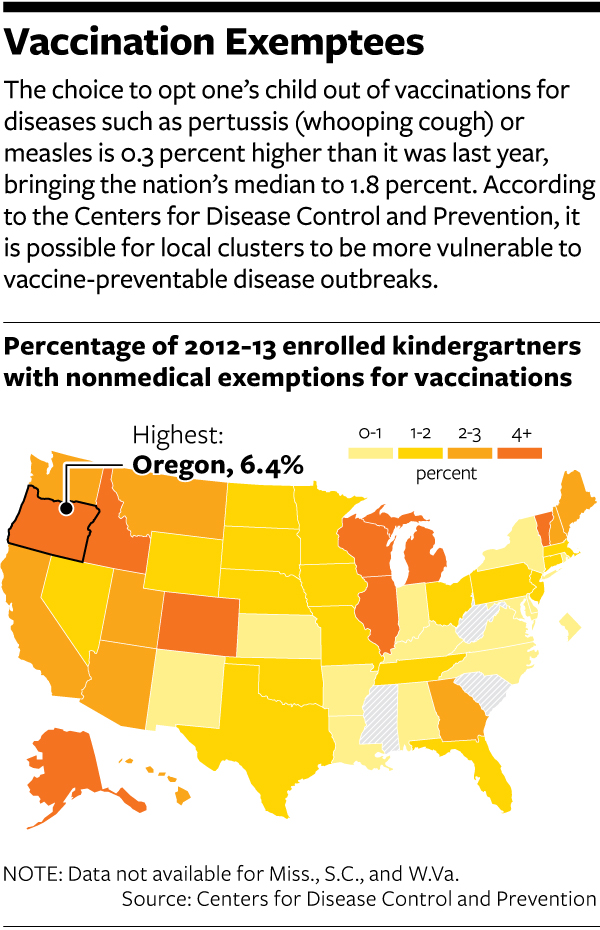 And that trend is ex­pec­ted to con­tin­ue through the year. As Amer­ic­ans travel abroad, par­tic­u­larly those who are un­vac­cin­ated, the chances of their bring­ing measles or pertussis back with them are ex­tremely high. "We haven't yet be­gun the spring and sum­mer travel sea­sons, which is when we usu­ally have a lot of [measles] cases here in the U.S," Dr. Anne Schuchat, the dir­ect­or of CDC's Na­tion­al Cen­ter for Im­mun­iz­a­tion and Res­pir­at­ory Dis­eases, warned in a con­fer­ence call with re­port­ers last week.
Measles is wildly con­ta­gious, with the al­most cer­tainty that any un­vac­cin­ated per­son who is ex­posed to the dis­ease will con­tract it. Just look to Vir­gin­ia, where one in­fec­ted child's pub­lic sched­ule over an eight-day peri­od has put the en­tire Vir­gin­ia-Mary­land-D.C. area on alert. "If you or your fam­ily haven't been vac­cin­ated and you en­counter the measles vir­us, they will get sick," Schuchat said.
Nearly half of the measles cases so far this year have oc­curred in Ohio, where 138 in­di­vidu­als have re­por­ted con­tract­ing the dis­ease. Al­though the state has a re­l­at­ively high num­ber of vac­cin­ated people, the out­break has been sweep­ing through the state for months be­cause of a few isol­ated but large pock­ets of un­vac­cin­ated in­di­vidu­als.
The out­break began last Oc­to­ber when a group of Amish men traveled to the Phil­ip­pines (which is ex­per­i­en­cing a massive out­break af­fect­ing at least 32,000 people) on a mis­sion trip and brought the dis­ease back with them. Be­cause most Amish com­munit­ies don't be­lieve in vac­cin­a­tion, measles is spread­ing from one to the next. But it's not just the Amish who are suf­fer­ing.
One of the ma­jor be­ne­fits of vac­cin­a­tion is what's called "herd im­munity." When the vast ma­jor­ity of the people in a giv­en com­munity are vac­cin­ated, the chances of those who can­not be vac­cin­ated of get­ting a par­tic­u­lar dis­ease goes down drastic­ally. When a great­er pro­por­tion of a com­munity isn't vac­cin­ated, say in an Amish com­munity or a neigh­bor­hood of par­ents who buy in­to the anti-sci­entif­ic claims of a link between vac­cin­a­tions and child­hood aut­ism, the chances of the dis­ease spread­ing to those who can­not be vac­cin­ated grow.
A small, but sig­ni­fic­ant por­tion of the U.S. pop­u­la­tion can­not be vac­cin­ated either be­cause they are too young, they're al­ler­gic to the vac­cine or a com­pon­ent of it (latex, eggs, etc.), they are preg­nant, or be­cause they have can­cer, HIV, or an­oth­er im­mun­ode­fi­ciency.
Measles is dan­ger­ous, par­tic­u­larly for those with preex­ist­ing med­ic­al con­di­tions. Fif­teen per­cent of people who have con­trac­ted measles this year have wound up in the hos­pit­al, ac­cord­ing to the CDC. For those who have, pneu­mo­nia has been the most com­mon com­plic­a­tion. So far, there are no re­por­ted deaths.
Measles is also one of the more deadly dis­eases for chil­dren, par­tic­u­larly for kids who are too young to be vac­cin­ated. Typ­ic­ally, doc­tors sug­gest that chil­dren get their first measles vac­cine at 12-15 months and the second dosage be­fore en­ter­ing school, around 4-6 years of age. Among the un­vac­cin­ated, roughly 6 per­cent of cases re­por­ted this year oc­curred in chil­dren too young to be vac­cin­ated, while an­oth­er 17 per­cent af­flic­ted chil­dren un­der the age of 4, who are too young to have re­ceived both doses, ac­cord­ing to the CDC.
Ninety per­cent of measles cases so far this year have af­fected those who are un­vac­cin­ated or in­di­vidu­als who were un­sure of their vac­cin­a­tion status, ac­cord­ing to Schuchat.
In­cid­ences of whoop­ing cough are also grow­ing. Already this year, 8,521 cases have been re­por­ted, with most of them in Cali­for­nia, Ohio, and Texas. That rep­res­ents nearly a 50 per­cent in­crease from April, when the CDC an­nounced that pertussis cases had ris­en 24 per­cent over the same peri­od in 2013.
Like measles, pertussis can lead to pneu­mo­nia and can be deadly in ba­bies. Be­cause the dis­ease is highly con­ta­gious, those who are not vac­cin­ated can eas­ily pass it on to in­fants and to oth­er un­vac­cin­ated in­di­vidu­als.
Over­all, Schuchat said the coun­try is do­ing re­l­at­ively well in vac­cin­at­ing chil­dren. Ninety-nine per­cent of Amer­ic­an chil­dren have re­ceived at least one vac­cin­a­tion, though the num­ber of chil­dren who are fully vac­cin­ated is much smal­ler. Only 68.4 per­cent of chil­dren between 19-35 months had re­ceived a full com­bin­a­tion of vac­cin­a­tions in 2012.
The num­bers also vary by dis­ease. Between 2008 and 2012, the num­ber of chil­dren between 19-35 months old who re­ceived all four dosages of the pertussis vac­cine de­clined 2 per­cent­age points, to 82.5 per­cent. The num­bers for the MMR vac­cine were bet­ter, fall­ing only 1 per­cent­age point dur­ing the peri­od to 90.8 per­cent.
Al­though the na­tion­al av­er­age of in­di­vidu­als who have re­ques­ted non­med­ic­al ex­emp­tions for vac­cin­at­ing their chil­dren in the United States has re­mained low, there are com­munit­ies in which anti-vac­cin­a­tion sen­ti­ment is grow­ing. And that puts those who med­ic­ally can­not be vac­cin­ated, or are too young, at great­er risk.
In Ore­gon, in par­tic­u­lar, nearly 7 per­cent of kinder­gart­ners last year were not vac­cin­ated for philo­soph­ic­al and re­li­gious reas­ons. In Idaho, Michigan, and Ver­mont, more than 5 per­cent of kinder­gart­ners avoided vac­cin­a­tion for non­med­ic­al reas­ons. Out­breaks in those com­munit­ies could spread eas­ily and en­danger chil­dren across those states.
Some re­li­gious com­munit­ies, in­clud­ing the Amish, op­pose vac­cin­at­ing on ideo­lo­gic­al grounds. But there are also low-in­form­a­tion smear cam­paigns be­ing run across the coun­try en­cour­aging par­ents not to vac­cin­ate their chil­dren. Not­ably, act­ress Jenny Mc­Carthy be­came a ma­jor op­pon­ent of vac­cines, link­ing them, falsely, to her son's aut­ism in nu­mer­ous me­dia ap­pear­ances and in an ac­com­pa­ny­ing book. Her then-boy­friend, act­or Jim Car­rey, made sim­il­ar ar­gu­ments, bring­ing more celebrity to the cause.
"We know there are com­munit­ies where large num­bers of in­di­vidu­als have de­cided not to be vac­cin­ated," Schuchat said, but ad­ded that al­though a num­ber of par­ents have ob­jec­ted to vac­cin­a­tion on philo­soph­ic­al, not re­li­gious grounds, the sup­posed link between aut­ism and vac­cin­a­tion hasn't res­ul­ted in stat­ist­ic­ally sig­ni­fic­ant up­tick in un­vac­cin­ated chil­dren.
For now, the CDC is push­ing even harder for chil­dren and adults to get vac­cin­ated, and ur­ging those who aren't sure about their status to get an ad­di­tion­al vac­cine. That way, Schuchat hopes, they can con­tain the prob­lem. "This year we are break­ing re­cords for measles," she said, "and it's a wake-up call, be­cause we don't have to let this get even worse."