The State De­part­ment is or­der­ing a new route for the con­tro­ver­sial Key­stone XL pipeline, delay­ing the ad­min­is­tra­tion's de­cision un­til after the 2012 pres­id­en­tial elec­tion.
"The De­part­ment has de­term­ined it needs to un­der­take an in-depth as­sess­ment of po­ten­tial al­tern­at­ive routes in Neb­raska," the State De­part­ment said in a me­dia note on Thursday.
"It is reas­on­able to ex­pect that this pro­cess in­clud­ing a pub­lic com­ment peri­od on a sup­ple­ment to the fi­nal [En­vir­on­ment­al Im­pact State­ment] con­sist­ent with [the Na­tion­al En­vir­on­ment­al Policy Act] could be com­pleted as early as the first quarter of 2013," the an­nounce­ment said.
Pres­id­ent Obama im­me­di­ately ex­pressed his sup­port for the de­cision. "Be­cause this per­mit de­cision could af­fect the health and safety of the Amer­ic­an people as well as the en­vir­on­ment, and be­cause a num­ber of con­cerns have been raised through a pub­lic pro­cess, we should take the time to en­sure that all ques­tions are prop­erly ad­dressed and all the po­ten­tial im­pacts are prop­erly un­der­stood," the pres­id­ent said in a state­ment.
For the Obama ad­min­is­tra­tion, the move is es­sen­tially a means of punt­ing a de­cision that has been weigh­ing on the White House and Obama's 2012 elec­tion cam­paign for a while.
The 1,700-mile, $7 bil­lion pro­ject would bring car­bon-heavy tar-sands oil from Al­berta, Canada, to re­finer­ies on the Gulf Coast.
Protests around the coun­try from pipeline op­pon­ents and youth or­gan­izers have put Obama in a polit­ic­al bind on the pipeline de­cision. Most re­cently, thou­sands of pro­test­ers gathered at the White House on Sunday, say­ing they would pull their grass­roots or­gan­iz­ing and donor sup­port should the ad­min­is­tra­tion green-light the pro­ject.
The reroute tackles con­cerns from Neb­raska res­id­ents and law­makers about the pipeline's prox­im­ity to the state's Ogal­lala aquifer in the Sand Hills area, which sup­plies drink­ing wa­ter to 1.5 mil­lion people.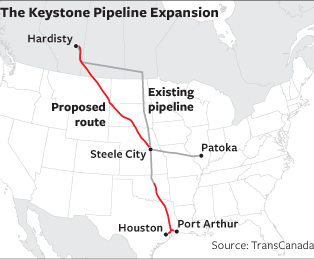 Pro­ponents of the pro­ject ques­tioned the de­cision, ar­guing that it was largely polit­ic­al.
"This is about polit­ics and keep­ing a rad­ic­al con­stitu­ency op­posed to any and all oil and gas de­vel­op­ment in the pres­id­ent's camp in Novem­ber 2012," Amer­ic­an Pet­ro­leum In­sti­tute Pres­id­ent and CEO Jack Ger­ard said in a state­ment on Thursday.
Steph­en Brown, a lob­by­ist for Texas-based oil re­finer Te­soro, ex­pressed an­ger about the an­nounce­ment in an e-mail to Na­tion­al Journ­al. "The chal­lenge for us in the in­dustry will be to con­nect the dots for in­de­pend­ent voters who are con­cerned about the Pres­id­ent's abil­ity to lead on eco­nom­ic is­sues and his de­cision today to ef­fect­ively turn his back on jobs and a se­cure en­ergy part­ner­ship with Canada."
The State De­part­ment pushed back on claims that the rerout­ing de­cision was polit­ic­al. "This de­cision is based on the pro­cess that we have been go­ing through,"  said  Kerri-Ann Jones, as­sist­ant sec­ret­ary in the Bur­eau of Oceans and In­ter­na­tion­al En­vir­on­ment­al and Sci­entif­ic Af­fairs. "This is not a polit­ic­al de­cision."
Re­gard­ing the White House role in the de­cision, she said, "They did not dir­ect us to make this de­cision."
Tran­sCanada, the com­pany that would build the pipeline, said be­fore Thursday's an­nounce­ment that a rerout­ing would ef­fect­ively kill the pro­ject, be­cause the new route would re­quire a new En­vir­on­ment­al Im­pact State­ment and a pub­lic re­view that would take months, if not years.
"A delay doesn't make sense," Tran­sCanada spokes­man James Mil­lar said in an e-mail on Wed­nes­day. "This has been an ex­haust­ive, 39-month re­view, the longest re­view ever for a cross-bor­der crude-oil pipeline in the United States.  There is no new in­form­a­tion to come for­ward.  There is no reas­on not to make a de­cision."
Tran­sCanada CEO Russ Girl­ing said that ship­ping con­tracts with its cli­ents could be­come in­val­id­ated by a long delay such as this.
"Sup­plies of heavy crude from Venezuela and Mex­ico to U.S. re­finer­ies will soon end," he said in a state­ment.  "If Key­stone XL is con­tinu­ally delayed, these re­finers may have to look for oth­er ways of get­ting the oil they need.  Oil sands pro­du­cers face the same di­lemma""how to get their crude oil to the Gulf Coast."
But the State De­part­ment, which held hear­ings along the pipeline's route, said that it needs to take in all the com­ments it re­ceived in those pub­lic meet­ings, in­clud­ing con­cerns about Neb­raska's wa­ter sup­plies, which pos­sibly would have been af­fected by the pipeline.
Neb­raska's two sen­at­ors cheered the news of the delay""al­beit cau­tiously be­cause the an­nounce­ment had not been made of­fi­cial yet.
Sen. Mike Jo­hanns, R-Neb., said rerout­ing the pipeline would al­lay con­cerns from with­in his state. "If we can find a bet­ter route, I think some of this con­tro­versy will go away, and it will," Jo­hanns said on Thursday in the Cap­it­ol. "I'm not op­posed to tar sands. I'm not op­posed to pipelines. You just picked the wrong route."
Still, Jo­hanns noted that "the tim­ing looks sus­pi­ciously polit­ic­al."
"Why would this re­view re­quire 18 months? The State De­part­ment spent many months ex­amin­ing mul­tiple routes through Neb­raska, one of which is ad­ja­cent to the Key­stone pipeline op­er­at­ing today," he said in a state­ment after the de­cision.
Sen. Ben Nel­son, D-Neb., who has raised the same con­cerns about the pipeline's route, wouldn't re­act spe­cific­ally to the State De­part­ment's plans. But he jok­ingly said: "I would be pleased if any­body with au­thor­ity would reroute it."
One of the most out­spoken crit­ics of the pipeline, in­de­pend­ent Sen. Bernie Sanders of Ver­mont, is still not sat­is­fied. But he in­dic­ated a delay was bet­ter than ap­prov­ing it.
"I hope this pro­ject is nev­er built," Sanders said on Thursday. "To the de­gree that the pro­ject is delayed, it will give the Amer­ic­an people more time to be­come fa­mil­i­ar with the pro­ject."
"Once the Amer­ic­an people know what the glob­al-warm­ing im­pacts in terms of green­house-gas emis­sions are, in terms of the dangers to drink­able wa­ter in this coun­try, and to the cost of gas­ol­ine, this pro­ject will nev­er be built," Sanders said.
En­vir­on­ment­al act­iv­ists op­pos­ing the pro­ject were also cau­tious in cheer­ing the delay.
"The pres­id­ent should know that noth­ing that happened today changes our po­s­i­tion""we're un­equi­voc­al in our op­pos­i­tion. If this pipeline pro­pos­al re-emerges from the re­view pro­cess in­tact we will use every form of non­vi­ol­ent civil dis­obedi­ence to keep it from ever be­ing built," en­vir­on­ment­al act­iv­ist Bill McK­ib­ben said in a state­ment.
En­vir­on­ment­al­ists and oth­er pro­ject op­pon­ents op­pose the pipeline not only be­cause of po­ten­tial prob­lems along its route, but mainly for the tar-sands oil that it would bring from Canada to the United States. They are con­cerned about the ex­trac­tion and pro­duc­tion of tar-sands oil, which is much more dam­aging to the en­vir­on­ment and emits more green­house gases than the pro­cesses for ob­tain­ing and pro­cessing con­ven­tion­al oil.