Aug. 14, 2013, 10:02 a.m.
WASH­ING­TON — Amid cost-cut­ting ef­forts, the Air Force plans to shut down an aging radar sys­tem that tracks thou­sands of ob­jects in space. The fate of a planned $2 bil­lion re­place­ment sys­tem is still up in the air.
The Air Force Space Com­mand said that "due to re­source con­straints caused by se­quest­ra­tion," it has dir­ec­ted the 21st Space Wing to dis­con­tin­ue op­er­a­tions at the Air Force Space Sur­veil­lance Sys­tem by Oct. 1. De­ac­tiv­at­ing the sys­tem, which tracks satel­lites and or­bit­al debris, will save $14 mil­lion an­nu­ally.
The Air Force plans to re­place the space sur­veil­lance sys­tem with a new "space fence" that will in­clude new soph­ist­ic­ated radar on Kwa­jalein Is­land in the Pa­cific. "The AFSSS is much less cap­able than the space fence radar planned for Kwa­jalein Is­land in the Re­pub­lic of the Mar­shall Is­lands," said Gen. Wil­li­am L. Shelton, com­mand­er of the Air Force Space Com­mand. "In fact, it's apples and or­anges in try­ing to com­pare the two sys­tems."
The space fence will provide en­hanced sur­veil­lance cap­ab­il­it­ies to de­tect and track or­bit­ing ob­jects such as com­mer­cial and mil­it­ary satel­lites, de­pleted space boost­ers and space debris, ac­cord­ing to the Space Com­mand. The fence will have much great­er sens­it­iv­ity than AFSSS, al­low­ing it to de­tect, track and meas­ure an ob­ject the size of a soft­ball or­bit­ing more than 1,200 miles in space.
Lock­heed Mar­tin Corp. and Ray­theon Co. sub­mit­ted com­pet­ing bids for the space fence last Novem­ber, Shelton said in a Ju­ly 16 speech. Brendan Curry, vice pres­id­ent of Wash­ing­ton op­er­a­tions for the non­profit Space Found­a­tion, said that des­pite the high price tag, the space fence will win Pentagon ap­prov­al be­cause of the need to track ob­jects in space that could in­ter­fere with satel­lite op­er­a­tions.
The Navy de­veloped the space sur­veil­lance sys­tem, which has been in op­er­a­tion since 1961, and trans­ferred con­trol to the Air Force in 2004. AFSSS is a series of three trans­mit­ters and six re­ceiv­ers along the 33rd par­al­lel, stretch­ing across the south­ern United States.
Space Com­mand said it has de­vised mod­i­fied op­er­at­ing modes for the Peri­met­er Ac­quis­i­tion Radar Char­ac­ter­iz­a­tion Sys­tem at Cava­lier Air Force Sta­tion, N.D., and for the space sur­veil­lance radar at Eglin Air Force Base, Fla., al­low­ing the dis­con­tinu­ation of AFSSS op­er­a­tions while still main­tain­ing sol­id space situ­ation­al aware­ness.
What We're Following See More »
UNTIL DEC. 9, ANYWAY
Obama Signs Bill to Fund Government
51 minutes ago
REDSKINS IMPLICATIONS
SCOTUS to Hear Case on Offensive Trademarks
1 hours ago
WHY WE CARE
"The Supreme Court is taking up a First Amendment clash over the government's refusal to register offensive trademarks, a case that could affect the Washington Redskins in their legal fight over the team name. The justices agreed Thursday to hear a dispute involving an Asian-American rock band called the Slants, but they did not act on a separate request to hear the higher-profile Redskins case at the same time." Still, any precedent set by the case could have ramifications for the Washington football team.
STAFF PICKS
Bannon Still Collecting Royalties from 'Seinfeld'
2 hours ago
WHY WE CARE
The Hollywood Reporter takes a look at a little-known intersection of politics and entertainment, in which Trump campaign CEO Steve Bannon is still raking in residuals from Seinfeld. Here's the digest version: When Seinfeld was in its infancy, Ted Turner was in the process of acquiring its production company, Castle Rock, but he was under-capitalized. Bannon's fledgling media company put up the remaining funds, and he agreed to "participation rights" instead of a fee. "Seinfeld has reaped more than $3 billion in its post-network afterlife through syndication deals." Meanwhile, Bannon is "still cashing checks from Seinfeld, and observers say he has made nearly 25 times more off the Castle Rock deal than he had anticipated."
IT'S ALL CLINTON
Reliable Poll Data Coming in RE: Debate #1
2 hours ago
WHY WE CARE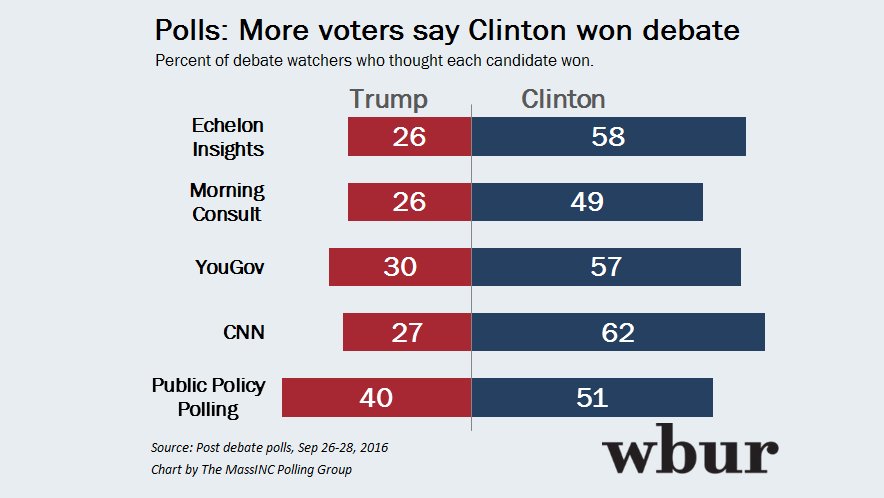 NEXT THURSDAY
Trump Transition Team Meeting with Silicon Valley VIPs
5 hours ago
THE DETAILS
Donald Trump's "transition team will meet next week with representatives of the tech industry, multiple sources confirmed, even as their candidate largely has been largely shunned by Silicon Valley. The meeting, scheduled for next Thursday at the offices of law and lobbying firm BakerHostetler, will include trade groups like the Information Technology Industry Council and the Internet Association that represent major Silicon Valley companies."