You know what a really sure­fire way to get elec­ted to Aus­tralia's Sen­ate is? Ap­par­ently, it's guest-star­ring in a news-par­ody rap video and do­ing your best ver­sion of an Aus­trali­an pop song from 1986.
Wel­come to the light­er side of WikiLeaks. 
First, let's get to this "news rap" video from The Juice Me­dia, which is really, ab­so­lutely real and not something we've just made up.
For those of you who are a couple of years late, the in­tro mu­sic here is an un­for­tu­nate fac­sim­ile of the Game of Thrones theme (Game of Polls, get it?)  And yeah, the folks at Juice Rap News made sure to get "winter is com­ing to Aus­tralia" in­to the first 45 seconds. 
But you don't really need to pay any mind to the first few minutes here, all of which fea­ture polit­ic­al im­per­son­at­ors. As a sum­ming up, let's just say there are not-so-fleet­ing ex­plet­ives, former PM Ju­lia Gil­lard maims cur­rent PM Kev­in Rudd, and op­pos­i­tion lead­er and elec­tion-fa­vor­ite Tony Ab­bott throws around a lot of miso­gyny and then, in­con­gru­ously, be­comes Gol­lum. OK fine, weird, maybe of­fens­ive, but fine.
Then, at 3:40, we're in­tro­duced to "an­oth­er con­tender seek­ing a Sen­ate seat," from in­side of Ecuador's em­bassy in Lon­don. Who is, of course, WikiLeaks head Ju­li­an As­sange. And this isn't com­pletely a joke. As­sange is run­ning for a seat on be­half of his WikiLeaks Party, which has had re­cent prob­lems of its own. As As­sange can't ac­tu­ally cam­paign for the seat in per­son, due to his self-im­posed ex­ile in the Ecuadori­an Em­bassy, he's been largely lim­ited to on­line videos. Odd as it may seem, videos like this one can be im­port­ant for As­sange, who ac­tu­ally has some trac­tion in polling.
So As­sange isn't afraid to pull out the stops:
The stops in this case be­ing a blond mul­let wig and a spoof of "You're the Voice," John Farnham's hit 1986 single. "We have the chance to turn the pages over," As­sange lip-syncs. And if there was any doubt about the WikiLeaks plat­form, he con­tin­ues:
We can write what we want to write.

We gotta make things leak, so we can get much bolder.

We're all wire-tapped now. We're all be­ing fed lies. 
"We were im­pressed — and quite sur­prised — that Ju­li­an agreed to the Farnham idea," the video's pro­du­cers said in a state­ment to Aus­tralia's Her­ald Sun. "We fig­ure that, like us, he could see the hu­mour and power in such a skit."
Not every­one quite saw that power though. The Sydney Morn­ing Her­ald's na­tion­al polit­ic­al re­port­er called the video "bizarre" and "of­fens­ive." But for someone who is typ­ic­ally any­thing but jokey in his me­dia ap­pear­ances, the un­usu­al mul­let bit here is, at least the­or­et­ic­ally, a way for As­sange to seem like more than just an isol­ated ro­bot ac­cused of sexu­al as­sault. 
Aus­tralia's elec­tions will be held Sept. 7. 
What We're Following See More »
SAUDI ARABIA BILL
Veto Override Scheduled for Wednesday in Senate
1 hours ago
THE LATEST
Senate Majority Leader Mitch McConnell said this afternoon that the Senate on Wednesday will take up an override of President Obama's veto of legislation that would allow the families of 9/11 victims to sue the government of Saudi Arabia. "The vote is expected garner the two-thirds majority necessary to override the veto."
MEDIA SHOULD HOLD TRUMP RESPONSIBLE
Reid Devotes Senate Floor Speech to Trump's 'Racism'
2 hours ago
THE LATEST
"Donald Trump is a racist," announced Senate Minority Leader Harry Reid from the Senate floor this afternoon. Reid said all of us are occasionally politically incorrect, but "I don't know of anyone that when that happens doesn't acknowledge it and, if necessary, apologize quickly." But Trump, he added, says things with "full intent to demean and to denigrate." Reid argued that the media isn't holding Trump to account, and should explicitly call him a racist.
ABSENT FROM LIST: GENNIFER FLOWERS
Most Trump Guests Have Military Ties
5 hours ago
TOP OF MIND
Trending on Google: 'Why Should Trump Not Be President'
5 hours ago
THE DETAILS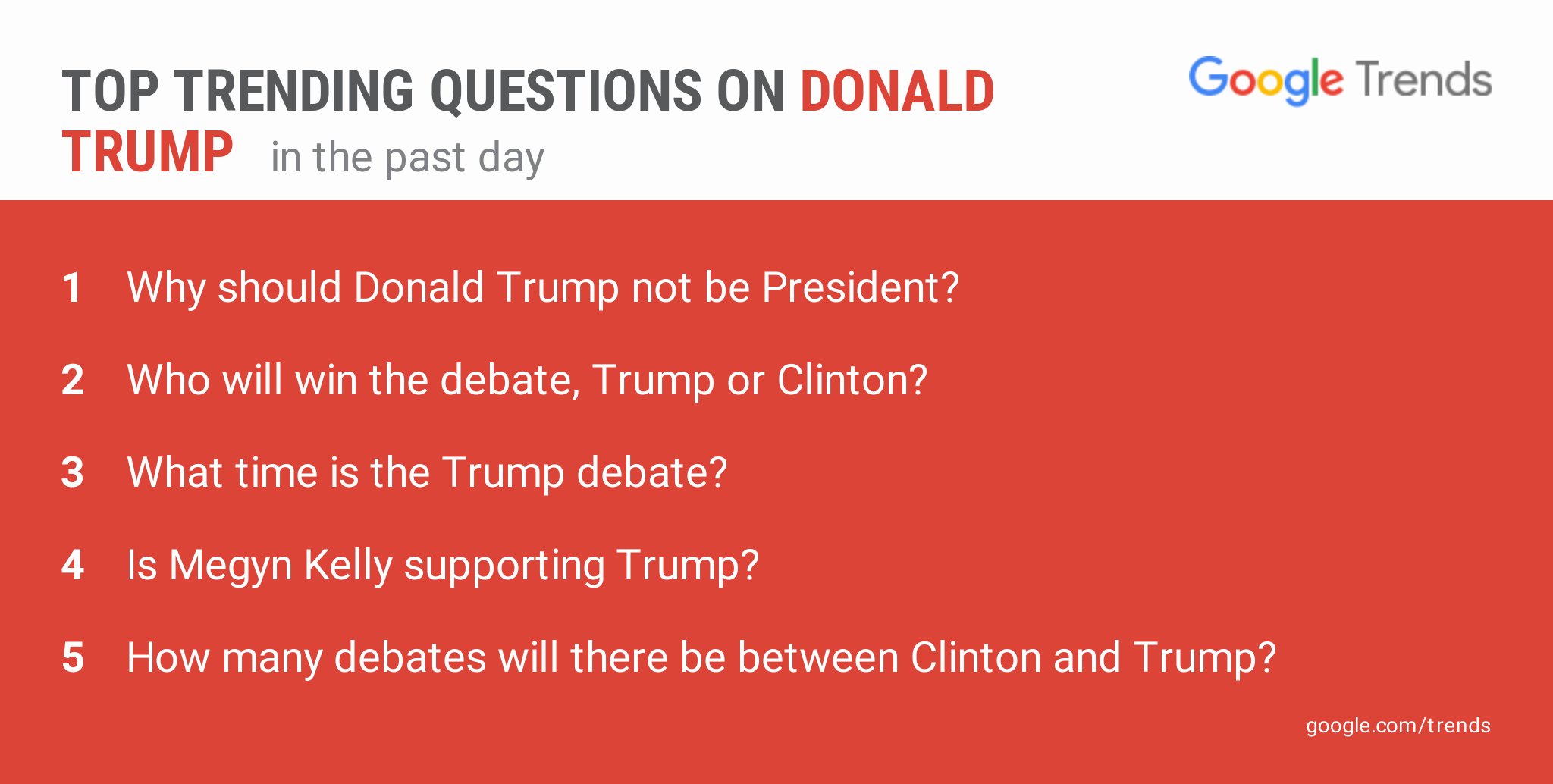 WHO PLAYED THE DONALD?
Longtime Clinton Aide Played Trump in Mock Debates
8 hours ago
THE DETAILS
After keeping the information private for most of the lead-up to the debate on Monday, it has been revealed that longtime Clinton aide Philippe Reines has been playing the role of Donald Trump in her debate prep. Reines knows Clinton better than most, able to identify both her strengths and weaknesses, and his selection for a sparring partner shows that Clinton is preparing for the brash and confrontational Donald Trump many have come to expect.