There's a cer­tain script Re­pub­lic­an primar­ies have come to fol­low, and it in­volves es­tab­lish­ment types pro­claim­ing the in­cum­bent bet­ter po­si­tioned to take on a Demo­crat than whichever tea-party chal­lenger.
But in Ken­tucky, the es­tab­lish­ment might have it back­wards.
Matt Bev­in, the Louis­ville-area busi­ness­man run­ning against Sen­ate Minor­ity Lead­er Mitch Mc­Con­nell, is new to polit­ics. He's dis­missed by many in the GOP as a glor­i­fied gad­fly. Still, he's got something the vet­er­an law­maker lacks — a thin re­cord that will be dif­fi­cult for Demo­crats to pick apart.
In­deed, Demo­crats are hop­ing to turn the Sen­ate race in­to a ref­er­en­dum on an un­pop­u­lar in­cum­bent. But without Mc­Con­nell on the tick­et, the pre­sumed Demo­crat­ic nom­in­ee, Al­is­on Lun­der­gan Grimes, will face a much tough­er foe in the fresh-faced Re­pub­lic­an, some long­time Bluegrass State polit­ic­al watch­ers say.
It's not that Bev­in is any stronger than a gen­er­ic Re­pub­lic­an can­did­ate. But in deeply red Ken­tucky, that's all that's needed. Pres­id­ent Obama lost Ken­tucky by 22 points last year, and the older white voters who turn out in great­er pro­por­tion dur­ing a midterm elec­tion will push the state even fur­ther to the right. In a race about is­sues — like cli­mate-change reg­u­la­tions and Obama­care — a Demo­crat­ic can­did­ate who can be tied to the pres­id­ent stands little chance.
Mc­Con­nell's un­pop­ular­ity is the sole reas­on Demo­crats hope they can win in a state oth­er­wise hos­tile to their fed­er­al can­did­ates. The Demo­crat­ic polling firm Pub­lic Policy Polling has called Mc­Con­nell the least pop­u­lar sen­at­or based on its sur­veys, while an in­tern­al poll from the Demo­crat­ic Sen­at­ori­al Cam­paign Com­mit­tee found that an over­whelm­ing ma­jor­ity of voters, 71 per­cent, don't think he's work­ing to change polit­ics in Wash­ing­ton.
Seek­ing a sixth term in of­fice when voter an­ti­pathy to­ward Wash­ing­ton reaches all-time highs isn't easy. And in the early go­ing, the Grimes cam­paign has framed the GOP lead­er as the per­son­i­fic­a­tion of everything wrong with the coun­try's dys­func­tion­al polit­ic­al sys­tem.
But against Bev­in, who has nev­er held of­fice and is run­ning a cam­paign that em­phas­izes his out­sider cre­den­tials, Grimes's strategy dis­in­teg­rates.
"It would be night-and-day-change for the race," said Jim Cauley, a Demo­crat­ic strategist in Ken­tucky who thinks Bev­in presents a great­er chal­lenge than Mc­Con­nell. "We would have to switch gears com­pletely."
Even Bev­in's avowed hard-right con­ser­vat­ism wouldn't cripple him in a gen­er­al elec­tion. He has taken po­s­i­tions, such as threat­en­ing to shut down the gov­ern­ment if Obama­care isn't de­fun­ded, that could hurt him in a gen­er­al elec­tion. But Ken­tucky voters were presen­ted with an­oth­er ul­tracon­ser­vat­ive can­did­ate, Rand Paul in 2010, and put him in of­fice des­pite a stiff chal­lenge from the state's at­tor­ney gen­er­al. And while Bev­in's po­s­i­tions are sharp, he's nev­er backed any po­s­i­tion as egre­gious as Paul's stated un­eas­i­ness, later re­can­ted, with the Civil Rights Act.
"That was the knock on Rand Paul, that he was so far to the right," said Dan Adams, who ran the now-sen­at­or's primary cam­paign in 2010 and is a Bev­in sup­port­er. "If there was any con­cern in 2010 about that, it was taken care of then. The only thing that has changed is we've prob­ably be­come more con­ser­vat­ive as a state."
Bev­in's can­did­acy wouldn't lack for po­ten­tial pit­falls: His lack of ex­per­i­ence might help boost his ap­peal, but it also means he's un­tested. A dif­fi­cult cam­paign could ex­pose him as li­able to make the same mis­takes as pre­vi­ous (and in­fam­ous) Re­pub­lic­an can­did­ates, such as Christine O'Don­nell or Todd Akin. In a sign of Bev­in's vul­ner­ab­il­ity, Mc­Con­nell's cam­paign has already run a TV ad cri­ti­ciz­ing him for ly­ing about be­ing a gradu­ate of the Mas­sachu­setts In­sti­tute of Tech­no­logy.
Jesse Benton, the sen­at­or's cam­paign man­ager, said it is "pro­foundly ab­surd" to be­lieve Bev­in was a stronger gen­er­al-elec­tion can­did­ate than Mc­Con­nell. Bev­in, he said, is "un­proven and un­tested" and car­ried "deep flaws with vir­tu­ally no vet­ting."
Mc­Con­nell, on the oth­er hand, is a vet­er­an politi­cian who has sur­vived tough chal­lenges be­fore. And many in­de­pend­ent polit­ic­al ana­lysts, such as Nate Sil­ver of The New York Times, ex­pect him to walk in­to a gen­er­al elec­tion against Grimes as the heavy fa­vor­ite.
Many Bluegrass op­er­at­ives also say that, in any case, it's a moot point. Mc­Con­nell re­mains the heavy fa­vor­ite against Bev­in, who has yet to so­lid­i­fy the party's con­ser­vat­ive fac­tions be­hind him. The in­cum­bent has far more money, much high­er name re­cog­ni­tion, and the prized en­dorse­ment of con­ser­vat­ive grass­roots fa­vor­ite Paul. Bev­in hasn't even been able to earn an en­dorse­ment from the anti-es­tab­lish­ment Club for Growth.
What We're Following See More »
UNTIL DEC. 9, ANYWAY
Obama Signs Bill to Fund Government
4 hours ago
REDSKINS IMPLICATIONS
SCOTUS to Hear Case on Offensive Trademarks
4 hours ago
WHY WE CARE
"The Supreme Court is taking up a First Amendment clash over the government's refusal to register offensive trademarks, a case that could affect the Washington Redskins in their legal fight over the team name. The justices agreed Thursday to hear a dispute involving an Asian-American rock band called the Slants, but they did not act on a separate request to hear the higher-profile Redskins case at the same time." Still, any precedent set by the case could have ramifications for the Washington football team.
STAFF PICKS
Bannon Still Collecting Royalties from 'Seinfeld'
5 hours ago
WHY WE CARE
The Hollywood Reporter takes a look at a little-known intersection of politics and entertainment, in which Trump campaign CEO Steve Bannon is still raking in residuals from Seinfeld. Here's the digest version: When Seinfeld was in its infancy, Ted Turner was in the process of acquiring its production company, Castle Rock, but he was under-capitalized. Bannon's fledgling media company put up the remaining funds, and he agreed to "participation rights" instead of a fee. "Seinfeld has reaped more than $3 billion in its post-network afterlife through syndication deals." Meanwhile, Bannon is "still cashing checks from Seinfeld, and observers say he has made nearly 25 times more off the Castle Rock deal than he had anticipated."
IT'S ALL CLINTON
Reliable Poll Data Coming in RE: Debate #1
6 hours ago
WHY WE CARE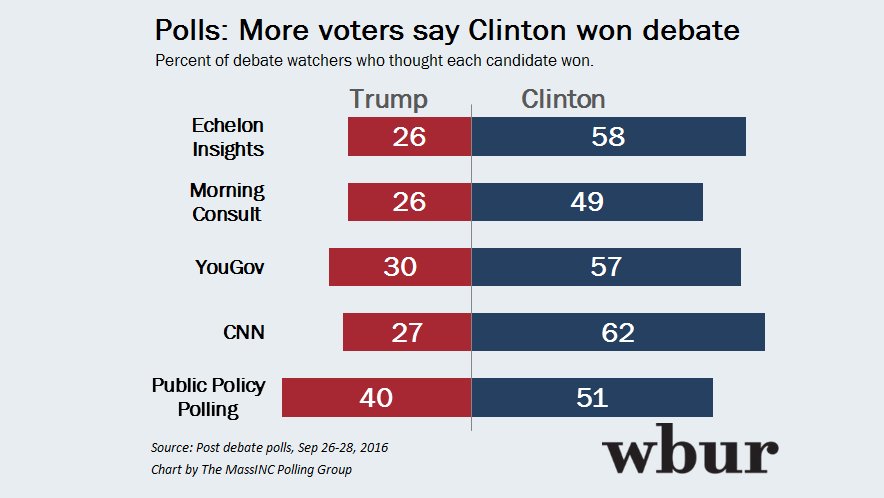 NEXT THURSDAY
Trump Transition Team Meeting with Silicon Valley VIPs
8 hours ago
THE DETAILS
Donald Trump's "transition team will meet next week with representatives of the tech industry, multiple sources confirmed, even as their candidate largely has been largely shunned by Silicon Valley. The meeting, scheduled for next Thursday at the offices of law and lobbying firm BakerHostetler, will include trade groups like the Information Technology Industry Council and the Internet Association that represent major Silicon Valley companies."