If you're like 75 per­cent of Amer­ic­ans, you think the polling data presen­ted in this art­icle is biased.
Ac­cord­ing to a new poll from the "data in­vest­ment man­age­ment" or­gan­iz­a­tion Kantar on Wed­nes­day, three in four Amer­ic­ans "be­lieve that most polls you hear about … are biased to­ward a par­tic­u­lar point of view," while only 19 per­cent think they are un­biased.
That find­ing, re­leased as part of a lar­ger event on the fu­ture of pub­lic-opin­ion polling sponsored by Kantar, paints a dark pic­ture of the sur­vey re­search in­dustry, which is try­ing to ad­just to changes in tech­no­logy and pri­vacy pref­er­ences that are mak­ing it harder for the in­dustry to reach many Amer­ic­ans.
But the event also comes less than two weeks since Kantar ac­quired the lead polling firm on Pres­id­ent Obama's reelec­tion cam­paign last year, Ben­en­son Strategy Group.
The poll is de­scribed as a "bench­mark sur­vey" that aims "to start map­ping the path to pub­lic opin­ion." Re­spond­ents in­dic­ated that they have more trust in sur­veys con­duc­ted by non­par­tis­an groups, such as found­a­tions or aca­dem­ic groups, than those con­duc­ted for polit­ic­al cli­ents or by the news me­dia. Sixty-four per­cent have at least "some trust" in polls con­duc­ted by "aca­dem­ic cen­ters," and 54 per­cent trust sur­veys from "non­par­tis­an found­a­tions." But only 46 per­cent have a modic­um of trust in polls from polling com­pan­ies, and even few­er, 43 per­cent, trust those sur­veys from news me­dia or­gan­iz­a­tion.
That's still more trust than Amer­ic­ans put in sur­vey res­ults from poll ag­greg­at­ors who av­er­age or oth­er­wise meld polling data (30 per­cent); polit­ic­al parties or can­did­ates (27 per­cent); and auto­mated voice-re­cord­ing firms (16 per­cent).
(In an ex­per­i­ment, half of re­spond­ents were asked about spe­cif­ic firms, which in­dic­ated more trust in me­dia polls. The two news or­gan­iz­a­tions chosen — NBC News and The Wall Street Journ­al — might mol­li­fy dis­trust from both ends of the polit­ic­al spec­trum.)
Re­spond­ents were split fairly evenly on the ques­tion of wheth­er journ­al­ists and ed­it­ors "use a com­mon set of stand­ards to eval­u­ate the qual­ity of polls to de­term­ine which polls they will re­port and which ones they will not" — 51 per­cent said yes, and 41 per­cent said no.
Na­tion­al Journ­al and The Hot­line only re­port res­ults for polls con­duc­ted util­iz­ing prob­ab­il­ity samples and gen­er­ally avoid auto­mated-phone sur­veys.
The Kantar poll was con­duc­ted Ju­ly 24-Aug. 4 and sur­veyed 1,011 adults by land­line and cell phone. The mar­gin of er­ror is plus-or-minus 3.1 per­cent­age points — as­sum­ing you be­lieve that.
What We're Following See More »
UNTIL DEC. 9, ANYWAY
Obama Signs Bill to Fund Government
1 hours ago
REDSKINS IMPLICATIONS
SCOTUS to Hear Case on Offensive Trademarks
1 hours ago
WHY WE CARE
"The Supreme Court is taking up a First Amendment clash over the government's refusal to register offensive trademarks, a case that could affect the Washington Redskins in their legal fight over the team name. The justices agreed Thursday to hear a dispute involving an Asian-American rock band called the Slants, but they did not act on a separate request to hear the higher-profile Redskins case at the same time." Still, any precedent set by the case could have ramifications for the Washington football team.
STAFF PICKS
Bannon Still Collecting Royalties from 'Seinfeld'
2 hours ago
WHY WE CARE
The Hollywood Reporter takes a look at a little-known intersection of politics and entertainment, in which Trump campaign CEO Steve Bannon is still raking in residuals from Seinfeld. Here's the digest version: When Seinfeld was in its infancy, Ted Turner was in the process of acquiring its production company, Castle Rock, but he was under-capitalized. Bannon's fledgling media company put up the remaining funds, and he agreed to "participation rights" instead of a fee. "Seinfeld has reaped more than $3 billion in its post-network afterlife through syndication deals." Meanwhile, Bannon is "still cashing checks from Seinfeld, and observers say he has made nearly 25 times more off the Castle Rock deal than he had anticipated."
IT'S ALL CLINTON
Reliable Poll Data Coming in RE: Debate #1
3 hours ago
WHY WE CARE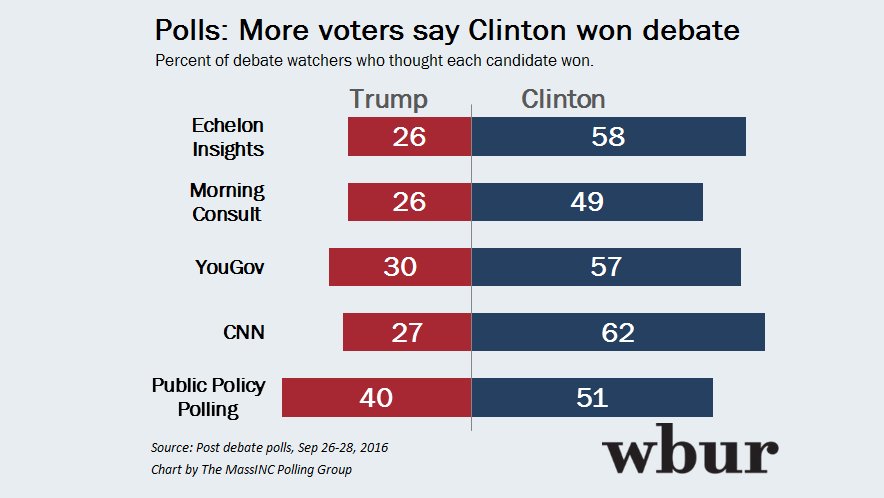 NEXT THURSDAY
Trump Transition Team Meeting with Silicon Valley VIPs
5 hours ago
THE DETAILS
Donald Trump's "transition team will meet next week with representatives of the tech industry, multiple sources confirmed, even as their candidate largely has been largely shunned by Silicon Valley. The meeting, scheduled for next Thursday at the offices of law and lobbying firm BakerHostetler, will include trade groups like the Information Technology Industry Council and the Internet Association that represent major Silicon Valley companies."