Sept. 4, 2013, 10:41 a.m.
An­thony Wein­er on Wed­nes­day was caught on cam­era after en­ga­ging in an ex­plos­ive de­bate with a Brook­lyn voter, but the ini­tial video edit re­lease left out a key part of the ex­change — and one that paints Wein­er as the fight's more sym­path­et­ic fig­ure.
New foot­age of the al­ter­ca­tion, re­leased by the Wein­er cam­paign, in­cludes a clip of the voter launch­ing a ra­cist at­tack at Wein­er, who was at a cam­paign stop in a Brook­lyn deli.
"You're mar­ried to an Ar­ab," the voter says.
While the word "Ar­ab" is not in it­self derog­at­ory, com­ing in con­text, it is clear that the voter makes men­tion of Wein­er's mar­riage as an in­sult. Wein­er is mar­ried to Huma Abedin, a long­time aide to former Sec­ret­ary of State Hil­lary Rod­ham Clin­ton. 
The un­cut video, re­leased by the Wein­er cam­paign, in­clud­ing the anti-Ar­ab re­mark:
Un­titled; from An­thony­Wein­er on Vimeo.
;
;
The ori­gin­al video, be­gin­ning shortly after the re­mark:
New York City may­or­al can­did­ate Wein­er called a voter a "jack­ass" at a Brook­lyn deli Wed­nes­day, and the con­ver­sa­tion got weirder from there.
The con­front­a­tion began while Wein­er was leav­ing a cam­paign stop. A voter shouted something in­aud­ible at the scan­dal-prone former con­gress­man, who shot back, "It takes one to know one, jack­ass."
Wein­er then reentered the deli to con­front the voter, a middle-aged man, who ripped in­to Wein­er over his mar­it­al in­dis­cre­tions and un­con­ven­tion­al use of Twit­ter.
Wein­er, chew­ing throughout the ex­change, replied that the voter had no right to judge him, telling him re­peatedly that "you are not my God."
The voter countered, "You're fine. You talk to God and work out your prob­lems, but stay out of the pub­lic eye."
Tem­pers and voices rose on both sides, and the dis­cus­sion con­tin­ued for sev­er­al minutes as the two, fre­quently in­ter­rupt­ing each oth­er, sparred over ques­tions of judg­ment and com­munity ser­vice.
Wein­er then ex­ited the deli, telling re­port­ers: "I don't back down."
What We're Following See More »
SAUDI ARABIA BILL
Veto Override Scheduled for Wednesday in Senate
9 minutes ago
THE LATEST
Senate Majority Leader Mitch McConnell said this afternoon that the Senate on Wednesday will take up an override of President Obama's veto of legislation that would allow the families of 9/11 victims to sue the government of Saudi Arabia. "The vote is expected garner the two-thirds majority necessary to override the veto."
MEDIA SHOULD HOLD TRUMP RESPONSIBLE
Reid Devotes Senate Floor Speech to Trump's 'Racism'
53 minutes ago
THE LATEST
"Donald Trump is a racist," announced Senate Minority Leader Harry Reid from the Senate floor this afternoon. Reid said all of us are occasionally politically incorrect, but "I don't know of anyone that when that happens doesn't acknowledge it and, if necessary, apologize quickly." But Trump, he added, says things with "full intent to demean and to denigrate." Reid argued that the media isn't holding Trump to account, and should explicitly call him a racist.
ABSENT FROM LIST: GENNIFER FLOWERS
Most Trump Guests Have Military Ties
4 hours ago
TOP OF MIND
Trending on Google: 'Why Should Trump Not Be President'
4 hours ago
THE DETAILS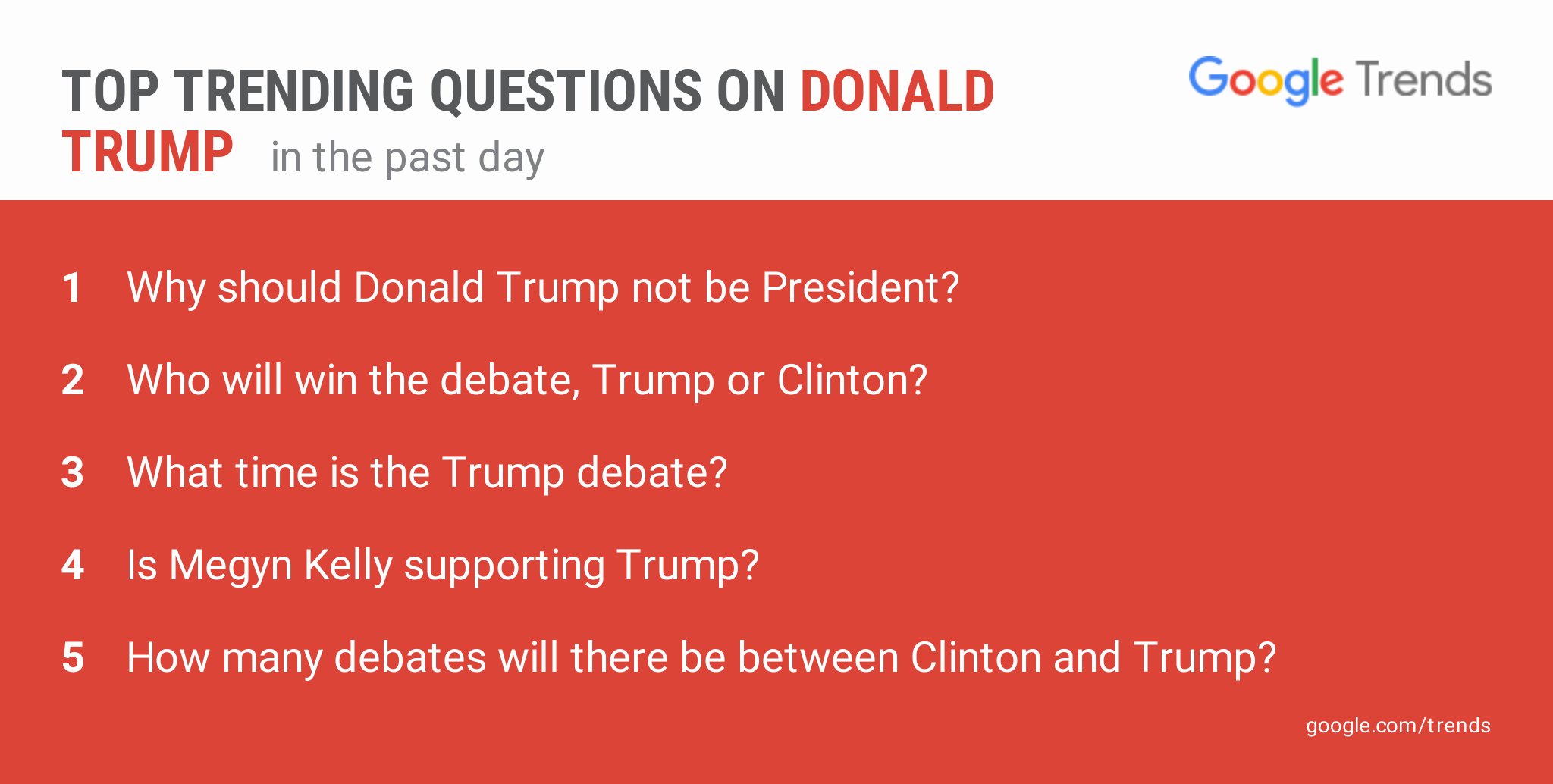 WHO PLAYED THE DONALD?
Longtime Clinton Aide Played Trump in Mock Debates
6 hours ago
THE DETAILS
After keeping the information private for most of the lead-up to the debate on Monday, it has been revealed that longtime Clinton aide Philippe Reines has been playing the role of Donald Trump in her debate prep. Reines knows Clinton better than most, able to identify both her strengths and weaknesses, and his selection for a sparring partner shows that Clinton is preparing for the brash and confrontational Donald Trump many have come to expect.