New York City May­or Mi­chael Bloomberg (I) "plans to back" former MTA chair­man Joe Lhota (R) for may­or if Pub­lic Ad­voc­ate Bill de Bla­sio (D) wins the Demo­crat­ic nom­in­a­tions, ac­cord­ing to "City Hall in­siders." Ac­cord­ing to the sources, Bloomberg fears de Bla­sio would "dis­mantle his 12-year leg­acy if elec­ted may­or." Lhota said he would wel­come the may­or's en­dorse­ment. Lhota: "Mike Bloomberg and I had a dis­cus­sion back in Janu­ary. He's stay­ing out of the primary. I will talk to him next Tues­day night-Wed­nes­day morn­ing about the fu­ture and where we are go­ing." (New York Post)
While Bloomberg has stayed out of the Demo­crat­ic primary, deputy may­or Howard Wolf­son, a former col­league and fin­an­cial back­er of de Bla­sio, has been ham­mer­ing the Demo­crat­ic fron­trun­ner in in­ter­views for weeks. Fa­cing a daunt­ing party re­gis­tra­tion ad­vant­age, Lhota will enter the gen­er­al elec­tion cam­paign a sig­ni­fic­ant un­der­dog if he wins the GOP nom­in­a­tion, as ex­pec­ted, on Tues­day. But Bloomberg's of­fi­cial back­ing would cer­tainly be a wel­come de­vel­op­ment, es­pe­cially if the may­or and his al­lies pour some money in­to TV spots at­tack­ing de Bla­sio.
FI­NAL PITCHES: City Coun­cil Speak­er Christine Quinn (D) re­leased a new TV ad Fri­day call­ing NYC the "greatest city in the world."
Mean­while, former Comp­troller Bill Thompson's (D) daugh­ter ap­pears in his latest TV spot tout­ing her fath­er's en­dorse­ment from the city's teach­er's uni­on. (New York Times)
Thompson and Quinn are both jock­ey­ing to fin­ish second in the primary while hop­ing to keep de Bla­sio un­der 40 per­cent and force a run­off.
DE BLA­SIO EX­PECTS RUN­OFF: Dur­ing an in­ter­view on "Good Day New York" on Fri­day, de Bla­sio said: "I think there will be a run­off. But I also think the mes­sage I've put out there is res­on­at­ing, talk­ing about a very pro­gress­ive ap­proach, a real break from the Bloomberg years. And I think people are re­spond­ing." (WNYW-TV)
CATS HATES "HOOD­LUMS": The New York Times has a story de­tail­ing bil­lion­aire John Cat­sima­tid­is' (R) fre­quent use of the word "hood­lum." At a re­cent cam­paign stop, Cat­sima­tid­is said: "We're go­ing to have a prob­lem if one of the Demo­crats gets it. Why? They want to give the streets back to the hood­lums."
Asked for his defin­i­tion of "hood­lum," Cat­sima­tid­is said: "A per­son that is up to no good, that doesn't have a job, has a prob­lem with either drugs, has a prob­lem with something. And every day when he wakes up, he has to earn a couple of hun­dred dol­lars to either buy drugs, buy li­quor or something, and that's a hood­lum — that every day, he'll com­mit a crime, wheth­er it's minor, ma­jor or whatever."
Cat­sima­tid­is at­trib­uted his fond­ness for the word to his 1950s up­bring­ing, say­ing: "It must have been a word from 'The Little Ras­cals' when I was watch­ing it on tele­vi­sion. Those hood­lums!" (New York Times)
Mean­while, Cat­sima­tid­is sat down for an en­ter­tain­ing in­ter­view with the Staten Is­land Ad­vance. Cat­sima­tid­is pre­dicted: "I think I can get the black vote if Bill Thompson's not in the race."
— Kev­in Bren­nan
What We're Following See More »
NEVER TRUMP
USA Today Weighs in on Presidential Race for First Time Ever
10 hours ago
THE DETAILS
"By all means vote, just not for Donald Trump." That's the message from USA Today editors, who are making the first recommendation on a presidential race in the paper's 34-year history. It's not exactly an endorsement; they make clear that the editorial board "does not have a consensus for a Clinton endorsement." But they state flatly that Donald Trump is, by "unanimous consensus of the editorial board, unfit for the presidency."
COMMISSIONERS NEED TO DELIBERATE MORE
FCC Pushes Vote on Set-Top Boxes
10 hours ago
THE LATEST
"Federal regulators on Thursday delayed a vote on a proposal to reshape the television market by freeing consumers from cable box rentals, putting into doubt a plan that has pitted technology companies against cable television providers. ... The proposal will still be considered for a future vote. But Tom Wheeler, chairman of the F.C.C., said commissioners needed more discussions."
UNTIL DEC. 9, ANYWAY
Obama Signs Bill to Fund Government
16 hours ago
IT'S ALL CLINTON
Reliable Poll Data Coming in RE: Debate #1
18 hours ago
WHY WE CARE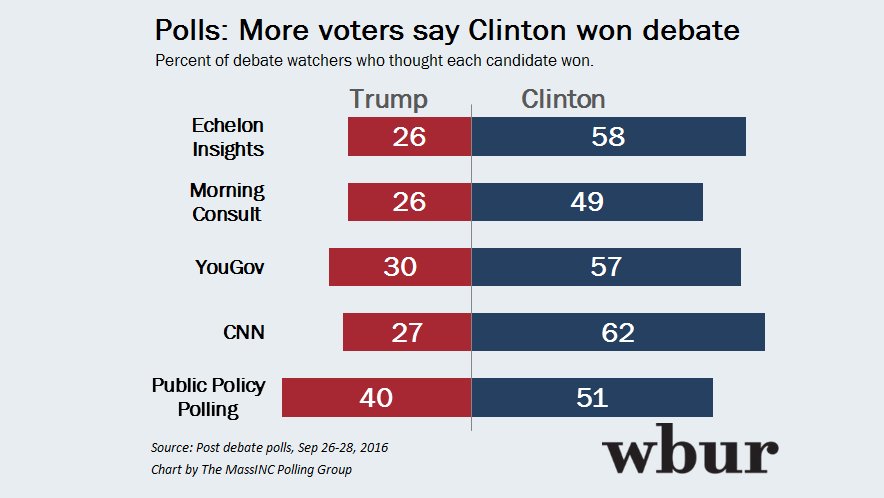 WHAT WILL PASS?
McConnell Doubts Criminal Justice Reform Can Pass This Year
20 hours ago