Former GOP Gov. Charlie Crist (D) said that he has dis­cussed get­ting in­to the GOV race with sev­er­al of Pres­id­ent Obama's ad­visers, in­clud­ing Dav­id Axel­rod, Jim Mess­ina and Valer­ie Jar­rett. (Palm Beach Post)
SCOTT 'NO LONGER A LONG SHOT'. The polit­ic­al winds "have shif­ted in ways that make" Gov. Rick Scott's (R) reelec­tion "much less of a long­shot than Tal­l­a­hassee pro­gnost­ic­at­ors once ex­pec­ted." With no Demo­crats yet in the race, the party is hav­ing trouble rais­ing money to take him on, while Scott has raised $8.7 mil­lion this year and has a vast per­son­al wealth to draw on. 2010 nom­in­ee/former CFO Alex Sink (D) said she would de­cide "soon," not­ing that she had already raised $2-3 mil­lion at this point in her last cam­paign. And Demo­crats are wor­ried that Crist won't be as suc­cess­ful at fun­drais­ing "in a party that re­lies heav­ily on smal­ler dona­tions and uni­ons."
Mean­while, the un­em­ploy­ment rate is down and Scott's cam­paign is already form­ing a nar­rat­ive around the eco­nomy's im­prove­ment. Sink: "The prob­lem is, that's a re­sponse that takes more than a 30-second sound bite. … Some­body has got to come up with some clev­er graph­ics and clev­er sound bites to push back on one in­di­vidu­al tak­ing cred­it for an im­prov­ing eco­nomy when the rest of the coun­try is im­prov­ing, too."
The RNC is already pour­ing re­sources in­to the state and the state GOP plans to put tens of mil­lions in­to a voter-tar­get­ing and mo­bil­iz­a­tion strategy mirrored after Obama's 2012 'qual­ity over quant­ity' ap­proach, us­ing smarter data ana­lyt­ics to identi­fy per­suad­able voters." (Or­lando Sen­tinel)
SCOTT TOUR­ING STATE. Scott is kick­ing off a statewide tour to­mor­row tout­ing his new call to cut taxes by $500 mil­lion. "The 'It's Your Money' tour will last from Tues­day through Fri­day" with stops in "Or­lando, Palm Beach, Fort Laud­er­dale, Jack­son­ville, Or­lando and Tampa". (Palm Beach Post)
CRIST PRESS­ING FLESH IN KEY DEM COUNTIES. Crist is mak­ing a big push in South Flor­ida as he pre­pares for a likely GOV bid, "re­new­ing ties and meet­ing with old pals" in Broward and Palm Beach counties, which will be key to a Demo­crat­ic vic­tory next year. (Sun­shineState­News.com) "Crist on Sunday ap­peared to be like a man on the cam­paign trail, mak­ing a stop at the Ocala Hilton to speak to the Mari­on County Demo­crat­ic Party," where he worked the room and proudly pro­claimed him­self a Demo­crat. (Ocala Star Ban­ner) Crist will be in Broward County again this week, where he's host­ing a fun­draiser for the Amer­ic­an Can­cer So­ci­ety. "Os­tens­ibly non-polit­ic­al be­cause of the nature of the char­it­able cause, it still gives the former gov­ernor a chance to do what he does best: schmooze with people who could end up as po­ten­tial cam­paign back­ers." (Ft. Laud­er­dale Sun-Sen­tinel)
GREER SPEAKS. In an in­ter­view from pris­on, former state GOP chair­man Jim Greer said that he fully ex­pects to be fea­tured in at­tack ads on Crist next year. Greer: "Charlie's a cut-and-run kind of guy. Don't go up the hill in a battle with him, be­cause you may turn around, and he's not there with you. Charlie's a loy­al per­son when it be­ne­fits his self-in­terest." (Tampa Bay Times)
MEM­OIR COM­ING IN FEB­RU­ARY. Crist said Fri­day that he has fin­ished his "no-holds-barred" mem­oir, which will be out in Feb­ru­ary. (Palm Beach Post)
— Sarah Mimms
What We're Following See More »
ABSENT FROM LIST: GENNIFER FLOWERS
Most Trump Guests Have Military Ties
2 hours ago
TOP OF MIND
Trending on Google: 'Why Should Trump Not Be President'
2 hours ago
THE DETAILS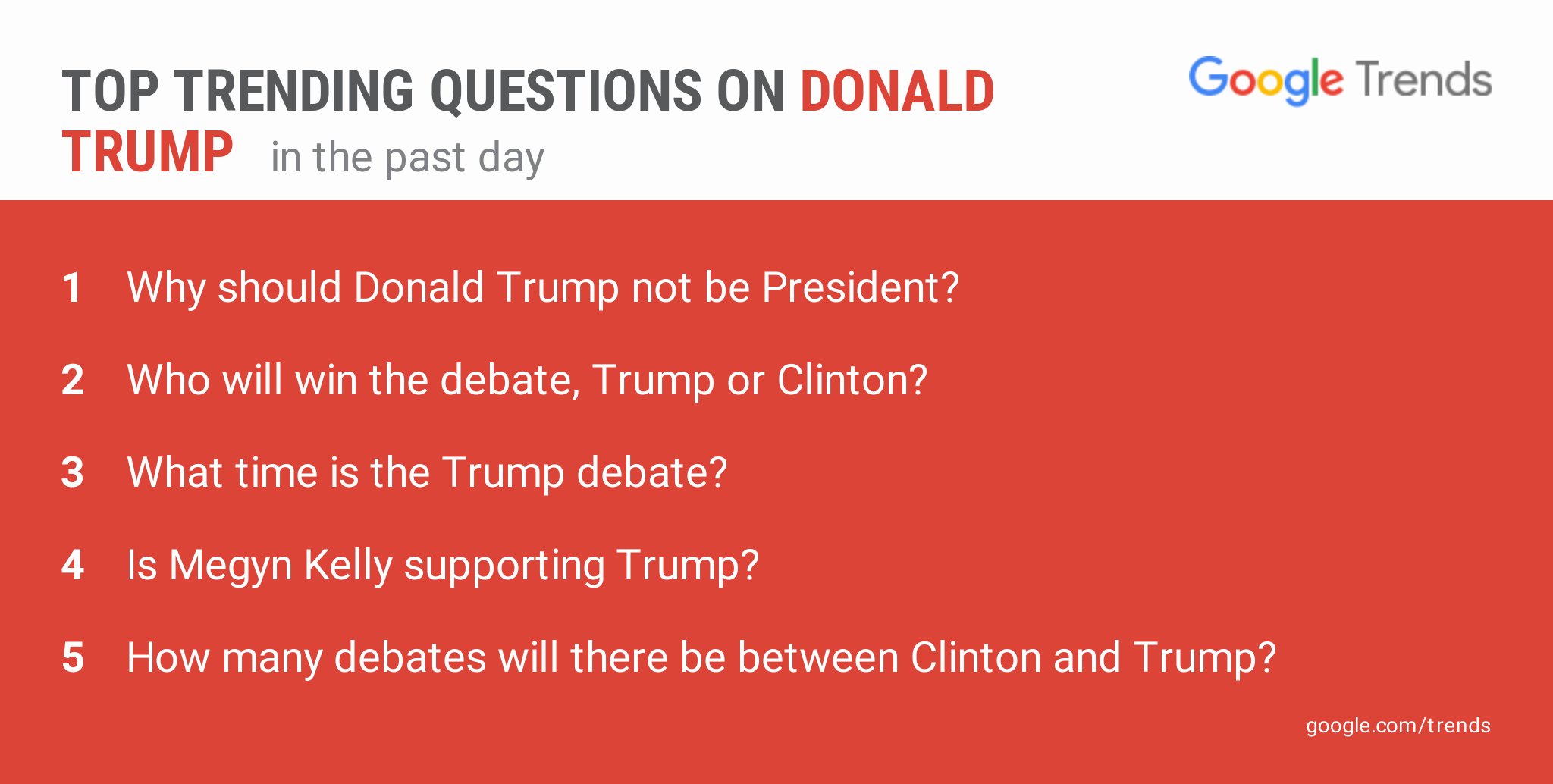 WHO PLAYED THE DONALD?
Longtime Clinton Aide Played Trump in Mock Debates
5 hours ago
THE DETAILS
After keeping the information private for most of the lead-up to the debate on Monday, it has been revealed that longtime Clinton aide Philippe Reines has been playing the role of Donald Trump in her debate prep. Reines knows Clinton better than most, able to identify both her strengths and weaknesses, and his selection for a sparring partner shows that Clinton is preparing for the brash and confrontational Donald Trump many have come to expect.
WEEKEND POLLING ROUNDUP
New Polls Still Show Razor-Thin Margins
5 hours ago
THE QUESTION
How Many Times Has the Trump Campaign Emailed Ted Cruz's Supporters?
5 hours ago
THE ANSWER
More than 30 times, in the case of some donors. Long before Cruz endorsed Trump—and before he even snubbed the nominee at the Republican National Convention—"the senator quietly began renting his vast donor email file to his former rival, pocketing at least tens of thousands of dollars, and more likely hundreds of thousands, that can be used to bankroll the Texan's own political future."