Sept. 10, 2013, 5:29 p.m.
Sen­ate Minor­ity Lead­er Mitch Mc­Con­nell has emerged as the only top con­gres­sion­al lead­er to op­pose Pres­id­ent Obama's pro­pos­al to launch a mil­it­ary strike against Syr­ia, poin­tedly re­buk­ing the pres­id­ent Tues­day while con­firm­ing his own hawk­ish ap­proach to na­tion­al se­cur­ity.
"I will be vot­ing against this res­ol­u­tion," Mc­Con­nell said on the Sen­ate floor. "A vi­tal na­tion­al se­cur­ity risk is clearly not at play; there are just too many un­answered ques­tions about our long-term strategy in Syr­ia, in­clud­ing the fact that this pro­pos­al is ut­terly de­tached from a wider strategy to end the civil war there."
Mc­Con­nell's speech came as he faces a primary chal­lenge in Ken­tucky from busi­ness­man Matt Bev­in, who has already come out against ac­tion in Syr­ia. It also came on a day that many in Con­gress began to tack away from a vote on the use of force, in fa­vor of a dip­lo­mat­ic solu­tion. Mc­Con­nell was skep­tic­al of that op­tion, too."Let me re­mind every­one that even if this is agreed to, it's still a long way off to reach­ing an agree­ment at the United Na­tions, to Syr­ia gain­ing entry to the Chem­ic­al Weapons Con­ven­tion, and to even­tu­ally se­cur­ing, and des­troy­ing the stock­pile," he said.
Still, Mc­Con­nell's stance on a mil­it­ary strike stood in con­trast to his coun­ter­parts in the House, Speak­er John Boehner and Ma­jor­ity Lead­er Eric Can­tor, who said last week that they would sup­port a use-of-force res­ol­u­tion, though they would not help per­suade their col­leagues to back it. Un­like the oth­er Re­pub­lic­an sen­at­or from Ken­tucky, Rand Paul, who op­poses the use of force on non­in­ter­ven­tion­ist grounds, Mc­Con­nell said that the U.S. should not with­draw from the world stage.
"If this epis­ode has shown us any­thing, it's that the time has come for the pres­id­ent to fi­nally ac­know­ledge that there's no sub­sti­tute for Amer­ic­an might," Mc­Con­nell said. "It is time for Amer­ica to lead again, this time from the front. But we need stra­tegic vis­ion, in the Middle East and in many oth­er places around the world, to do it."
Re­cent events have thrown the Sen­ate de­bate over the use of force in­to up­heav­al, and a Sen­ate vote that was ex­pec­ted Wed­nes­day has been delayed as a pro­pos­al to trans­fer Syr­ia's chem­ic­al weapons to neut­ral mon­it­ors be­gins to gain trac­tion.
Mean­while, pub­lic sup­port for strik­ing Syr­ia is an­em­ic. A re­cent United Tech­no­lo­gies/Na­tion­al Journ­al Con­gres­sion­al Con­nec­tion Poll showed that 55 per­cent of Amer­ic­ans wanted the gov­ern­ment to stay out of the Syr­i­an civil war. The num­ber in­creases to 60 per­cent among Re­pub­lic­ans.
Con­gres­sion­al sup­port for us­ing force has like­wise re­mained low. Vote tal­lies com­piled by a num­ber of me­dia out­lets show that a res­ol­u­tion to use force in Syr­ia can­not pass in the House and could face strong head­winds in the Sen­ate.
What We're Following See More »
UNTIL DEC. 9, ANYWAY
Obama Signs Bill to Fund Government
1 hours ago
REDSKINS IMPLICATIONS
SCOTUS to Hear Case on Offensive Trademarks
1 hours ago
WHY WE CARE
"The Supreme Court is taking up a First Amendment clash over the government's refusal to register offensive trademarks, a case that could affect the Washington Redskins in their legal fight over the team name. The justices agreed Thursday to hear a dispute involving an Asian-American rock band called the Slants, but they did not act on a separate request to hear the higher-profile Redskins case at the same time." Still, any precedent set by the case could have ramifications for the Washington football team.
STAFF PICKS
Bannon Still Collecting Royalties from 'Seinfeld'
2 hours ago
WHY WE CARE
The Hollywood Reporter takes a look at a little-known intersection of politics and entertainment, in which Trump campaign CEO Steve Bannon is still raking in residuals from Seinfeld. Here's the digest version: When Seinfeld was in its infancy, Ted Turner was in the process of acquiring its production company, Castle Rock, but he was under-capitalized. Bannon's fledgling media company put up the remaining funds, and he agreed to "participation rights" instead of a fee. "Seinfeld has reaped more than $3 billion in its post-network afterlife through syndication deals." Meanwhile, Bannon is "still cashing checks from Seinfeld, and observers say he has made nearly 25 times more off the Castle Rock deal than he had anticipated."
IT'S ALL CLINTON
Reliable Poll Data Coming in RE: Debate #1
3 hours ago
WHY WE CARE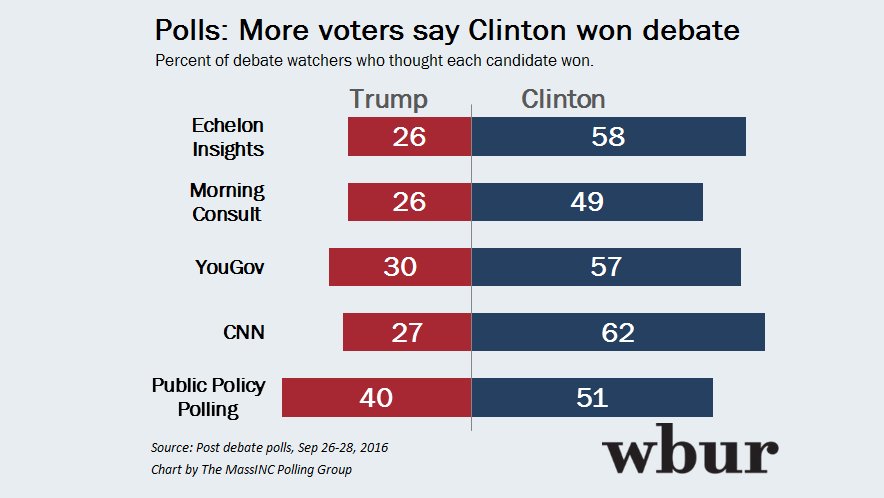 NEXT THURSDAY
Trump Transition Team Meeting with Silicon Valley VIPs
5 hours ago
THE DETAILS
Donald Trump's "transition team will meet next week with representatives of the tech industry, multiple sources confirmed, even as their candidate largely has been largely shunned by Silicon Valley. The meeting, scheduled for next Thursday at the offices of law and lobbying firm BakerHostetler, will include trade groups like the Information Technology Industry Council and the Internet Association that represent major Silicon Valley companies."