Sept. 16, 2013, 8:02 a.m.
The United King­dom on Monday said it would join France and the United States in push­ing the U.N. Se­cur­ity Coun­cil to "en­shrine" a U.S.-Rus­si­an plan reached late last week to de­prive Syr­i­an Pres­id­ent Bashar As­sad of his chem­ic­al-war­fare stock­piles, the Wash­ing­ton Post re­por­ted.
Brit­ish For­eign Sec­ret­ary Wil­li­am Hag­ue told re­port­ers that the glob­al com­munity is ready to hold the Syr­i­an re­gime ac­count­able if it fails to fully meet the terms of the dis­arm­a­ment blue­print un­veiled on Sat­urday. Sec­ret­ary of State John Kerry made fi­nal changes to the U.S.-draf­ted pro­pos­al later en­dorsed by Mo­scow, an Obama in­sider told the Post for a sep­ar­ate Monday re­port.
One gov­ern­ment in­sider said the top dip­lo­mats had "agreed to seek a strong and ro­bust [Se­cur­ity Coun­cil] res­ol­u­tion that sets pre­cise and bind­ing dead­lines with a cal­en­dar," Re­u­ters re­por­ted.
The U.S.-Rus­si­an plan "has to be en­forced," Kerry said on Monday. "If the As­sad re­gime be­lieves that this is not en­force­able and that we are not ser­i­ous, they will play games," he ad­ded at a press con­fer­ence after meet­ing with Hag­ue and French For­eign Min­is­ter Laurent Fabi­us.
As­sad's key op­pon­ents could join peace talks planned as in­ter­na­tion­al dis­cus­sion con­tin­ues on the chem­ic­al-dis­arm­a­ment plan, the As­so­ci­ated Press quoted Fabi­us as say­ing on Monday. Res­ist­ance fight­ers, though, be­lieve the ar­range­ment gives As­sad's re­gime li­cense to in­tensi­fy oth­er kinds of at­tacks, the New York Times re­por­ted on Sunday. Con­ven­tion­al force has been chiefly re­spons­ible for killing more than 100,000 people to date in Syr­ia's civil war.
A U.N. team on Monday said that "en­vir­on­ment­al, chem­ic­al and med­ic­al samples … provide clear and con­vin­cing evid­ence that sur­face-to-sur­face rock­ets con­tain­ing the nerve agent sar­in were used" in an Aug. 21 strike in a Dam­as­cus sub­urb, AP re­por­ted. The gassed area was held by op­pon­ents of As­sad.
Pres­id­ent Obama has said mil­it­ary ac­tion is still on the table if Dam­as­cus fails to meet its ob­lig­a­tions un­der the ar­range­ment, Re­u­ters re­por­ted. U.S. mil­it­ary forces re­main poised to at­tack Syr­i­an gov­ern­ment tar­gets in re­sponse to last month's nerve agent strike.
Any push for armed strikes would face Rus­si­an op­pos­i­tion, but Mo­scow has in­dic­ated it could sup­port pun­it­ive U.N. ac­tions short of force over po­ten­tial mis­steps by As­sad's re­gime, the wire ser­vice said.
The U.S.-Rus­si­an ar­range­ment re­quires Dam­as­cus with­in days to de­clare all its chem­ic­al-weapon stocks. The Or­gan­iz­a­tion for the Pro­hib­i­tion of Chem­ic­al Weapons is ex­pec­ted be­fore Decem­ber to com­plete an ini­tial on-the-ground in­vest­ig­a­tion of the ar­sen­al.
What We're Following See More »
UNTIL DEC. 9, ANYWAY
Obama Signs Bill to Fund Government
2 hours ago
REDSKINS IMPLICATIONS
SCOTUS to Hear Case on Offensive Trademarks
3 hours ago
WHY WE CARE
"The Supreme Court is taking up a First Amendment clash over the government's refusal to register offensive trademarks, a case that could affect the Washington Redskins in their legal fight over the team name. The justices agreed Thursday to hear a dispute involving an Asian-American rock band called the Slants, but they did not act on a separate request to hear the higher-profile Redskins case at the same time." Still, any precedent set by the case could have ramifications for the Washington football team.
STAFF PICKS
Bannon Still Collecting Royalties from 'Seinfeld'
4 hours ago
WHY WE CARE
The Hollywood Reporter takes a look at a little-known intersection of politics and entertainment, in which Trump campaign CEO Steve Bannon is still raking in residuals from Seinfeld. Here's the digest version: When Seinfeld was in its infancy, Ted Turner was in the process of acquiring its production company, Castle Rock, but he was under-capitalized. Bannon's fledgling media company put up the remaining funds, and he agreed to "participation rights" instead of a fee. "Seinfeld has reaped more than $3 billion in its post-network afterlife through syndication deals." Meanwhile, Bannon is "still cashing checks from Seinfeld, and observers say he has made nearly 25 times more off the Castle Rock deal than he had anticipated."
IT'S ALL CLINTON
Reliable Poll Data Coming in RE: Debate #1
4 hours ago
WHY WE CARE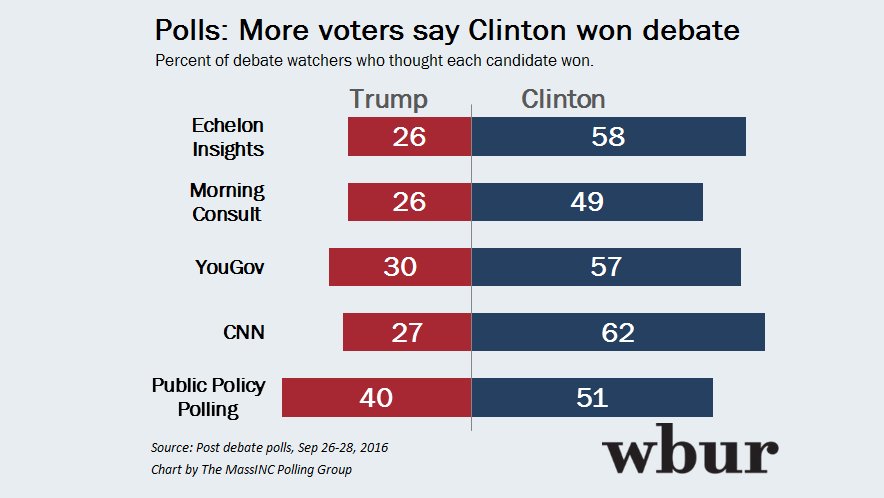 NEXT THURSDAY
Trump Transition Team Meeting with Silicon Valley VIPs
6 hours ago
THE DETAILS
Donald Trump's "transition team will meet next week with representatives of the tech industry, multiple sources confirmed, even as their candidate largely has been largely shunned by Silicon Valley. The meeting, scheduled for next Thursday at the offices of law and lobbying firm BakerHostetler, will include trade groups like the Information Technology Industry Council and the Internet Association that represent major Silicon Valley companies."