Sept. 27, 2013, 9:20 a.m.
The Sen­ate voted 79-19 Fri­day to ad­vance le­gis­la­tion that would keep the gov­ern­ment fun­ded through the fall, a crit­ic­al step for Demo­crats as they seek to avert an Oct. 1 gov­ern­ment shut­down while still pro­tect­ing fund­ing for Pres­id­ent Obama's Af­ford­able Care Act.
In its pre­vi­ous form, the bill would strip fund­ing for Obama­care, but Fri­day's vote paved the way for Sen­ate Ma­jor­ity Lead­er Harry Re­id, D-Nev., and his fel­low Demo­crats to vote to re­move that lan­guage and pass a ver­sion of the bill that in­cludes fund­ing for the health care law. They did just that along party lines.
For Demo­crats, Fri­day's vote is an easy de­cision: Vot­ing yes al­lows them to pro­tect fund­ing for a law they fa­vor, as well as send a bill back to the House, leav­ing that cham­ber with the choice of wheth­er to pass it and avert a gov­ern­ment shut­down.
For Re­pub­lic­ans, the vote rep­res­en­ted a polit­ic­ally per­il­ous choice: By vot­ing vote no on clu­ture, some chose to stand with Sen. Ted Cruz, R-Texas, in telling Demo­crats they will not ac­cept an ex­ten­sion the keeps Obam­care fun­ded, even if that means the gov­ern­ment shuts down Oct. 1.
But while Re­pub­lic­ans are united in their de­sire to de­fund Obama­care, they dif­fer in tac­tics, as many — in­clud­ing Minor­ity Lead­er Mitch Mc­Con­nell, R-Ky., — say they prefer not to pre­cip­it­ate a shut­down over the meas­ure. Those sen­at­ors fear the polit­ic­al back­lash of be­ing blamed for shut­ting down the gov­ern­ment, and would prefer to use dif­fer­ent levers, in­clud­ing pos­sibly the up­com­ing battle over the debt ceil­ing, to de­fund the health care law.
Here's how they voted:
Re­pub­lic­ans vot­ing for clo­ture:
Mitch Mc­Con­nell (Ky.), Bob Cork­er (Tenn.), Lind­sey Gra­ham (S.C.), Kelly Ayotte (N.H.), Lamar Al­ex­an­der (Tenn.), John Mc­Cain (Ar­iz.), Tom Coburn (Okla.), John Ho­even (N.D.), Roy Blunt (Mo.), John Booz­man (Ark.), Richard Burr (N.C.), Saxby Cham­b­liss (Ga.), John Thune (S.D.), Lisa Murkowski (Alaska), Mark Kirk (Ill.), Ron John­son (Wis.), Mike Jo­hanns (Neb.), Johnny Isak­son (Ga.), John Ho­even (N.D.), Jeff Chiesa (N.J.), Tom Coburn (Okla.), Susan Collins (Maine), John Cornyn (Texas). 
Re­pub­lic­ans vot­ing against clo­ture:
Ted Cruz (Texas), Marco Ru­bio (Fla.), Dav­id Vit­ter (La.), Rand Paul (Ky.), Mike Lee (Utah), Mike En­zi (Wyo.), Pat Roberts (Kan.), Pat Toomey (Pa.), Jerry Mor­an (Kan.), Richard Shelby (Ala.), Deb Fisc­her (Neb.), Mike Crapo (Idaho), Chuck Grass­ley (Iowa), Dean Heller (Nev.), Jim In­hofe (Okla.), Rob Port­man (Ohio), Jim Risch (Idaho), Tim Scott (S.C.), Jeff Ses­sions (Ala.).
Demo­crats vot­ing for clo­ture:
All of them.
Sen­at­ors who did not vote:
Jeff Flake (Ar­iz.), Or­rin Hatch (Utah)
COR­REC­TION: This art­icle in­cor­rectly stated the home states of sen­at­ors Jo­hanns and Thune. They are Neb­raska and South Dakota, re­spect­ively.
What We're Following See More »
UNTIL DEC. 9, ANYWAY
Obama Signs Bill to Fund Government
4 hours ago
REDSKINS IMPLICATIONS
SCOTUS to Hear Case on Offensive Trademarks
4 hours ago
WHY WE CARE
"The Supreme Court is taking up a First Amendment clash over the government's refusal to register offensive trademarks, a case that could affect the Washington Redskins in their legal fight over the team name. The justices agreed Thursday to hear a dispute involving an Asian-American rock band called the Slants, but they did not act on a separate request to hear the higher-profile Redskins case at the same time." Still, any precedent set by the case could have ramifications for the Washington football team.
STAFF PICKS
Bannon Still Collecting Royalties from 'Seinfeld'
5 hours ago
WHY WE CARE
The Hollywood Reporter takes a look at a little-known intersection of politics and entertainment, in which Trump campaign CEO Steve Bannon is still raking in residuals from Seinfeld. Here's the digest version: When Seinfeld was in its infancy, Ted Turner was in the process of acquiring its production company, Castle Rock, but he was under-capitalized. Bannon's fledgling media company put up the remaining funds, and he agreed to "participation rights" instead of a fee. "Seinfeld has reaped more than $3 billion in its post-network afterlife through syndication deals." Meanwhile, Bannon is "still cashing checks from Seinfeld, and observers say he has made nearly 25 times more off the Castle Rock deal than he had anticipated."
IT'S ALL CLINTON
Reliable Poll Data Coming in RE: Debate #1
6 hours ago
WHY WE CARE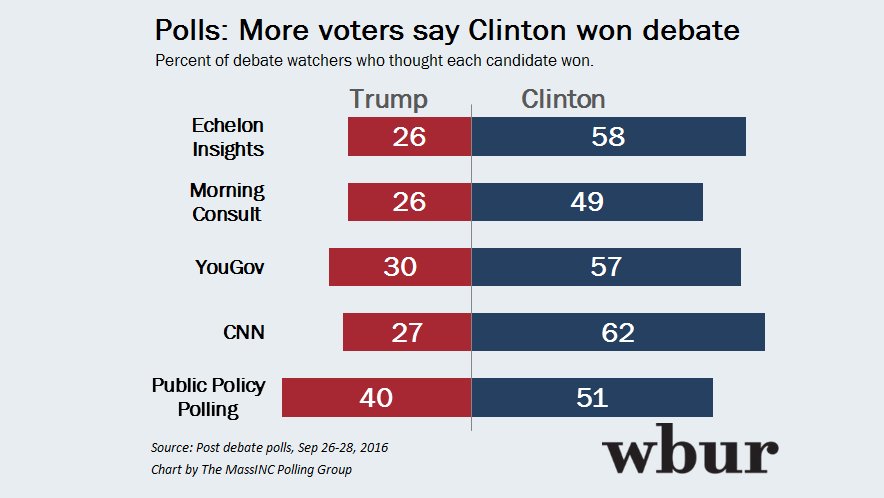 NEXT THURSDAY
Trump Transition Team Meeting with Silicon Valley VIPs
8 hours ago
THE DETAILS
Donald Trump's "transition team will meet next week with representatives of the tech industry, multiple sources confirmed, even as their candidate largely has been largely shunned by Silicon Valley. The meeting, scheduled for next Thursday at the offices of law and lobbying firm BakerHostetler, will include trade groups like the Information Technology Industry Council and the Internet Association that represent major Silicon Valley companies."