Sept. 26, 2013, 9:02 a.m.
Pakistani Prime Min­is­ter Nawaz Sharif is sched­uled to meet with U.S. Pres­id­ent Obama in Wash­ing­ton next month for talks that will ad­dress ef­forts to pre­vent mil­it­ant ex­trem­ism, ac­cord­ing to a Thursday White House an­nounce­ment.
The Oct. 23 meet­ing will "high­light the im­port­ance and re­si­li­ence of the U.S.-Pakistan re­la­tion­ship" and give the two sides a chance to dis­cuss mul­tiple areas for en­han­cing re­la­tions in­clud­ing trade, en­ergy and fos­ter­ing re­gion­al sta­bil­ity, Obama press sec­ret­ary Jay Car­ney said.
The talks at the White House will con­sti­tute the first form­al meet­ing between the two world lead­ers since Sharif was elec­ted in May.
Earli­er this month, the Wash­ing­ton Post re­por­ted the U.S. in­tel­li­gence com­munity had rat­cheted up ef­forts to mon­it­or Pakistan's nuc­le­ar weapons com­plex out of con­cern that loc­al ex­trem­ist act­ors could in­filt­rate or at­tack atom­ic fa­cil­it­ies in or­der to ac­quire ma­ter­i­als for a nuc­le­ar bomb. Is­lamabad re­spon­ded to the me­dia re­port by re­it­er­at­ing past claims that its nuc­le­ar ar­sen­al is kept fully se­cure.
Giv­en the pri­or­ity Obama places on im­prov­ing glob­al-nuc­le­ar se­cur­ity, he and Sharif could talk about Pakistan's atom­ic pro­tec­tions.
Sharif met with U.S. Sec­ret­ary of State John Kerry on Thursday on the mar­gins of the U.N. Gen­er­al As­sembly meet­ing, ac­cord­ing to a Pakistani For­eign Min­istry press re­lease.
"The two sides re­viewed the state of bi­lat­er­al re­la­tion­ship and agreed to in­tensi­fy the en­gage­ments in the com­ing weeks and months to fur­ther ex­pand and deep­en bi­lat­er­al co­oper­a­tion in all areas," the re­lease states.
Sharif told Kerry that deal­ing with Pakistan's en­ergy crisis was a ma­jor pri­or­ity of his ad­min­is­tra­tion. In years past, Is­lamabad has pe­ti­tioned Wash­ing­ton to grant it an atom­ic-en­ergy trade deal, sim­il­ar to the one signed with long­time rival In­dia in 2008. The Obama ad­min­is­tra­tion thus far has re­fused these re­peated en­treat­ies.
The Pakistani lead­er is slated to ad­dress the U.N. Gen­er­al As­sembly on Fri­day and could meet briefly with In­di­an Prime Min­is­ter Man­mo­han Singh on the side­lines of the gath­er­ing, ac­cord­ing to the Pakistani Na­tion news­pa­per. Sharif ad­dressed a high-level U.N. meet­ing on Wed­nes­day, when he talked about re­du­cing poverty.
What We're Following See More »
UNTIL DEC. 9, ANYWAY
Obama Signs Bill to Fund Government
2 hours ago
REDSKINS IMPLICATIONS
SCOTUS to Hear Case on Offensive Trademarks
3 hours ago
WHY WE CARE
"The Supreme Court is taking up a First Amendment clash over the government's refusal to register offensive trademarks, a case that could affect the Washington Redskins in their legal fight over the team name. The justices agreed Thursday to hear a dispute involving an Asian-American rock band called the Slants, but they did not act on a separate request to hear the higher-profile Redskins case at the same time." Still, any precedent set by the case could have ramifications for the Washington football team.
STAFF PICKS
Bannon Still Collecting Royalties from 'Seinfeld'
4 hours ago
WHY WE CARE
The Hollywood Reporter takes a look at a little-known intersection of politics and entertainment, in which Trump campaign CEO Steve Bannon is still raking in residuals from Seinfeld. Here's the digest version: When Seinfeld was in its infancy, Ted Turner was in the process of acquiring its production company, Castle Rock, but he was under-capitalized. Bannon's fledgling media company put up the remaining funds, and he agreed to "participation rights" instead of a fee. "Seinfeld has reaped more than $3 billion in its post-network afterlife through syndication deals." Meanwhile, Bannon is "still cashing checks from Seinfeld, and observers say he has made nearly 25 times more off the Castle Rock deal than he had anticipated."
IT'S ALL CLINTON
Reliable Poll Data Coming in RE: Debate #1
4 hours ago
WHY WE CARE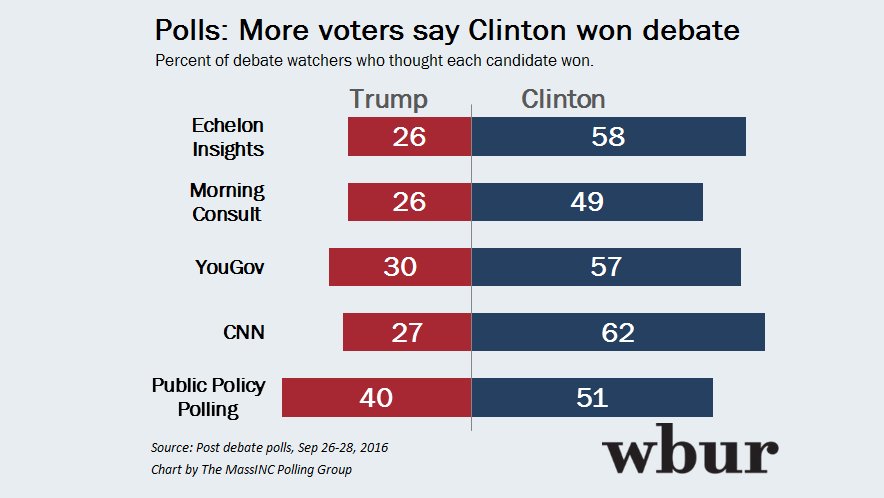 NEXT THURSDAY
Trump Transition Team Meeting with Silicon Valley VIPs
6 hours ago
THE DETAILS
Donald Trump's "transition team will meet next week with representatives of the tech industry, multiple sources confirmed, even as their candidate largely has been largely shunned by Silicon Valley. The meeting, scheduled for next Thursday at the offices of law and lobbying firm BakerHostetler, will include trade groups like the Information Technology Industry Council and the Internet Association that represent major Silicon Valley companies."