While people of­ten com­plain about a Do-Noth­ing Con­gress, massive staff re­duc­tions in­side the Cap­it­ol could make that truer than ever be­fore.
The day-to-day busi­ness of con­gres­sion­al of­fices and com­mit­tees — from con­stitu­ent ser­vice to hear­ings and in­vest­ig­a­tions — is largely on hold, as House Re­pub­lic­ans and Sen­ate Demo­crats stale­mate over a budget agree­ment.
Many of­fices are run­ning with only a frac­tion of their usu­al staff, for­cing law­makers to pri­or­it­ize what gets done and em­ploy­ees to struggle against gar­gan­tu­an work­loads.
"The en­emy of pro­ductiv­ity is fear and anxi­ety," said Robert To­bi­as, a pro­fess­or at Amer­ic­an Uni­versity's School of Pub­lic Af­fairs. "It's very dif­fi­cult to get any­thing done when you're stretched thin and anxious about wheth­er you are go­ing to be paid."
Scenes of ex­actly that played out all over the Cap­it­ol, as law­makers re­vealed how their of­fices and com­mit­tees would man­age the shut­down. The choice of who is deemed es­sen­tial and who is fur­loughed is left to each in­di­vidu­al mem­ber. The same goes for com­mit­tees, where the chair and rank­ing mem­ber de­cide.
Ac­cord­ing to guid­ance is­sued by the House Ad­min­is­tra­tion Com­mit­tee, es­sen­tial em­ploy­ees are those whose jobs are "as­so­ci­ated with the con­sti­tu­tion­al re­spons­ib­il­it­ies, the pro­tec­tion of life, or the pro­tec­tion of prop­erty." There is no re­quire­ment as to how many em­ploy­ees each of­fice needs to fur­lough, al­though of­fices do in­cur a debt for staff work, which will pre­sum­ably be paid once the gov­ern­ment is fun­ded again.
Law­makers ad­dressed the situ­ation dif­fer­ently. Of­fices for Demo­crat­ic Sens. Di­anne Fein­stein and Chris Murphy, for ex­ample, had signs up say­ing they were closed, with phone num­bers to call. Oth­ers, such as that of Sen. Amy Klobuchar, D-Minn., were open with some staff in­side.
Com­mit­tees, too, were a mixed bag. The House Over­sight Com­mit­tee con­tin­ued with its sched­uled hear­ing Tues­day, which turned out to be first day of the shut­down. But the House Ju­di­ciary Com­mit­tee post­poned full com­mit­tee markups and Im­mig­ra­tion Sub­com­mit­tee hear­ings.
One com­mon com­plaint was how to ad­dress the large volume of calls and con­stitu­ent mail that comes in daily. "Pro­ductiv­ity has suffered," said one Sen­ate aide, whose of­fice shrank from 29 staffers and in­terns to just eight. "Let­ters aren't get­ting re­spon­ded to and are pil­ing up. We're mon­it­or­ing phone mes­sages, but we're not an­swer­ing the phones."
In some cases, however, the lack of staff made for good op­tics. Sen. Joe Manchin's staff, for ex­ample, sent out a photo of him an­swer­ing his own phones. A walk over to the of­fice re­vealed the West Vir­gin­ia Demo­crat at a re­cep­tion­ist's desk, chat­ting away as re­port­ers and cam­er­as watched.
Manchin's of­fice re­ceived about 200 voice mails from con­stitu­ents Tues­day, many want­ing to know wheth­er vari­ous so­cial ser­vices were still avail­able. They got an­oth­er 200 calls Wed­nes­day. So when Manchin ar­rived at his of­fice around 9:45 a.m. and heard the phones ringing, he sat down and picked up — and he kept go­ing as people in suits ar­rived for sched­uled meet­ings.
"They're up­set, truly up­set," Manchin told Na­tion­al Journ­al Daily, de­scrib­ing the con­stitu­ents who called. "They're scared and up­set. And this is self-in­flic­ted pain. I just apo­lo­gize. I am a mem­ber of Con­gress, and I apo­lo­gize for this un­ne­ces­sary shut­down."
What We're Following See More »
SAUDI ARABIA BILL
Veto Override Scheduled for Wednesday in Senate
14 minutes ago
THE LATEST
Senate Majority Leader Mitch McConnell said this afternoon that the Senate on Wednesday will take up an override of President Obama's veto of legislation that would allow the families of 9/11 victims to sue the government of Saudi Arabia. "The vote is expected garner the two-thirds majority necessary to override the veto."
MEDIA SHOULD HOLD TRUMP RESPONSIBLE
Reid Devotes Senate Floor Speech to Trump's 'Racism'
58 minutes ago
THE LATEST
"Donald Trump is a racist," announced Senate Minority Leader Harry Reid from the Senate floor this afternoon. Reid said all of us are occasionally politically incorrect, but "I don't know of anyone that when that happens doesn't acknowledge it and, if necessary, apologize quickly." But Trump, he added, says things with "full intent to demean and to denigrate." Reid argued that the media isn't holding Trump to account, and should explicitly call him a racist.
ABSENT FROM LIST: GENNIFER FLOWERS
Most Trump Guests Have Military Ties
4 hours ago
TOP OF MIND
Trending on Google: 'Why Should Trump Not Be President'
4 hours ago
THE DETAILS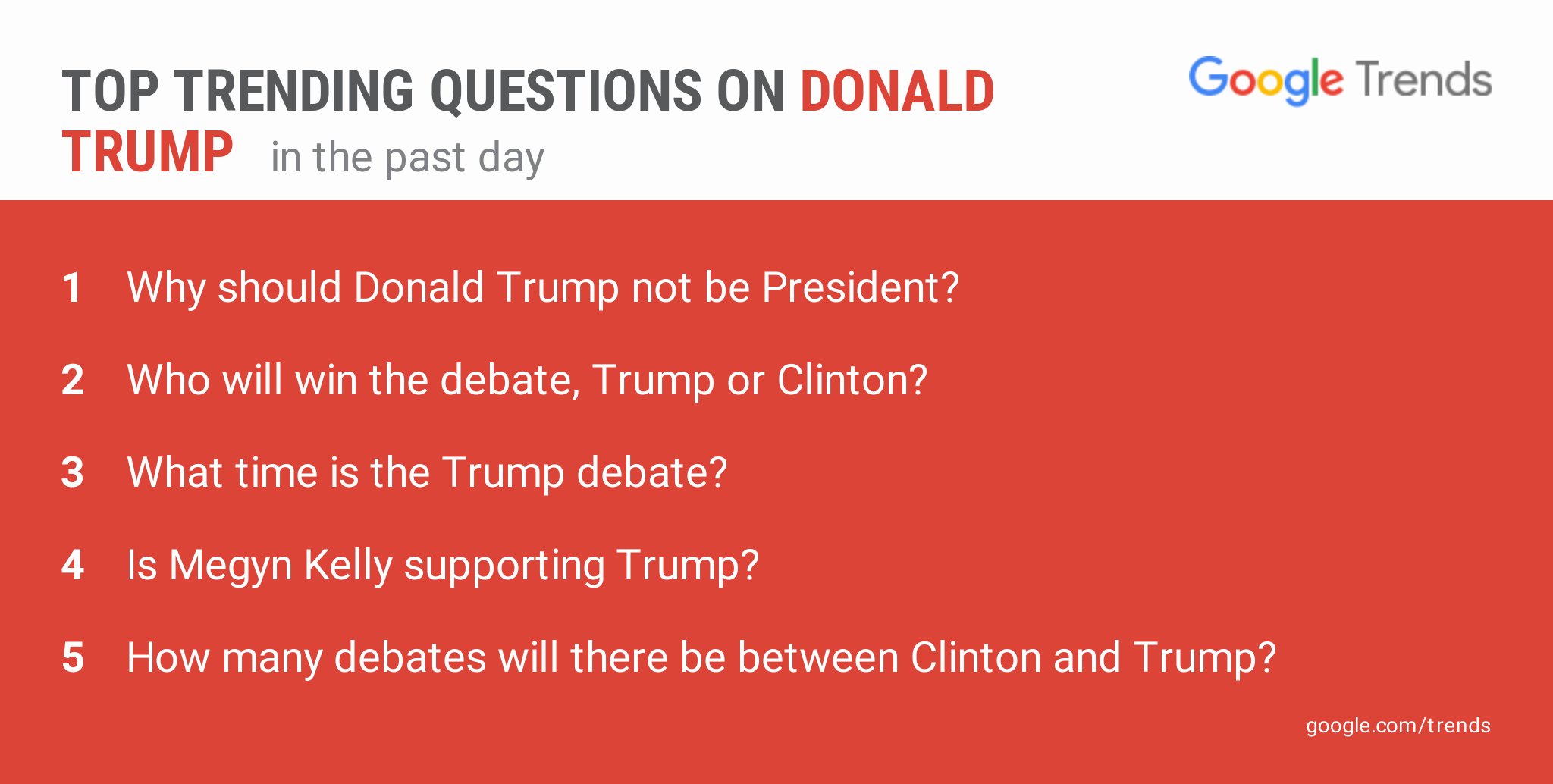 WHO PLAYED THE DONALD?
Longtime Clinton Aide Played Trump in Mock Debates
7 hours ago
THE DETAILS
After keeping the information private for most of the lead-up to the debate on Monday, it has been revealed that longtime Clinton aide Philippe Reines has been playing the role of Donald Trump in her debate prep. Reines knows Clinton better than most, able to identify both her strengths and weaknesses, and his selection for a sparring partner shows that Clinton is preparing for the brash and confrontational Donald Trump many have come to expect.