There was a little more to John Boehner's cross-coun­try Au­gust road trip than the usu­al middle-aged sum­mer hijinks, even bey­ond the fact that one of his golf bud­dies was Don­ald Trump and his bus came with a se­cur­ity de­tail. The 15-state swing let the speak­er flex his muscles and ex­ert one of his last-re­main­ing powers to in­flu­ence his con­fer­ence: his abil­ity to raise money. Turns out, it wasn't a com­plete suc­cess.
Boehner did raise money, pre­sum­ably gobs of it. (Rep. Mike Simpson, R-Idaho, re­portedly raked in more than $95,000 dur­ing the speak­er's stop in Boise.) Yet it wasn't enough to keep the team to­geth­er. Just weeks later, four of the people Boehner spent his sum­mer rais­ing money for bucked his wishes, help­ing lead to the gov­ern­ment shut­down. If Boehner's money talks, some of its re­cip­i­ents wer­en't listen­ing.
Eighty mem­bers of Boehner's rest­ive GOP con­fer­ence signed a let­ter in Au­gust ask­ing the speak­er to in­clude pro­vi­sions de­fund­ing Obama­care in any bill fund­ing oth­er parts of the gov­ern­ment. That wasn't the House lead­er­ship's ori­gin­al plan, but the drum­beat that built dur­ing the Au­gust re­cess was im­possible to ig­nore, and some of the clam­or was com­ing from dis­tricts and rep­res­ent­at­ives Boehner had just vis­ited.
"We wer­en't really in agree­ment with the ori­gin­al plan," said Rep. Scott Perry, a fresh­man from Pennsylvania who had held a $500-per-per­son fun­drais­ing event with the speak­er. That plan, one in which Re­pub­lic­ans would hold off on a ma­jor fight over health care un­til the debt ceil­ing, could have avoided the cur­rent gov­ern­ment shut­down.
Kev­in Mad­den, a polit­ic­al con­sult­ant who formerly served as a Boehner spokes­man, says the rank-and-file simply isn't as be­hold­en to party lead­ers to raise cash as be­fore. "You have net­works of con­ser­vat­ive grass­roots act­iv­ists that at the click of the mouse can or­gan­ize and sup­port a par­tic­u­lar can­did­ate," he said.
Rep. Kerry Bentivolio, the reindeer farm­er-turned-con­gress­man, says he has been happy that the likes of Boehner and House Ma­jor­ity Lead­er Eric Can­tor have come to his Michigan dis­trict to help him with his fun­drais­ing. (With a Re­pub­lic­an primary op­pon­ent already de­clared and pulling in more than $425,000 in seed money, Bentivolio's go­ing to need all the cash he can get.) He says that he's nev­er heard a peep from the speak­er about his de­cision to take a hard line on the con­tinu­ing res­ol­u­tion.
"Angry? I have nev­er seen him angry. He is one cool guy," Bentivolio said Wed­nes­day between votes to fund small parts of the gov­ern­ment piece­meal. "That's what I like about him. He's like—he's like Eis­en­hower. He has all these dif­fer­ent groups to dis­cuss with and plan strategy. And like Eis­en­hower, he's rais­ing the right agenda for the right reas­ons."
Boehner's team doesn't see the fun­draisers as wasted ef­fort. Cory Fritz, a spokes­man for Boehner's polit­ic­al of­fice, emailed: "The Speak­er's Au­gust road trip was a suc­cess, bring­ing in much-needed re­sources for House Re­pub­lic­ans as we stand united in work­ing to keep the gov­ern­ment run­ning and pro­tect all Amer­ic­ans from the pres­id­ent's un­work­able health care law." Even be­fore the trip, Boehner had re­portedly donated more than $5.5 mil­lion to the Na­tion­al Re­pub­lic­an Con­gres­sion­al Com­mit­tee, the arm of the party charged with win­ning House elec­tions.
Con­ser­vat­ives such as Rep. Dan Ben­ishek, R-Mich., say that doesn't mean their votes are bought and paid for: "I don't know what one thing has to do with the oth­er," he said with a laugh.
That Boehner lacks power over his con­fer­ence has be­come a tru­ism: He can't of­fer them ear­marks be­cause they are banned, he can't pun­ish mem­bers be­cause they don't care as much about com­mit­tee po­s­i­tions, and he can't ex­ploit their in­sec­ur­it­ies, be­cause many of them rep­res­ent dis­tricts that hail their mar­tyr­dom for a cause.
That leaves money as a wedge, but the spig­ot flows every­where now. Boehner may have raised $93 mil­lion for him­self and oth­er Re­pub­lic­ans last elec­tion, but the Sen­ate Con­ser­vat­ives Fund, the polit­ic­al ac­tion com­mit­tee foun­ded by the Her­it­age Found­a­tion's Jim De­Mint, man­aged to pull in $1.5 mil­lion dur­ing the "De­fund Obama­care" push in Au­gust alone. Even so, there are no signs from Boehner that he's about to be any less gen­er­ous with his fun­drais­ing.
"I spoke with him on the floor last night," Perry said. "I think the re­la­tion­ship is sol­id and strong. If it wasn't, that would be petty, and I don't think he's that kind of in­di­vidu­al. He hasn't shown him­self to be that kind of in­di­vidu­al."
Maybe that's the prob­lem.
What We're Following See More »
UNTIL DEC. 9, ANYWAY
Obama Signs Bill to Fund Government
4 hours ago
REDSKINS IMPLICATIONS
SCOTUS to Hear Case on Offensive Trademarks
4 hours ago
WHY WE CARE
"The Supreme Court is taking up a First Amendment clash over the government's refusal to register offensive trademarks, a case that could affect the Washington Redskins in their legal fight over the team name. The justices agreed Thursday to hear a dispute involving an Asian-American rock band called the Slants, but they did not act on a separate request to hear the higher-profile Redskins case at the same time." Still, any precedent set by the case could have ramifications for the Washington football team.
STAFF PICKS
Bannon Still Collecting Royalties from 'Seinfeld'
6 hours ago
WHY WE CARE
The Hollywood Reporter takes a look at a little-known intersection of politics and entertainment, in which Trump campaign CEO Steve Bannon is still raking in residuals from Seinfeld. Here's the digest version: When Seinfeld was in its infancy, Ted Turner was in the process of acquiring its production company, Castle Rock, but he was under-capitalized. Bannon's fledgling media company put up the remaining funds, and he agreed to "participation rights" instead of a fee. "Seinfeld has reaped more than $3 billion in its post-network afterlife through syndication deals." Meanwhile, Bannon is "still cashing checks from Seinfeld, and observers say he has made nearly 25 times more off the Castle Rock deal than he had anticipated."
IT'S ALL CLINTON
Reliable Poll Data Coming in RE: Debate #1
6 hours ago
WHY WE CARE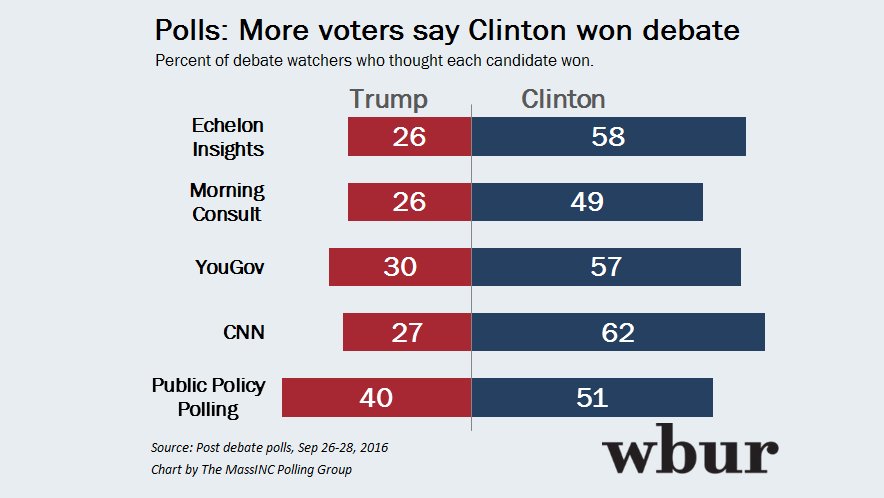 NEXT THURSDAY
Trump Transition Team Meeting with Silicon Valley VIPs
8 hours ago
THE DETAILS
Donald Trump's "transition team will meet next week with representatives of the tech industry, multiple sources confirmed, even as their candidate largely has been largely shunned by Silicon Valley. The meeting, scheduled for next Thursday at the offices of law and lobbying firm BakerHostetler, will include trade groups like the Information Technology Industry Council and the Internet Association that represent major Silicon Valley companies."