A week after po­lice shot and killed a wo­man who was ra­cing to­ward the Cap­it­ol after try­ing to breach a White House bar­ri­cade, law­makers have been largely si­lent on the in­cid­ent pending the res­ults of an in­vest­ig­a­tion.
"I'm con­cerned when any per­son is shot, armed or un­armed, if it could be handled in some oth­er way," said Rep. Mar­cia Fudge, D-Ohio. "But we need to see the re­port to de­term­ine if that's the case. I am hope­ful that the in­vest­ig­a­tion will show the ac­tions that were taken were ne­ces­sary, but un­til such time, as it is, I'm go­ing to err on the side of the Cap­it­ol Po­lice hav­ing done the ap­pro­pri­ate thing."
Fudge isn't alone. Con­necti­c­ut law­makers have like­wise shown de­fer­ence to the Cap­it­ol Po­lice, even as the fam­ily mem­bers of the slain wo­man, Miri­am Carey of Stam­ford, have been voicing skep­ti­cism that she was re­spons­ible for the shoot­ing and ask­ing wheth­er po­lice could have re­acted dif­fer­ently.
Sen. Richard Blu­menth­al, D-Conn., praised Cap­it­ol Po­lice in a state­ment while also ex­tend­ing con­dol­ences to Carey's fam­ily. "An in­vest­ig­a­tion is cer­tainly ap­pro­pri­ate — as is on­go­ing — and I await its fac­tu­al find­ings, along with over­sight and scru­tiny from oth­er sources," he said.
Rep. Jim Himes, D-Conn., whose dis­trict in­cludes Stam­ford, like­wise urged cau­tion. "Ob­vi­ously the death of Ms. Carey was a real tragedy," he told The Hart­ford Cour­ant. "I ex­pect that a full in­vest­ig­a­tion will be un­der­taken to out all the facts. Un­til that has been com­pleted, people should re­serve judg­ment."
D.C.'s Met­ro­pol­it­an Po­lice De­part­ment is lead­ing the in­vest­ig­a­tion in­to the in­cid­ent, with sup­port from the U.S. Cap­it­ol Po­lice, Secret Ser­vice, and FBI, ac­cord­ing to po­lice of­fi­cials. The Cap­it­ol Po­lice policy on the use of force is not pub­lic in­form­a­tion.
The Cap­it­ol Po­lice of­ficer who had been hos­pit­al­ized after the in­cid­ent has been re­leased, po­lice said, and the of­ficers in­volved in the event "are not in the field" pending the out­come of the in­vest­ig­a­tion.
"I think that mem­bers are re­luct­ant to second-guess people whose job it is to pro­tect them, giv­en the fact that there are a live threats that hap­pen around here all the time," said Rep. Keith El­lis­on, D-Minn.
Rep. G.K. But­ter­field, D-N.C., said he heard some in­form­al ques­tions among law­makers in the days fol­low­ing the in­cid­ent, "but now all eyes are fo­cused on the shut­down."
"I know now it's a pretty dan­ger­ous thing for someone to be speed­ing from the White House to the U.S. Cap­it­ol at 80 miles per hour, run­ning stoplights, and you don't know if it's a ter­ror­ist or a de­ranged in­di­vidu­al or what," But­ter­field said. "The ques­tion most people are ask­ing is why they didn't shoot the tires out or re­sort to some oth­er means of dis­abling the vehicle. But we've got to get the facts."
What We're Following See More »
SAUDI ARABIA BILL
Veto Override Scheduled for Wednesday in Senate
1 hours ago
THE LATEST
Senate Majority Leader Mitch McConnell said this afternoon that the Senate on Wednesday will take up an override of President Obama's veto of legislation that would allow the families of 9/11 victims to sue the government of Saudi Arabia. "The vote is expected garner the two-thirds majority necessary to override the veto."
MEDIA SHOULD HOLD TRUMP RESPONSIBLE
Reid Devotes Senate Floor Speech to Trump's 'Racism'
2 hours ago
THE LATEST
"Donald Trump is a racist," announced Senate Minority Leader Harry Reid from the Senate floor this afternoon. Reid said all of us are occasionally politically incorrect, but "I don't know of anyone that when that happens doesn't acknowledge it and, if necessary, apologize quickly." But Trump, he added, says things with "full intent to demean and to denigrate." Reid argued that the media isn't holding Trump to account, and should explicitly call him a racist.
ABSENT FROM LIST: GENNIFER FLOWERS
Most Trump Guests Have Military Ties
5 hours ago
TOP OF MIND
Trending on Google: 'Why Should Trump Not Be President'
6 hours ago
THE DETAILS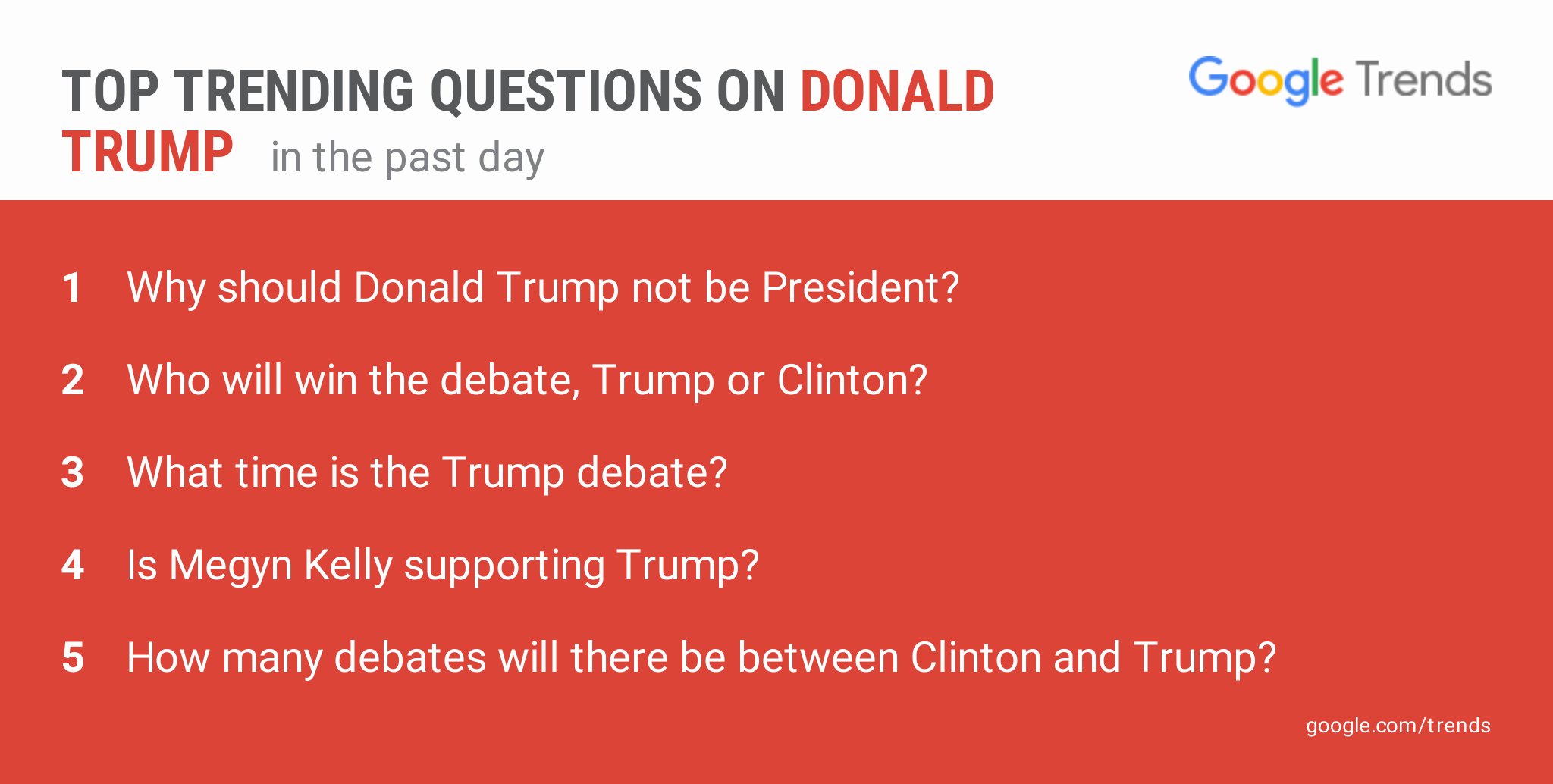 WHO PLAYED THE DONALD?
Longtime Clinton Aide Played Trump in Mock Debates
8 hours ago
THE DETAILS
After keeping the information private for most of the lead-up to the debate on Monday, it has been revealed that longtime Clinton aide Philippe Reines has been playing the role of Donald Trump in her debate prep. Reines knows Clinton better than most, able to identify both her strengths and weaknesses, and his selection for a sparring partner shows that Clinton is preparing for the brash and confrontational Donald Trump many have come to expect.