A few too many glasses of bour­bon and a phone call are usu­ally not a good com­bin­a­tion — wheth­er it's with an ex-girl­friend or your boss. But what about a mem­ber of Con­gress?
That might be OK. A new ser­vice called "Drunk Dial Con­gress" al­lows you to enter your tele­phone num­ber on the web­site and get con­nec­ted to a ran­dom law­maker's of­fice to air your griev­ances. And drink­ing be­fore­hand is en­cour­aged.
It's still morn­ing, so I've only had a couple cups of cof­fee, but I wanted to test the ser­vice in the name of journ­al­ism. I entered my num­ber and got a call from an 888 num­ber. The voice of a heav­ily in­ebri­ated man said:
Hi. Is this gov­ern­ment shut­down mak­ing you want to drink? Well, it sure makes me want to drink. And let me tell you, when I drink I like to tell people what's on my mind. So in a minute, we're go­ing to for­ward you to a mem­ber of the House of Rep­res­ent­at­ives and you can tell them what's on your mind and tell them to get back to work.
I tried the ser­vice four times and reached two Demo­crats and two Re­pub­lic­ans: Reps. Dina Tit­us, D-Nev., Tom Cot­ton, R-Ark., Mike Turn­er, R-Ohio, and Brad Schneider, D-Ill. Don't worry, I hung up to spare the already-thinned of­fices from hav­ing to deal with my ex­per­i­ment.
The web­site in­cludes talk­ing points with links to art­icles about the gov­ern­ment shut­down. It also in­cludes five drink re­cipes, which in­clude the South­ern Con­gress­man, the Fancy States­man, the Bloody Bas­tard, the Bad Rep­res­ent­at­ive, and the Sleepy Sen­at­or.
A pro­gress­ive di­git­al-mar­ket­ing group called Re­volu­tion Mes­saging is be­hind the ser­vice, al­though the web­site it­self doesn't ap­pear to have any polit­ic­al bi­ases. Ob­vi­ously, this is just a site to add a little fun to a bleak situ­ation in Wash­ing­ton.
What We're Following See More »
UNTIL DEC. 9, ANYWAY
Obama Signs Bill to Fund Government
1 hours ago
REDSKINS IMPLICATIONS
SCOTUS to Hear Case on Offensive Trademarks
1 hours ago
WHY WE CARE
"The Supreme Court is taking up a First Amendment clash over the government's refusal to register offensive trademarks, a case that could affect the Washington Redskins in their legal fight over the team name. The justices agreed Thursday to hear a dispute involving an Asian-American rock band called the Slants, but they did not act on a separate request to hear the higher-profile Redskins case at the same time." Still, any precedent set by the case could have ramifications for the Washington football team.
STAFF PICKS
Bannon Still Collecting Royalties from 'Seinfeld'
2 hours ago
WHY WE CARE
The Hollywood Reporter takes a look at a little-known intersection of politics and entertainment, in which Trump campaign CEO Steve Bannon is still raking in residuals from Seinfeld. Here's the digest version: When Seinfeld was in its infancy, Ted Turner was in the process of acquiring its production company, Castle Rock, but he was under-capitalized. Bannon's fledgling media company put up the remaining funds, and he agreed to "participation rights" instead of a fee. "Seinfeld has reaped more than $3 billion in its post-network afterlife through syndication deals." Meanwhile, Bannon is "still cashing checks from Seinfeld, and observers say he has made nearly 25 times more off the Castle Rock deal than he had anticipated."
IT'S ALL CLINTON
Reliable Poll Data Coming in RE: Debate #1
3 hours ago
WHY WE CARE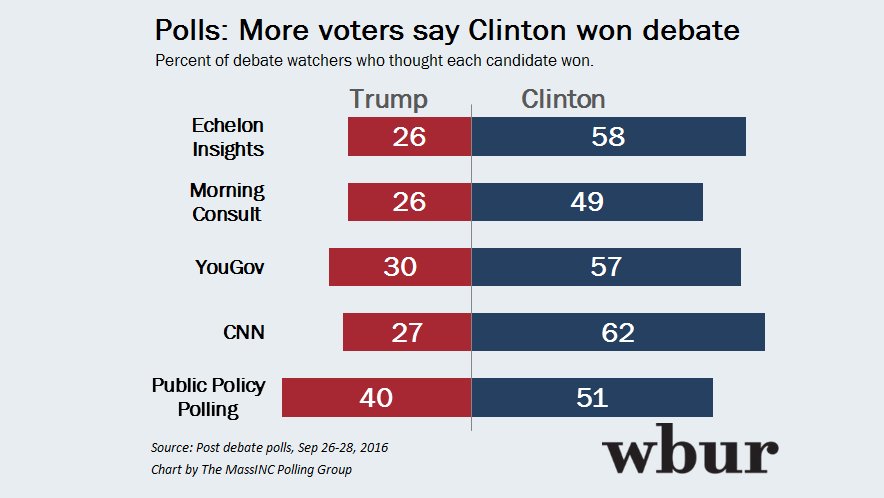 NEXT THURSDAY
Trump Transition Team Meeting with Silicon Valley VIPs
5 hours ago
THE DETAILS
Donald Trump's "transition team will meet next week with representatives of the tech industry, multiple sources confirmed, even as their candidate largely has been largely shunned by Silicon Valley. The meeting, scheduled for next Thursday at the offices of law and lobbying firm BakerHostetler, will include trade groups like the Information Technology Industry Council and the Internet Association that represent major Silicon Valley companies."