Oct. 11, 2013, 10:42 a.m.
Polls show the Re­pub­lic­an Party at rock bot­tom. The shut­down, the ob­ses­sion with un­wind­ing Obama­care, the de­fault deny­ing "" all are wip­ing away sup­port for the GOP's ap­proach among voters.
But don't tell that to any one of the re­li­gious con­ser­vat­ives at the Val­ues Voter Sum­mit.
To these church lead­ers, anti-abor­tion act­iv­ists, gay mar­riage op­pon­ents, and gun own­ers "" who vote straight-tick­et Re­pub­lic­an "" the show­down over the Af­ford­able Care Act that led to the fed­er­al shut­down was worth it, and main­stream Re­pub­lic­ans' worry about the 2014 im­plic­a­tions are, plainly, ri­dicu­lous.
"I think Obama­care is the worst thing in this na­tion since slavery," said Ben Car­son, a speak­er at the con­fer­ence and an Afric­an-Amer­ic­an re­tired neurosur­geon who joined Fox News as a con­trib­ut­or this week.
And while Ted Cruz and Mike Lee con­tin­ue to come un­der heated cri­ti­cism from Wash­ing­ton col­leagues for pre­cip­it­at­ing a crisis they did not know how to re­solve, at­tendees here praised the tea party sen­at­ors for their lead­er­ship.
"I for one am sick of the whin­ing that's go­ing on from the Re­pub­lic­an Party and from some in the con­ser­vat­ive move­ment it­self," said Brent Bozell, founder of the Me­dia Re­search Cen­ter, a con­ser­vat­ive watch­dog group. "Un­til Ted Cruz came along with Mike Lee "¦ they had no plan A."
To this crowd, which holds sway over the Re­pub­lic­an Party be­cause of its out­sized share of the primary elect­or­ate, ideo­lo­gic­al prin­ciples mat­ter more than the bad poll num­bers com­ing in that show GOP tac­tics badly hurt­ing the party.
A new Gal­lup poll found only 28 per­cent of Amer­ic­ans view the GOP fa­vor­ably, an all-time low for either party since 1992. The latest NBC-Wall Street Journ­al poll found a 24 per­cent fa­vor­ab­il­ity rat­ing, also a re­cord low. The United Tech­no­lo­gies/Na­tion­al Journ­al Con­gres­sion­al Con­nec­tion Poll found 65 per­cent of Amer­ic­ans do not want Re­pub­lic­ans to tie ef­forts to de­fund or delay Obama­care to the gov­ern­ment fund­ing bill.
These sur­veys and oth­ers are lead­ing mod­er­ate Re­pub­lic­ans from the busi­ness com­munity and polit­ic­al es­tab­lish­ment to in­creas­ingly chal­lenge House Re­pub­lic­ans' tac­tics.
"To go to war over an im­possible ob­ject­ive (re­peal­ing Obama­care) is not only woe­fully in­ef­fect­ive, it is polit­ic­al sui­cide," former U.S. Com­merce Sec­ret­ary Car­los Gu­ti­er­rez, a Re­pub­lic­an who served in the Bush ad­min­is­tra­tion, told Na­tion­al Journ­al. "I am alarmed by the lack of a co­her­ent strategy by my party."
The on­go­ing con­flict over the health care law has ex­acer­bated the rift in the Re­pub­lic­an Party between prag­mat­ists with an eye on 2014 and 2016 and the con­ser­vat­ive ideo­logues who filled the hotel ball­room at the an­nu­al con­fer­ence sponsored by the Fam­ily Re­search Coun­cil. The men­tion of Cruz's fili­buster-like tirade against the health care law brought the crowd to its feet.
"It was the right thing to do," said John Stem­ber­ger, pres­id­ent of the Flor­ida Fam­ily Policy Coun­cil. "Obama­care is ob­jec­tion­able enough to make this kind of a stand to show how odi­ous it is."
The budget show­down was even worth it to Jim Neuber­ger, a gov­ern­ment con­tract­or from Clifton, Va., who was able to at­tend the con­fer­ence with his wife and two daugh­ters be­cause he's been fur­loughed. "Just be­cause it's a law doesn't make it right," said Neuber­ger, who is wor­ried the Af­ford­able Care Act will dis­rupt his fam­ily's in­sur­ance plan. "It's a clash of prin­ciples."
What We're Following See More »
STAFF PICKS
Bannon Still Collecting Royalties from 'Seinfeld'
54 minutes ago
WHY WE CARE
The Hollywood Reporter takes a look at a little-known intersection of politics and entertainment, in which Trump campaign CEO Steve Bannon is still raking in residuals from Seinfeld. Here's the digest version: When Seinfeld was in its infancy, Ted Turner was in the process of acquiring its production company, Castle Rock, but he was under-capitalized. Bannon's fledgling media company put up the remaining funds, and he agreed to "participation rights" instead of a fee. "Seinfeld has reaped more than $3 billion in its post-network afterlife through syndication deals." Meanwhile, Bannon is "still cashing checks from Seinfeld, and observers say he has made nearly 25 times more off the Castle Rock deal than he had anticipated."
IT'S ALL CLINTON
Reliable Poll Data Coming in RE: Debate #1
1 hours ago
WHY WE CARE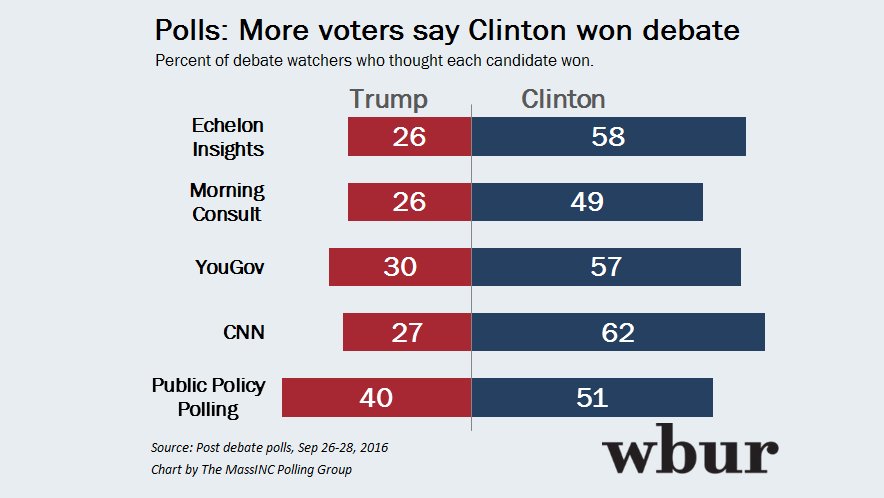 NEXT THURSDAY
Trump Transition Team Meeting with Silicon Valley VIPs
3 hours ago
THE DETAILS
Donald Trump's "transition team will meet next week with representatives of the tech industry, multiple sources confirmed, even as their candidate largely has been largely shunned by Silicon Valley. The meeting, scheduled for next Thursday at the offices of law and lobbying firm BakerHostetler, will include trade groups like the Information Technology Industry Council and the Internet Association that represent major Silicon Valley companies."
WHAT WILL PASS?
McConnell Doubts Criminal Justice Reform Can Pass This Year
3 hours ago
ALSO FIRED UNATTRACTIVE WAITRESSES
Trump Did Business with Cuba
4 hours ago
THE LATEST
Today in bad news for Donald Trump:
Newsweek found that a company he controlled did business with Cuba under Fidel Castro "despite strict American trade bans that made such undertakings illegal, according to interviews with former Trump executives, internal company records and court filings." In 1998, he spent at least $68,000 there, which was funneled through a consluting company "to make it appear legal."
The Los Angeles Times reports that at a golf club he owns in California, Trump ordered that unattractive female staff be fired and replaced with prettier women.