Oct. 16, 2013, 11:10 a.m.
In a sign of the in­tern­al back­lash against the right wing of the House Re­pub­lic­an Con­fer­ence, Louisi­ana Re­pub­lic­an Charles Bous­tany ques­tioned the polit­ic­al al­le­gi­ances and mo­tiv­a­tions of his tea party-aligned col­leagues and said they had put the GOP ma­jor­ity at risk in the cur­rent shut­down fight.
"There are mem­bers with a dif­fer­ent agenda," Bous­tany said Wed­nes­day in an in­ter­view in his of­fice. "And I'm not sure they're Re­pub­lic­ans and I'm not sure they're con­ser­vat­ive."
His com­ments came a day after rank-and-file House Re­pub­lic­ans re­jec­ted a pack­age to re­open the gov­ern­ment au­thored by their own lead­er, Speak­er John Boehner. The res­ult is that a bi­par­tis­an Sen­ate-au­thored deal to end the two-week gov­ern­ment shut­down ap­pears poised to pass with al­most noth­ing of sub­stance gained by House con­ser­vat­ives for the shut­down they pre­cip­it­ated.
"The speak­er has said con­sist­ently un­less we can put 218 votes up, and prefer­ably more than that, our abil­ity to ne­go­ti­ate is pretty much un­der­mined and that's the prob­lem we've re­peatedly found ourselves in," said Bous­tany, who has served since 2005 and is a seni­or mem­ber of the Ways and Means Com­mit­tee. "Look at payroll tax. Look at fisc­al cliff. You can go on and on. There are a hand­ful of mem­bers "" the num­bers sort of vary, it's in the 20-30 range "" that are enough to de­rail a Re­pub­lic­an con­ser­vat­ive agenda in the House."
Bous­tany said those law­makers are so ob­sessed with op­pos­ing any com­prom­ise that they end up driv­ing the fi­nal le­gis­lat­ive res­ult fur­ther from the broad­er GOP goals. "I think there are mem­bers who are in com­plete deni­al about their re­spons­ib­il­ity to gov­ern and to try to use con­ser­vat­ive prin­ciples to get the best pos­sible le­gis­lat­ive pack­age we can get," he said.
Rep. Mick Mul­vaney, R-S.C., who typ­ic­ally lines up with the most con­ser­vat­ive fac­tion of the House, agreed that the GOP re­jec­tion of Boehner's plan has res­ul­ted in a "much, much worse" deal at a monthly for­um sponsored by the Her­it­age Found­a­tion Wed­nes­day.
Bous­tany, a former sur­geon who is not known as the most out­spoken GOP mem­ber, said he fears his party's in­ab­il­ity to rule the cham­ber with its own ma­jor­ity is threat­en­ing its hold on the House.
"This could trig­ger a wave of dis­con­tent that could wash out our Re­pub­lic­an ma­jor­ity in the House if we're not care­ful "" it's get­ting to that level," Bous­tany said.
And he poin­ted the blame squarely at tea party law­makers who he said were more con­cerned about bol­ster­ing their con­ser­vat­ive bona fides than gov­ern­ing.
"Their al­le­gi­ance is not to the mem­bers in the con­fer­ence. Their al­le­gi­ance is not to the lead­er­ship team and to con­ser­vat­ive val­ues," he said. "Their al­le­gi­ance is to these out­side Wash­ing­ton DC in­terest groups that raise money and go after con­ser­vat­ive Re­pub­lic­ans."
Only a hand­ful of House Re­pub­lic­ans have spoken out pub­licly against the hard­line fac­tion of the House GOP, but Bous­tany said the shut­down had grown their num­bers. "There is a very large si­lent ma­jor­ity that's get­ting frus­trated with what's hap­pen­ing be­cause of what these out­side groups have done by set­ting false ex­pect­a­tions, de­lib­er­ately mis­lead­ing the pub­lic on some of these is­sues and com­mand­ing al­le­gi­ance of cer­tain mem­bers who falsely place their al­le­gi­ance to these groups rather than to their con­sti­tu­tion­al re­spons­ib­il­ity to gov­ern," he said.
Tim Alberta contributed to this article.
What We're Following See More »
UNTIL DEC. 9, ANYWAY
Obama Signs Bill to Fund Government
1 hours ago
REDSKINS IMPLICATIONS
SCOTUS to Hear Case on Offensive Trademarks
1 hours ago
WHY WE CARE
"The Supreme Court is taking up a First Amendment clash over the government's refusal to register offensive trademarks, a case that could affect the Washington Redskins in their legal fight over the team name. The justices agreed Thursday to hear a dispute involving an Asian-American rock band called the Slants, but they did not act on a separate request to hear the higher-profile Redskins case at the same time." Still, any precedent set by the case could have ramifications for the Washington football team.
STAFF PICKS
Bannon Still Collecting Royalties from 'Seinfeld'
2 hours ago
WHY WE CARE
The Hollywood Reporter takes a look at a little-known intersection of politics and entertainment, in which Trump campaign CEO Steve Bannon is still raking in residuals from Seinfeld. Here's the digest version: When Seinfeld was in its infancy, Ted Turner was in the process of acquiring its production company, Castle Rock, but he was under-capitalized. Bannon's fledgling media company put up the remaining funds, and he agreed to "participation rights" instead of a fee. "Seinfeld has reaped more than $3 billion in its post-network afterlife through syndication deals." Meanwhile, Bannon is "still cashing checks from Seinfeld, and observers say he has made nearly 25 times more off the Castle Rock deal than he had anticipated."
IT'S ALL CLINTON
Reliable Poll Data Coming in RE: Debate #1
3 hours ago
WHY WE CARE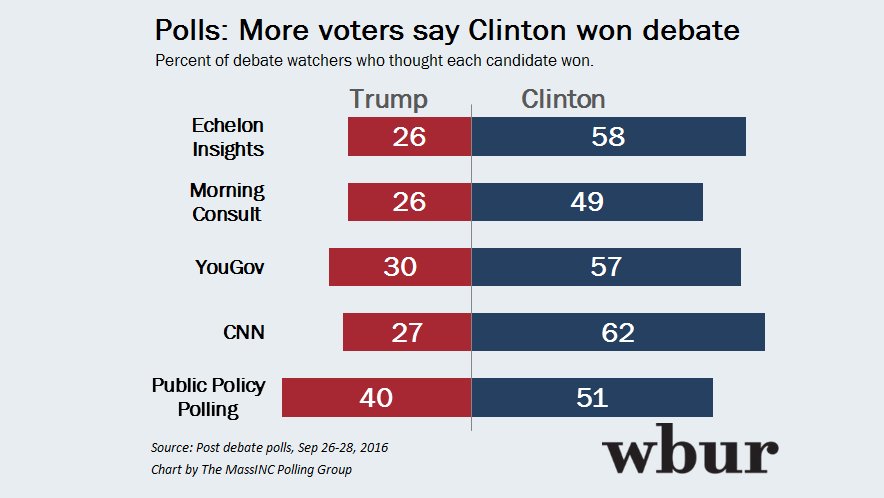 NEXT THURSDAY
Trump Transition Team Meeting with Silicon Valley VIPs
5 hours ago
THE DETAILS
Donald Trump's "transition team will meet next week with representatives of the tech industry, multiple sources confirmed, even as their candidate largely has been largely shunned by Silicon Valley. The meeting, scheduled for next Thursday at the offices of law and lobbying firm BakerHostetler, will include trade groups like the Information Technology Industry Council and the Internet Association that represent major Silicon Valley companies."