You wouldn't buy sun­screen without first check­ing the SPF la­bel. You prob­ably even check the nu­tri­tion facts on your food from time to time. And soon, the En­vir­on­ment­al Pro­tec­tion Agency hopes, con­sumers will come to ex­pect sim­il­ar la­bels on used cars, in­sect re­pel­lents, and a host of oth­er products.
"It is very much a con­cer­ted ef­fort on the agency's part," said Jim Jones, who helped design EPA's in­sect re­pel­lent la­bels that de­b­uted Wed­nes­day. "We're really try­ing to fig­ure out where we can provide in­form­a­tion in a man­ner that is eas­ily ac­cess­ible to the av­er­age con­sumer and trust­ing that the Amer­ic­an pub­lic makes in­formed de­cisions."
The agency is seek­ing pub­lic feed­back on its new re­pel­lent la­bels, which tell con­sumers if a product keeps away mos­qui­toes or ticks, and for how long. That in­form­a­tion isn't new, Jones said, but pre­vi­ous stand­ards made it in­con­sist­ently placed and "densely com­mu­nic­ated."
At­tempts to stand­ard­ize and sim­pli­fy product in­form­a­tion, EPA ad­mits, are modeled after the pre­ced­ent set by the Food and Drug Ad­min­is­tra­tion. "We used the SPF mod­el," Jones said of the latest la­bel. In the design stage, EPA sought the ad­vice of the FDA, which also has been re­quir­ing nu­tri­tion la­bels on pack­aged foods since 1990. "The co­ordin­a­tion with FDA was largely about learn­ing from their ex­per­i­ence," Jones said. "What works with con­sumers? What doesn't work?"
In­sect re­pel­lent isn't EPA's first for­ay in­to stand­ard­ized product la­beling. Earli­er this year, the agency ex­pan­ded its fuel-mileage stick­ers to in­clude used cars. Al­though the stick­ers' ad­jus­ted stand­ards dropped mileage es­tim­ates from ori­gin­al claims, many in the car-sales in­dustry lauded their uni­form­ity and trans­par­ency. "Any­body who's selling a car, deal­er­ships es­pe­cially, are go­ing to be look­ing for any edge they can get," Auto­Trader.com site ed­it­or Bri­an Moody told Na­tion­al Journ­al last month. "What bet­ter way to get that edge than an of­fi­cial stick­er from the gov­ern­ment?"
Con­sumer ad­voc­ates also wel­come the ex­pan­sion of gov­ern­ment-stand­ard la­bels. "It's help­ful for the gov­ern­ment to set some sort of stand­ard so that all products are meet­ing that," said the Con­sumer Fed­er­a­tion of Amer­ica's Chris Waldrop. "You want to make sure that the la­bel is something con­sumers can use and un­der­stand." Based on past suc­cess stor­ies, Waldrop said, it won't take long for oth­er la­bels to catch on. "Once [nu­tri­tion la­beling] was on the pack­age, con­sumers star­ted us­ing it and find­ing it use­ful," he said.
So far, feed­back has been pos­it­ive on the new re­pel­lent la­bel, Jones said. Fo­cus groups that tested the la­bel found it to be help­ful, and man­u­fac­tur­ers have mostly wel­comed the in­creased clar­ity.
So what's next on EPA's la­bel cam­paign? Jones has his eye on the Design for the En­vir­on­ment pro­gram, which des­ig­nates products that are en­vir­on­ment­ally safe. While its aims are good, "that la­bel doesn't really res­on­ate," Jones said. "We're go­ing to re­design that la­bel … in a way that it's really clear to the con­sumer what we're try­ing to con­vey to them."
What We're Following See More »
ABSENT FROM LIST: GENNIFER FLOWERS
Most Trump Guests Have Military Ties
39 minutes ago
TOP OF MIND
Trending on Google: 'Why Should Trump Not Be President'
49 minutes ago
THE DETAILS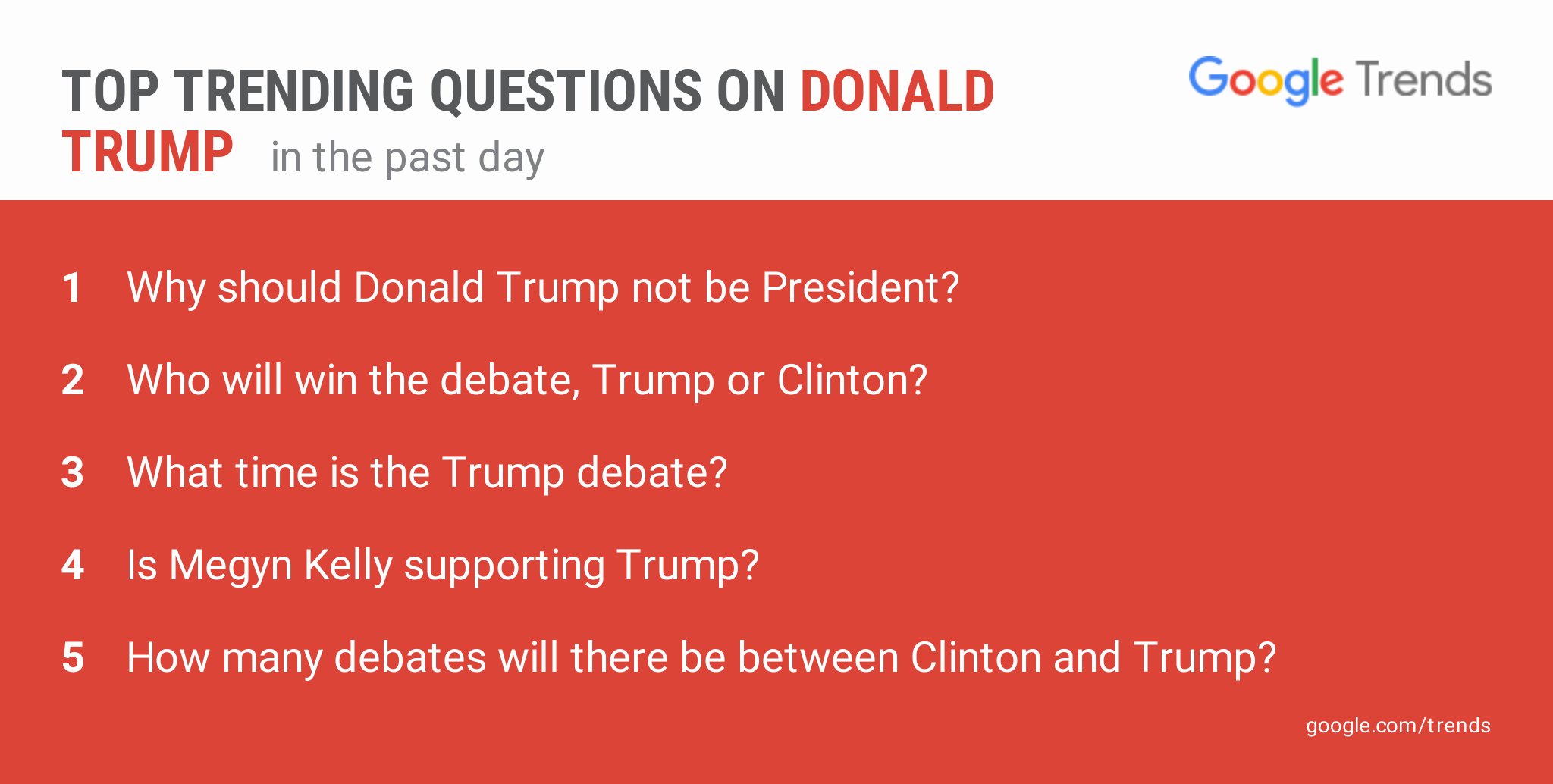 WHO PLAYED THE DONALD?
Longtime Clinton Aide Played Trump in Mock Debates
3 hours ago
THE DETAILS
After keeping the information private for most of the lead-up to the debate on Monday, it has been revealed that longtime Clinton aide Philippe Reines has been playing the role of Donald Trump in her debate prep. Reines knows Clinton better than most, able to identify both her strengths and weaknesses, and his selection for a sparring partner shows that Clinton is preparing for the brash and confrontational Donald Trump many have come to expect.
WEEKEND POLLING ROUNDUP
New Polls Still Show Razor-Thin Margins
3 hours ago
THE QUESTION
How Many Times Has the Trump Campaign Emailed Ted Cruz's Supporters?
3 hours ago
THE ANSWER
More than 30 times, in the case of some donors. Long before Cruz endorsed Trump—and before he even snubbed the nominee at the Republican National Convention—"the senator quietly began renting his vast donor email file to his former rival, pocketing at least tens of thousands of dollars, and more likely hundreds of thousands, that can be used to bankroll the Texan's own political future."