Add to Briefcase
April 19, 2018, 5 p.m.
More than two-dozen House Republicans have been outraised by a Democrat for two quarters in a row, and for eight of them it was at least their third time.
In total, more than 40 GOP incumbents brought in less than at least one challenger during the first three months of the election year, bringing into sharp focus the extent of the energy brimming from the minority party's grassroots.
With Democrats having already picked up a Republican-leaning seat in a special election this year, some top House Republicans said members need to get with the program and start preparing for the worst.
"Numbers like that are disappointing. There's no excuse for an incumbent being outraised by most challengers," said Rep. Tom Cole of Oklahoma, who chaired the National Republican Congressional Committee in the 2008 cycle and served as its executive director in 1992. "If you're serious about coming back, if you're serious about staying in the majority, you need to go raise the money. It's just that simple."
One major source of concern: some vulnerable members have seen their cash-on-hand advantage evaporate. Some 15 Republicans had less in the bank than one or more opponent by the end of March, including some in top battlegrounds such as Reps. Dana Rohrabacher of California and John Faso of New York. In another five districts, a top challenger's war chest was within $140,000 of the incumbent's, including Reps. Mia Love of Utah, Leonard Lance of New Jersey, and Jason Lewis of Minnesota.
"We're so much better than what we're performing right now," said Rep. Pete Sessions of Texas, another former NRCC chairman.
But not all members appear to be feeling the heat.
Republican Rep. Robert Pittenger was outraised by nearly a 2 to 1 margin last quarter by his Democratic opponent, Dan McCready, a Marine veteran, and trailed in cash on hand, $1.3 million to $253,000. Still, Pittenger insisted his fundraising was sufficient.
"You don't win elections by throwing money at something," he said in a brief interview. "You win elections with ideas. We have the right ideas."
President Trump carried Pittenger's southern North Carolina district by 12 points. But national Democrats have zeroed in on that seat and another in the state held by Republican Rep. Ted Budd, whose opponent also raised twice as much as him and ended with nearly twice as much on hand.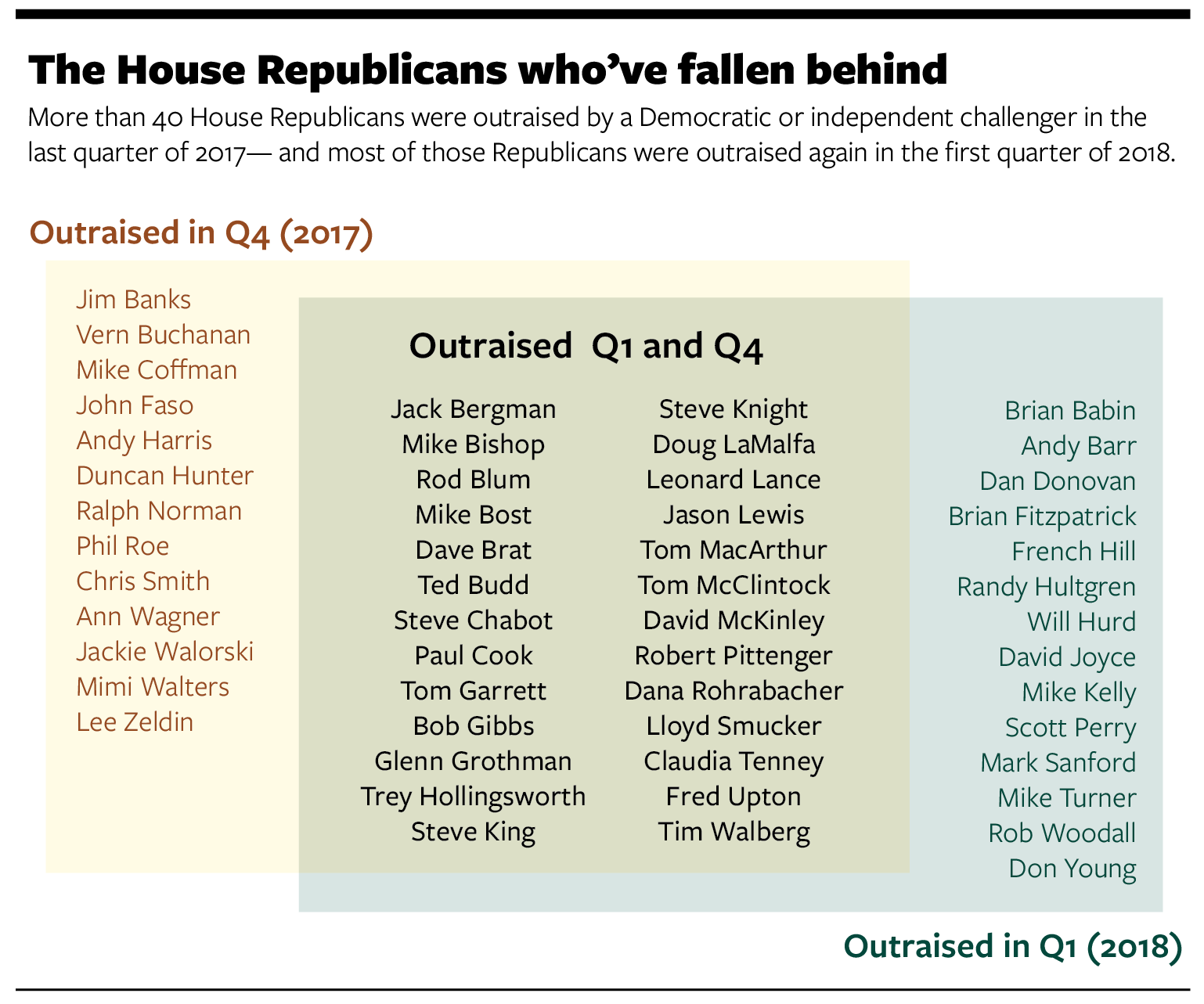 In interviews, Republican strategists suggested that they were most concerned for members who are not used to tough races and unforgiving political climates. Several said incumbents likely weren't putting in the requisite call time needed to fund competitive contests.
History suggests those members are at risk. In 2006, Democrats flipped only 10 of the 18 GOP-held seats that John Kerry carried in 2004 on their way to netting 30 districts and the majority. Those that survived were battle-tested members such as Jim Gerlach of Pennsylvania, who retired in 2014.
"I'm more worried about that candidate that's resting on their laurels, hasn't had a race in a while, that's got to get the rust off and go at it," said former Rep. Tom Reynolds, who chaired the NRCC in 2006.
Several House Republicans outraised last quarter, including French Hill of Arkansas, Andy Barr of Kentucky, and Dave Joyce of Ohio, haven't had to weather a competitive race since they were elected.
Republicans had hoped their rewrite of the tax law would serve as a fundraising Holy Grail, a key to opening the checkbooks of donors who will benefit from the new code. Some said it's too soon to tell whether that's the case. But Sessions, whose suburban Dallas district became a Democratic target after Hillary Clinton narrowly carried it last year, said he has seen the law mobilize Democrats.
Democratic fundraising is not slowing down, and that momentum has been fueling candidates with small-dollar donations. Nearly 200 Democratic candidates in more than 100 GOP-held districts ended March with at least $100,000 in the bank, according to data from the Federal Election Commission.
In a heavily gerrymandered Cincinnati-based district, Aftab Pureval, a county clerk of courts, raised more than $660,000 in two months, nearly four times the quarterly haul of his opponent, Republican Rep. Steve Chabot. His campaign had 1,500 donors, 80 percent of his haul comes from from southwestern Ohio.
"People are telling me that they are giving up their Starbucks and contributing that to me," Pureval said in an interview. "It really does get back to how frustrated people are with the direction of this country, how frustrated people are that Steve Chabot votes with Donald Trump 95 percent of the time."
Republicans point to Democratic primaries as a bright spot in their fundraising gap. In central New York, Faso has five Democratic challengers who raised six-figures last quarter, as does Barbara Comstock in Northern Virginia. There are about 40 Republican-held districts where at least two Democrats had at $100,000 in the bank by the end of March.
Another positive trend for Republicans is that donors are funneling money toward outside groups. The Congressional Leadership Fund, a Paul Ryan-aligned super PAC, raised a record $15 million last quarter and announced this week $48 million in TV and digital advertising reservations in 30 districts.
Still, national Democrats are hoping to stretch the battlefield wide enough to exhaust the GOP's outside money. And Republicans stress that no one can espouse a winning message better than the candidates themselves, rendering individual fundraising essential.
"People who try to take shortcuts on that or expect leadership or the NRCC to show up and fix it for them—they can't do that," Cole said. "It's like saying somebody else will do my diet. You have to do the hard part yourself."
Compounding the problem is the vast number of open seats. Democratic candidates are the top fundraisers in all but a handful of the roughly two-dozen currently competitive open-seat contests and some of those money races aren't even close.
In an open northern New Jersey district, Democrat Mikie Sherrill raised an eye-popping $1.1 million last quarter, almost five times more than her closest GOP competitor. In an open seat in the southern part of the state, Democratic state Sen. Jeff Van Drew hauled in nearly four times as much as his Republican opponent.
And Democrats in open seats in southern New Mexico and eastern Kansas raised at least twice as much as any of the Republicans—even though Trump carried both districts by double-digit margins.