Add to Briefcase
July 14, 2017, 12:39 p.m.
Even after taking two questions Thursday in Paris, President Trump has held fewer press conferences and taken fewer questions from reporters than any other president since World War II. This is despite the White House's insistence that he is the best possible spokesman for his policies.
By calling on the two reporters in Paris, the president has now taken questions from 38 reporters since Jan. 27, when he held his first joint press conference flanked by British Prime Minister Theresa May. He called on 16 of those in his only solo session on Feb. 16. In addition, he has participated in 11 joint sessions with foreign leaders at which only two questions are allowed from the American press.
In contrast, all nine of his predecessors who took office after their first election took far more questions. Even Ronald Reagan, whose sessions with the press were limited by his recovery from being shot, held three solo press conferences by June 16, calling on 58 reporters. The other presidents from Dwight Eisenhower to Barack Obama called on far more, according to numbers compiled by National Journal and Martha Joynt Kumar, a retired Towson University professor who has authored several books on the presidency: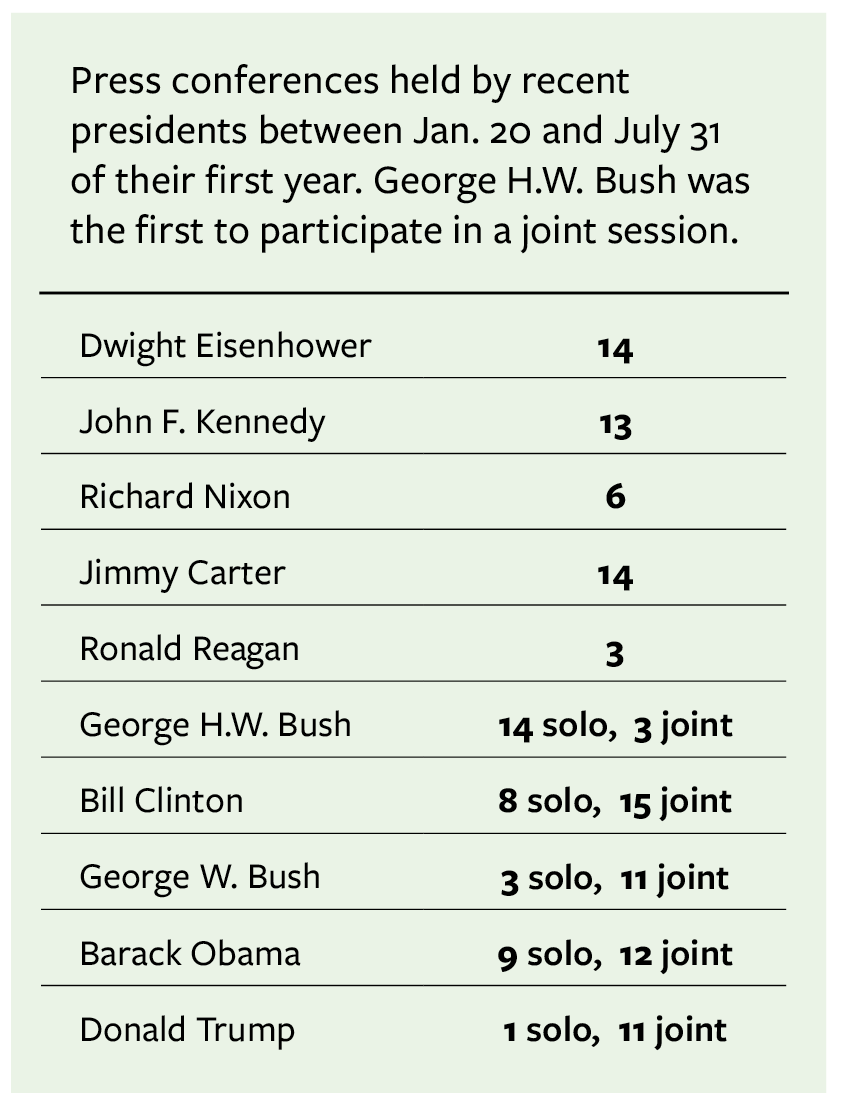 The White House brushes aside questions about the rareness of Trump's meetings with the press. When asked about it on Wednesday, principal deputy press secretary Sarah Huckabee Sanders simply noted that he would be answering questions in Paris on Thursday. But the infrequency cuts against the president's own statements and the repeated assertions by his aides that he can best wield the bully pulpit.
"He's his own best messenger," is the frequent refrain from White House counselor Kellyanne Conway. That is a view shared by the president. In May, he suggested the daily White House briefing could be eliminated and replaced by more frequent press conferences. "Just don't have them," he told Fox News's Jeanine Pirro. "Unless I have them every two weeks and I do them myself, we don't have them."
He also credits his mastery of the press conference for his upset election win last year. "I'm actually having a very good time, OK?" he said during his Feb. 16 press conference. "Don't forget that's the way I won. Remember, I used to give you a news conference every time I made a speech, which was like every day." For emphasis, he added, "I won with news conferences and probably speeches."
(Press conferences, of course, are not the only occasions when the president takes questions. Trump often answers shouted questions from pool reporters at events. The most dramatic—and lengthiest—example of that was his willingness to field questions for more than an hour aboard Air Force One on the way to Paris this week.)
One likely reason for Trump's refusal to hold a second full press conference is that he is unable to control the topics, despite efforts to manipulate that by the one thing he can control—the choice of reporters allowed to ask questions. As he demonstrated in Paris, he likes to mix White House correspondents from mainstream news outlets with reporters from organizations he hopes will be more favorable to him. In Paris, that meant giving the first question to Cecilia Vega of ABC News and the second to a reporter from a Chinese television station. It had the desired effect. Vega pushed Trump on his son's controversial dealings with Russia, while the second questioner lobbed a soft query about relations with China.
Eleven of the 38 reporters called on have been from conservative-leaning outlets, including Fox News, Fox Business, the One America News Network, the New York Post, Sinclair Broadcasting, The Daily Caller, the Christian Broadcasting Network, Townhall.com, The Washington Times, Ami Magazine, and Universal News Forever. In contrast, The Washington Post has not been called on and outlets such as CNN, The New York Times, and CBS have been called on only once.
Despite this effort to steer questions to friendly terrain, the results have been more hostile to the White House's preferred agenda. (Because of follow-up questions, there have been more than 38 questions asked. This analysis looks at the lead question by each reporter.) The top subject of questions by far has been the 16 that dealt with aspects of the Russia-collusion investigation, including questions about former National Security Adviser Michael Flynn and fired FBI Director James Comey. Lagging far behind are the four questions on the Middle East and Syria and the two on health care, the implementation of the Muslim ban, and the rise of anti-Semitism.
The president also has proven less than sure-footed when he tries to pick a friendly reporter. When he called on Jon Sopel in February, he winced when he learned Sopel was from the BBC. "Here's another beauty," snapped Trump. Moments later, he said, "I want to find a friendly reporter." He called on Jake Turx from Ami Magazine, a publication aimed at Orthodox Jewish readers. Turx tried to ask about a rise in anti-Semitism only to be cut off by an angry president. Trump complained that it was "not a fair question" and ordered Turx to "sit down." He then called him a liar and added sarcastically, "Welcome to the world of the media."
That was five months ago. The president has not held a full press conference since. One person who was involved with making these decisions for an earlier Republican president suggests Trump's aversion to press conferences is not surprising.
"When things are going well and there aren't so many controversies in the air, presidents do more news conferences," said Ari Fleischer, President George W. Bush's first press secretary. "They're not afraid of the downside. When the issues are controversial and the White House thinks a press conference will only make things worse, they do less, or no, news conferences."
That, he added, is unlikely ever to change "regardless of who is in the White House."