On Fri­day, we shared what we learned in 2013. Today, for our fi­nal is­sue of the year, we look for­ward to 2014 with our Fear­less Pre­dic­tions for the year ahead.

— No Sen­ate in­cum­bent will lose a primary: Sen. Thad Co­chran (R-MS) is the most vul­ner­able, with out­side groups lin­ing up quickly be­hind his con­ser­vat­ive chal­lenger, state Sen. Chris McDaniel (R). But Co­chran, 76, seemed en­er­gized by the chal­lenge when he an­nounced he'd run again. Sen. Bri­an Schatz (D-HI) faces Rep. Colleen Hanabusa (D-HI), but Schatz put some dis­tance between the two in third-quarter fun­drais­ing, a sign that he may be con­sol­id­at­ing Demo­crat­ic sup­port. We think former Michigan Sec­ret­ary of State Terri Lynn Land's (R) chances to be­come the first Re­pub­lic­an to win a Sen­ate race in Michigan since 1994 are in­creas­ing.

— Demo­crats will mount a strong chal­lenge in the Kan­sas gubernat­ori­al race: Gov. Sam Brown­back (R) and con­ser­vat­ives have wrestled con­trol of the state GOP from a cadre of mod­er­ate Re­pub­lic­ans in the mold of Bob Dole and Nancy Kasse­baum. An auto­mated-tele­phone poll this fall showed state House Minor­ity Lead­er Paul Dav­is (D) nar­rowly ahead of Brown­back, and that was be­fore a group of mod­er­ates an­nounced they were form­ing a co­ali­tion to op­pose Brown­back's agenda, with some threat­en­ing to unite be­hind Dav­is. In oth­er GOV races, we think Illinois Gov. Pat Quinn's (D) luck holds, and he wins reelec­tion des­pite low ap­prov­al rat­ings. And we think Re­pub­lic­ans un­der­es­tim­ate Texas state Sen. Wendy Dav­is (D) at their own per­il.

— Obama's ap­prov­al rat­ing won't re­bound with a re­cov­er­ing eco­nomy: The un­em­ploy­ment rate in Novem­ber is at its low­est point in five years, and yet Pres­id­ent Obama re­mains mired in the low 40s. Voters tell poll­sters that the eco­nomy is their No. 1 is­sue, but their per­cep­tions of the eco­nomy are out of line with the over­all data that show grow­ing GDP and shrink­ing un­em­ploy­ment. Blame for that lies with grow­ing in­equal­ity and in­creas­ing po­lar­iz­a­tion.

That's just a small taste of what we're ex­pect­ing in 2014. Merry Christ­mas and Happy New Year; we'll see you back here on Janu­ary 2nd.
What We're Following See More »
UNTIL DEC. 9, ANYWAY
Obama Signs Bill to Fund Government
2 hours ago
REDSKINS IMPLICATIONS
SCOTUS to Hear Case on Offensive Trademarks
3 hours ago
WHY WE CARE
"The Supreme Court is taking up a First Amendment clash over the government's refusal to register offensive trademarks, a case that could affect the Washington Redskins in their legal fight over the team name. The justices agreed Thursday to hear a dispute involving an Asian-American rock band called the Slants, but they did not act on a separate request to hear the higher-profile Redskins case at the same time." Still, any precedent set by the case could have ramifications for the Washington football team.
STAFF PICKS
Bannon Still Collecting Royalties from 'Seinfeld'
4 hours ago
WHY WE CARE
The Hollywood Reporter takes a look at a little-known intersection of politics and entertainment, in which Trump campaign CEO Steve Bannon is still raking in residuals from Seinfeld. Here's the digest version: When Seinfeld was in its infancy, Ted Turner was in the process of acquiring its production company, Castle Rock, but he was under-capitalized. Bannon's fledgling media company put up the remaining funds, and he agreed to "participation rights" instead of a fee. "Seinfeld has reaped more than $3 billion in its post-network afterlife through syndication deals." Meanwhile, Bannon is "still cashing checks from Seinfeld, and observers say he has made nearly 25 times more off the Castle Rock deal than he had anticipated."
IT'S ALL CLINTON
Reliable Poll Data Coming in RE: Debate #1
4 hours ago
WHY WE CARE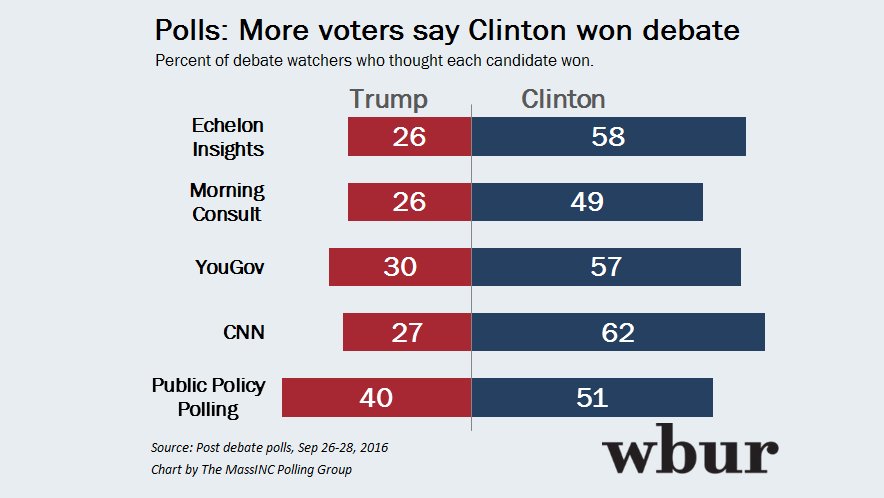 NEXT THURSDAY
Trump Transition Team Meeting with Silicon Valley VIPs
6 hours ago
THE DETAILS
Donald Trump's "transition team will meet next week with representatives of the tech industry, multiple sources confirmed, even as their candidate largely has been largely shunned by Silicon Valley. The meeting, scheduled for next Thursday at the offices of law and lobbying firm BakerHostetler, will include trade groups like the Information Technology Industry Council and the Internet Association that represent major Silicon Valley companies."