Add to Briefcase
Feb. 3, 2011, 1:34 p.m.
Flor­ida (+2 Seats)
Re­dis­trict­ing Au­thor­ity: Re­pub­lic­ans
Ideal New Dis­trict Pop­u­la­tion: 696,345
Cur­rent Par­tis­an Break­down: 19 R, 6 D
2012 Cook Re­dis­trict­ing Fore­cast: 20 R, 7 D
Call 2012 the "snow­bird elec­tion." Next year, for the first time in his­tory, Flor­ida will elect just as many mem­bers of Con­gress as New York.
In 2002, when Flor­ida also gained two House seats, Re­pub­lic­an le­gis­lat­ors were able to draw two new dis­tricts that favored their party: the 24th CD in the Or­lando area — briefly held by Demo­crats between from 2008 to 2010, but now home to Re­pub­lic­an fresh­man Rep. Sandy Adams — and the pre­dom­in­antly Cuban-Amer­ic­an 25th CD in the Miami area, cur­rently home to em­battled new GOP Rep. Dav­id Rivera.
After de­feat­ing four Demo­crat­ic in­cum­bents in 2010, Re­pub­lic­ans now have a mon­strous 19-to-6 edge in the state's con­gres­sion­al del­eg­a­tion, and they will no doubt try to add two more seats to their column in 2012. However, there's a ma­jor new wrinkle: The "Fair Dis­tricts Flor­ida" amend­ments to the state Con­sti­tu­tion that passed last fall (the one bright spot for Flor­ida Demo­crats in an oth­er­wise dis­mal elec­tion) could tie Re­pub­lic­ans' hands. Law for­bids state le­gis­lat­ors from draw­ing dis­tricts that "fa­vor or dis­fa­vor an in­cum­bent or polit­ic­al party" and re­quires them to draw dis­tricts that are "com­pact, as equal in pop­u­la­tion as feas­ible, and where feas­ible make use of ex­ist­ing city, county and geo­graph­ic­al bound­ar­ies."
Out­side of Cali­for­nia, Flor­ida has be­come the largest labor­at­ory to test a ma­jor "good gov­ern­ment" re­dis­trict­ing re­form this cycle.
Of course, even be­fore de­tailed Census data has found its way to Tal­l­a­hassee, the battle over im­ple­ment­a­tion of the "Fair Dis­tricts" meas­ures has de­volved in­to a bit­ter leg­al food fight. In late Decem­ber, out­go­ing GOP Gov. Charlie Crist sent an of­fi­cial re­quest for Vot­ing Rights Act "pre­clear­ance" of the re­forms to the De­part­ment of Justice to pave the way for en­act­ment. When Gov. Rick Scott took over in Janu­ary, the Re­pub­lic­an quietly with­drew the state's re­quest for pre­clear­ance without ex­plan­a­tion — a not-so-subtle ob­struc­tion tac­tic that has earned heaps of ed­it­or­i­al-board scorn.
What's more, Demo­crat­ic 3rd CD Rep. Cor­rine Brown and Re­pub­lic­an 25th CD Rep. Mario Diaz-Bal­art have jointly filed suit in fed­er­al court to block the amend­ments. The strange bed­fel­lows ar­gue that the com­pact­ness re­quire­ments would ad­versely af­fect their minor­ity-ma­jor­ity dis­tricts. In Brown's case, it is im­possible to draw an Afric­an-Amer­ic­an ma­jor­ity 3rd CD without split­ting nu­mer­ous counties to link black neigh­bor­hoods in Jack­son­ville and Or­lando as the cur­rent plan does. Diaz-Bal­art could the­or­et­ic­ally thrive in a com­pact, pre­dom­in­antly Cuban-Amer­ic­an 25th CD, but he knows oth­er Re­pub­lic­ans be­ne­fit from the pack­ing of Demo­crats in­to minor­ity-ma­jor­ity dis­tricts.
Even if en­acted, the "Fair Dis­tricts" meas­ures are al­most guar­an­teed to gen­er­ate a quandary over just what ex­actly con­sti­tutes "com­pact" and "mak­ing use" of ex­ist­ing bound­ar­ies. But any "neut­ral" re­draw­ing of dis­tricts would al­most cer­tainly guar­an­tee Demo­crats more op­por­tun­it­ies in the state. The ques­tion is wheth­er Re­pub­lic­ans can find a clev­er way to draw dis­tricts that abides by these new stand­ards and con­forms to their own polit­ic­al in­terests.
One way Re­pub­lic­ans might be able to skirt the rules is by cit­ing the re­quire­ment to pre­serve minor­ity-ma­jor­ity vot­ing dis­tricts. The "Fair Dis­tricts" stand­ards state that "dis­tricts shall not be drawn to deny ra­cial or lan­guage minor­it­ies the equal op­por­tun­ity to par­ti­cip­ate in the polit­ic­al pro­cess and elect rep­res­ent­at­ives of their choice." As such, courts will prob­ably not man­date the "un­pack­ing" of the grot­esquely shaped black ma­jor­ity 3rd and 23rd CDs. Re­pub­lic­ans are all too happy to pre­serve oddly shaped dis­tricts for Afric­an-Amer­ic­an Demo­crat­ic Reps. Al­cee Hast­ings (FL-23) and Brown (FL-03), and thereby keep Demo­crat­ic voters away from the GOP-rep­res­en­ted dis­tricts of Jack­son­ville-area Rep. An­der Cren­shaw, Or­lando-area Reps. Dan Web­ster (FL-08) and Sandy Adams (FL-24), and Palm Beach-area Rep. Al­len West (FL-22).
Re­pub­lic­ans hold all five of the dis­tricts that have grown the fast­est in the past dec­ade: Rep. Rich Nu­gent's 5th CD in north cent­ral Flor­ida (where the pop­u­la­tion jumped 45 per­cent); Rep. Con­nie Mack's 14th CD along the south­w­est coast (30 per­cent); Rivera's 25th CD stretch­ing from the Miami area to the Gulf Coast (29 per­cent); Rep. Cliff Ste­arns' 6th CD in north­ern Flor­ida (27 per­cent); and Rep. John Mica's 7th CD along the north­ern At­lantic coast (26 per­cent).
Look for Re­pub­lic­ans to add a new GOP-friendly seat in north cent­ral Flor­ida, tak­ing in huge in­land re­tire­ment com­munit­ies (think The Vil­lages) between Ocala and Or­lando that help ex­plain the area's skyrock­et­ing pop­u­la­tion. Such a dis­trict might leave Nu­gent (the former Hernando County sher­iff) with a dis­trict along the Gulf Coast north of Tampa Bay, and move Ste­arns north in­to solidly Re­pub­lic­an rur­al counties. It would also be easy for Re­pub­lic­ans to cre­ate a new seat in the fast-grow­ing Naples-Ft. My­ers-Sara­sota cor­ridor along the south­w­est Gulf Coast. This new seat could in­cor­por­ate Gulf Coast voters cur­rently (and some­what awk­wardly) rep­res­en­ted by Gold Coast GOP Reps. Tom Rooney (16th CD) and Rivera (25th CD), along with voters from the over­pop­u­lated Gulf Coast dis­tricts of GOP Reps. Vern Buchanan and Con­nie Mack.
Else­where in the state, it wouldn't be very dif­fi­cult for Re­pub­lic­ans to draw com­pact, reas­on­ably safe dis­tricts for all oth­er in­cum­bents. For ex­ample, growth in the Pensa­cola-based 1st CD will al­most cer­tainly cause new 2nd CD GOP Rep. Steve South­er­land to take on the rest of Panama City (Bay County), his ho­met­own. And no mat­ter the eth­ic­al troubles of Rivera, Re­pub­lic­ans will cer­tainly draw three pre­dom­in­antly Cuban-Amer­ic­an dis­tricts in south Flor­ida. Some Demo­crats say growth in the state's non-Cuban His­pan­ic pop­u­la­tion will ne­ces­sit­ate the cre­ation of a new His­pan­ic-ma­jor­ity dis­trict in­clud­ing parts of Or­lando, but Census es­tim­ates sug­gest this is un­likely.
But there are places where Demo­crats could gain op­por­tun­it­ies if dis­tricts are made more com­pact.
In the last re­dis­trict­ing, Re­pub­lic­ans drew the 22nd CD to be a crazy quilt of the most Re­pub­lic­an pre­cincts they could find between West Palm Beach and Fort Laud­er­dale, with the in­ten­tion of pro­tect­ing long­time GOP Rep. Clay Shaw. Shaw lost in 2006 any­way, but Re­pub­lic­ans re­gained this seni­or-heavy seat in 2010 when West de­feated Demo­crat Ron Klein in a nasty, mul­ti­mil­lion-dol­lar con­test. So while it is a mar­gin­al seat by na­tion­al stand­ards, any reg­u­lar­iz­a­tion of the 22nd CD's bound­ar­ies would res­ult in a much friend­li­er seat for Demo­crats if only be­cause the cur­rent dis­trict is "maxed out" on Re­pub­lic­an voters. Demo­crat­ic op­er­at­ives say West Palm Beach May­or Lois Frankel is angling for a tick­et to Wash­ing­ton and would cream West in a com­pact Palm Beach County dis­trict.
Also in 2002, Re­pub­lic­ans shored up 21-term GOP Rep. Bill Young (10th CD) by split­ting the city of St. Peters­burg, for­cing the Tampa-based 11th CD (now rep­res­en­ted by Demo­crat­ic Rep. Kathy Castor) across Tampa Bay to take in most of St. Peters­burg's black neigh­bor­hoods. If court-ordered en­force­ment of "Fair Dis­tricts" forces Re­pub­lic­ans to re­unite the city of St. Peters­burg, the 10th CD would be­come much more Demo­crat­ic than it is now. And al­though Young could prob­ably still win it eas­ily, it would be very dif­fi­cult for an­oth­er Re­pub­lic­an to hold it when Young (who is 80) de­cides to re­tire.
No mat­ter what Re­pub­lic­ans de­cide to do, Demo­crats will likely chal­lenge their map in court for fail­ing to re­flect the close par­tis­an bal­ance of the state. The prob­lem for both parties is that the cri­ter­ia spelled out in Flor­ida's bal­lot amend­ments is highly sub­ject­ive and open to in­ter­pret­a­tion. One factor work­ing in Demo­crats' fa­vor is that Flor­ida has taken steps to open the pro­cess to pub­lic in­put. The Flor­ida House is in the pro­cess of rolling out a web-based re­dis­trict­ing ap­plic­a­tion that the pub­lic can use to draw maps for the con­sid­er­a­tion of the Le­gis­lature.
Of course, Flor­ida Re­pub­lic­ans are likely to en­act their own sub­mis­sion, but if a voter-sub­mit­ted plan does a bet­ter job of meet­ing the cri­ter­ia spelled out in "Fair Dis­tricts," it's pos­sible the Flor­ida Su­preme Court could over­turn the le­gis­lature's re­dis­trict­ing plan as the res­ult of a law­suit. And, Demo­crats who re­mem­ber the 2000 Bush v. Gore saga know they are like­li­er to get a much fairer shake from the state's judges than the state's le­gis­lat­ors.
While Re­pub­lic­ans may be able to draw them­selves two new dis­tricts, Demo­crats should end up with at least one good op­por­tun­ity to make a play for a Re­pub­lic­an seat. A map that cre­ates 21 GOP dis­tricts to six Demo­crat­ic ones would be the GOP's best case scen­ario, but a 20-7 break­down may be more likely. Demo­crat­ic strategists claim any fair court-im­posed map that com­pletely un­ravels the GOP's cur­rent ger­ry­man­der­ing would give them 10 to 15 seats in which they could com­pete, but that's far from as­sured. Be­low is our ima­gin­a­tion of how Re­pub­lic­ans might re­draw the state to "con­form" to Amend­ments 5 and 6: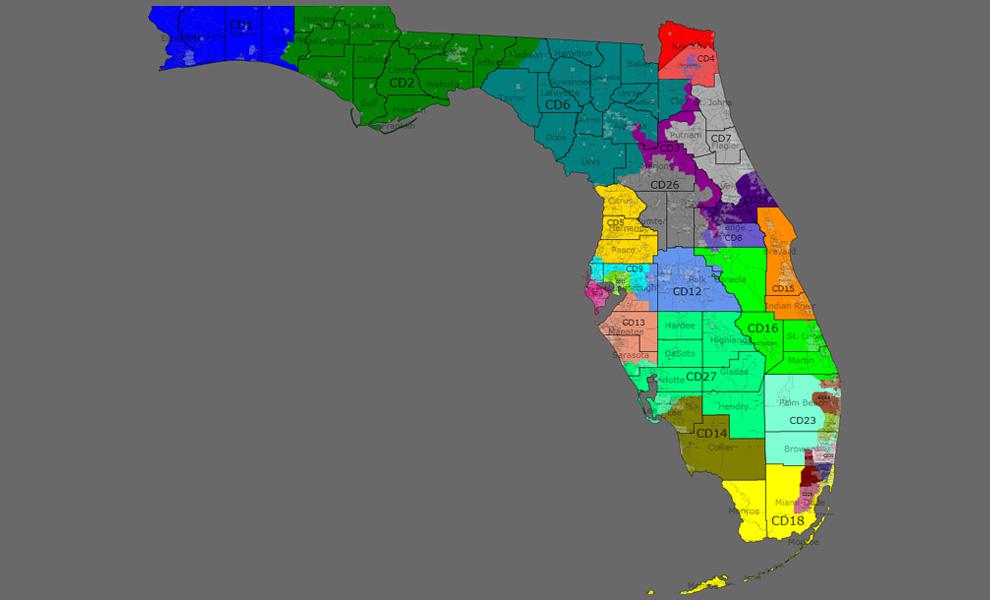 (Cred­it: Dave Bradlee's Re­dis­trict­ing App)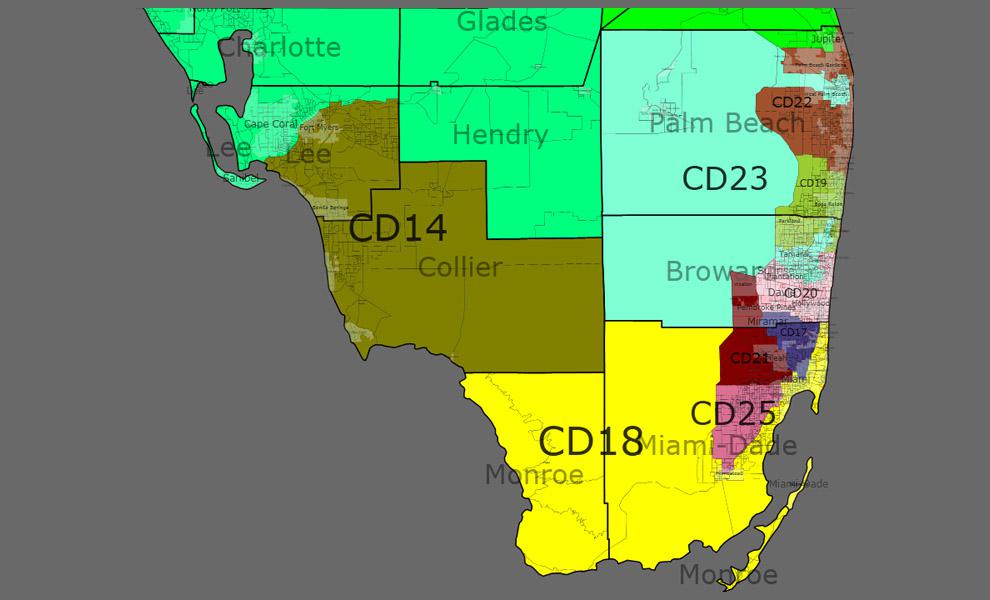 (Cred­it: Dave Bradlee's Re­dis­trict­ing App)