The epi­taph of weed's cool­ness came earli­er this month, when two anti-leg­al­iz­a­tion scolds for The New York Times and The Wash­ing­ton Post ad­mit­ted they'd smoked weed in their youth. "The worst ef­fect of the main­stream­ing of weed is not massive marijuana over­doses — that's an un­funny hoax, dum­mies," wrote the in­im­it­able Elspeth Reeve in The Wire, "but that weed is no longer cool."
Now, we have an­oth­er cas­u­alty on our hands: Snapchat, the photo-shar­ing app be­loved by tweens.
Politico scooped — in a very im­port­ant ex­clus­ive — that Sen. Rand Paul, 51, will an­nounce Wed­nes­day that he is join­ing Snapchat. Not even that he joined it — that he will join it, Wed­nes­day night, or at some point. When he gets around to it.
The sen­at­or re­portedly learned about Snapchat by read­ing of its grow­ing in­flu­ence on the In­ter­net, that mys­ter­i­ous en­tity first in­ven­ted by Al Gore. What's worse, he's an­noun­cing his plan on Face­book, a form of so­cial me­dia so un­cool that even Pres­id­ent Obama knows young people don't really use it any­more.
Ser­gio Gor, a spokes­man for Paul's polit­ic­al or­gan­iz­a­tion, ex­plained it thusly: "Sen­at­or Paul al­ways looks for a way to en­gage Amer­ic­ans of all ages. Snapchat will al­low every­one to fol­low the sen­at­or as he travels around the na­tion and spreads the mes­sage of liberty."
Any­one hop­ing for an An­thony Wein­er-style crotch pic (that is, after all, what youth usu­ally uses it for), will be dis­ap­poin­ted. Paul is only plan­ning to of­fer "back­stage glimpses of his trips and me­dia ap­pear­ances," ac­cord­ing to Politico's Mike Al­len, who first — did we men­tion? — scooped this story.
The true nail in Snapchat's pro­ver­bi­al cool­ness coffin was Rep. Michele Bach­mann, who com­pared Obama­care to the so­cial-net­work­ing ser­vice. "Obama­care is the health care ver­sion of Snapchat," she said Wed­nes­day. "Now you see it, now you don't." Snapchat, the Min­nesota Re­pub­lic­an ex­plained, is how she com­mu­nic­ates with her kids every day. "What you do is you re­cord your­self," she told her be­fuddled law­makers. "You know it's like a selfie…. "
But the de­mise of Snapchat's cool­ness is one thing for which we can­not en­tirely blame politi­cians or Con­gress. Snapchat was already well past peak cool be­fore Paul, that liberty-lov­ing hater of fed­er­al bur­eau­cracy, spoiled it: Taco Bell and Acura, as Al­len poin­ted out, were already us­ing it after all.
Still, some so­cial-me­dia mavens re­joiced at Paul and Bach­mann pil­ing on. "I love that Michele Bach­mann and Rand Paul are on Snapchat," tweeted Ry­an J Dav­is, vice pres­id­ent of com­munity at Voc­at­iv. "Those are two people I wanna have dis­ap­pear in 7 seconds."
And pro­cras­tin­at­ors, too, should take heart. If you've been put­ting off down­load­ing the app for the dis­ap­pear­ing photo ser­vice, maybe you don't have to at all any­more.
What We're Following See More »
UNTIL DEC. 9, ANYWAY
Obama Signs Bill to Fund Government
4 hours ago
REDSKINS IMPLICATIONS
SCOTUS to Hear Case on Offensive Trademarks
4 hours ago
WHY WE CARE
"The Supreme Court is taking up a First Amendment clash over the government's refusal to register offensive trademarks, a case that could affect the Washington Redskins in their legal fight over the team name. The justices agreed Thursday to hear a dispute involving an Asian-American rock band called the Slants, but they did not act on a separate request to hear the higher-profile Redskins case at the same time." Still, any precedent set by the case could have ramifications for the Washington football team.
STAFF PICKS
Bannon Still Collecting Royalties from 'Seinfeld'
5 hours ago
WHY WE CARE
The Hollywood Reporter takes a look at a little-known intersection of politics and entertainment, in which Trump campaign CEO Steve Bannon is still raking in residuals from Seinfeld. Here's the digest version: When Seinfeld was in its infancy, Ted Turner was in the process of acquiring its production company, Castle Rock, but he was under-capitalized. Bannon's fledgling media company put up the remaining funds, and he agreed to "participation rights" instead of a fee. "Seinfeld has reaped more than $3 billion in its post-network afterlife through syndication deals." Meanwhile, Bannon is "still cashing checks from Seinfeld, and observers say he has made nearly 25 times more off the Castle Rock deal than he had anticipated."
IT'S ALL CLINTON
Reliable Poll Data Coming in RE: Debate #1
6 hours ago
WHY WE CARE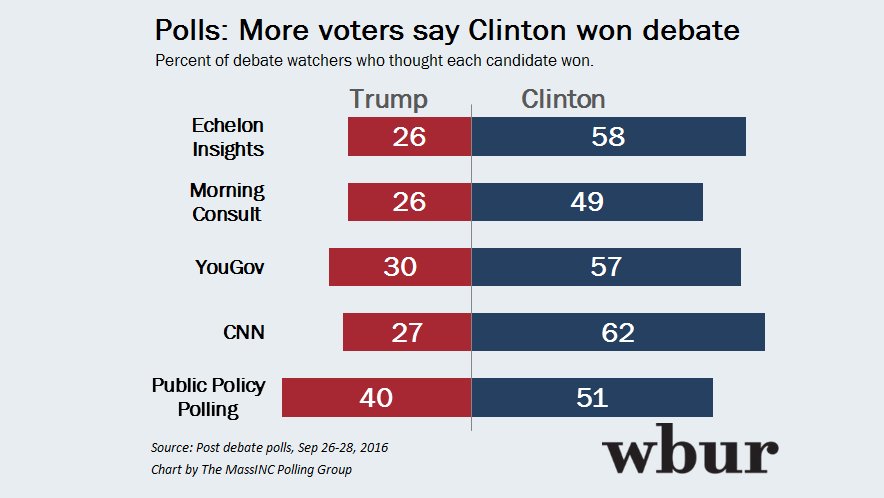 NEXT THURSDAY
Trump Transition Team Meeting with Silicon Valley VIPs
8 hours ago
THE DETAILS
Donald Trump's "transition team will meet next week with representatives of the tech industry, multiple sources confirmed, even as their candidate largely has been largely shunned by Silicon Valley. The meeting, scheduled for next Thursday at the offices of law and lobbying firm BakerHostetler, will include trade groups like the Information Technology Industry Council and the Internet Association that represent major Silicon Valley companies."