March 3, 2014, 10:23 a.m.
The Na­tion­al Se­cur­ity Agency may be col­lect­ing data on mil­lions of Amer­ic­ans, but the Obama ad­min­is­tra­tion wants you to know that lots of private com­pan­ies do the same thing.
"On Face­book, there are some 350 mil­lion pho­tos up­loaded and shared every day. On You­Tube, 100 hours of video is up­loaded every minute," John Podesta, a top ad­viser to Pres­id­ent Obama, said Monday dur­ing a con­fer­ence at MIT. "And we are only in the very nas­cent stage of the 'In­ter­net of Things,' where our ap­pli­ances will com­mu­nic­ate with each oth­er and sensors may be nearly ubi­quit­ous."
Podesta is lead­ing a work­ing group that will soon present a re­port to the pres­id­ent on the pri­vacy is­sues sur­round­ing "big data" — the col­lec­tion and stor­age of massive amounts of per­son­al in­form­a­tion. Obama an­nounced the work­ing group in Janu­ary in the same speech where he out­lined re­forms to the NSA's con­tro­ver­sial sur­veil­lance pro­grams.
A vari­ety of tech­no­lo­gic­al ad­vances have meant that we leave an elec­tron­ic trail for al­most everything we do — in­clud­ing the people we con­tact, the web­sites we vis­it, and even our phys­ic­al loc­a­tion. The im­pli­cit mes­sage from the White House is that while there may be le­git­im­ate pri­vacy con­cerns re­lated to the gov­ern­ment's ac­cess to that in­form­a­tion, private com­pan­ies should also face scru­tiny.
In his speech at MIT, Podesta ar­gued that the col­lec­tion of massive amounts of data can lead to power­ful in­nov­a­tions in areas such as health care, edu­ca­tion, and pub­lic safety. Com­pan­ies and the gov­ern­ment can bet­ter ana­lyze dis­eases or traffic con­ges­tion, for ex­ample. But he ar­gued there must also be ad­equate pri­vacy safe­guards.
"We also re­cog­nize that en­sur­ing the con­tin­ued strength of the In­ter­net re­quires ap­ply­ing our time­less pri­vacy val­ues to these new tech­no­lo­gies, as we have throughout our his­tory with each new mode of com­mu­nic­a­tion from the mail to the tele­phone to the so­cial net­work," he said.
Com­merce Sec­ret­ary Penny Pritzker, who also spoke at the Mas­sachu­setts event, ar­gued that pri­vacy pro­tec­tions are ne­ces­sary for build­ing trust in In­ter­net ser­vices, which is ul­ti­mately ne­ces­sary for eco­nom­ic growth.
"All of the data in the world is worth­less un­less con­sumers trust the com­pan­ies they buy from, un­less cit­izens trust their gov­ern­ments, and un­less in­sti­tu­tions of all kinds trust each oth­er to play by the rules," she said.
Pritzker touted the ad­min­is­tra­tion's ef­forts to im­prove on­line pri­vacy pro­tec­tion. The Com­merce De­part­ment, for ex­ample, or­gan­ized talks between in­dustry groups and pri­vacy ad­voc­ates to de­vel­op a vol­un­tary code of con­duct for pri­vacy dis­clos­ures on mo­bile apps. The ad­min­is­tra­tion is also now work­ing to im­ple­ment guidelines to im­prove the cy­ber­se­cur­ity of crit­ic­al in­fra­struc­ture pro­viders, such as phone com­pan­ies and banks.
In 2012, the White House an­nounced a "pri­vacy bill of rights" — a set of prin­ciples for how com­pan­ies should handle con­sumer in­form­a­tion. The White House urged Con­gress to en­act the prin­ciples in­to law, but the is­sue hasn't moved on Cap­it­ol Hill.
What We're Following See More »
STAFF PICKS
Bannon Still Collecting Royalties from 'Seinfeld'
49 minutes ago
WHY WE CARE
The Hollywood Reporter takes a look at a little-known intersection of politics and entertainment, in which Trump campaign CEO Steve Bannon is still raking in residuals from Seinfeld. Here's the digest version: When Seinfeld was in its infancy, Ted Turner was in the process of acquiring its production company, Castle Rock, but he was under-capitalized. Bannon's fledgling media company put up the remaining funds, and he agreed to "participation rights" instead of a fee. "Seinfeld has reaped more than $3 billion in its post-network afterlife through syndication deals." Meanwhile, Bannon is "still cashing checks from Seinfeld, and observers say he has made nearly 25 times more off the Castle Rock deal than he had anticipated."
IT'S ALL CLINTON
Reliable Poll Data Coming in RE: Debate #1
1 hours ago
WHY WE CARE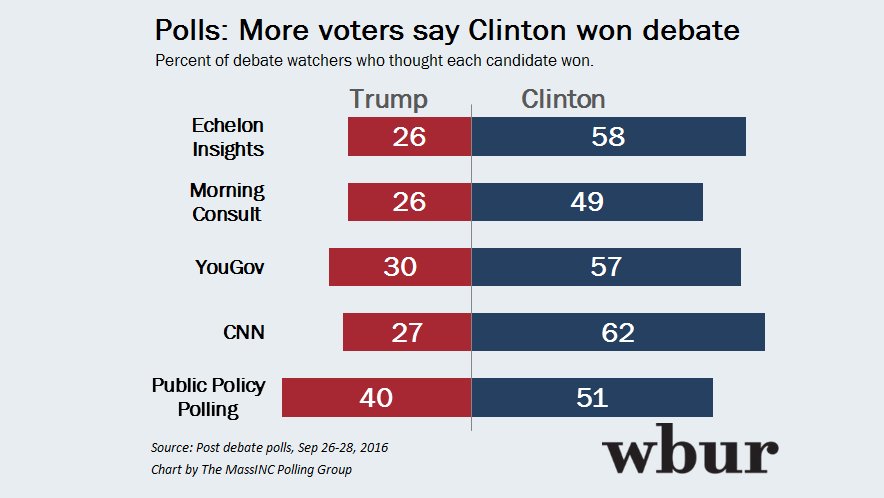 NEXT THURSDAY
Trump Transition Team Meeting with Silicon Valley VIPs
3 hours ago
THE DETAILS
Donald Trump's "transition team will meet next week with representatives of the tech industry, multiple sources confirmed, even as their candidate largely has been largely shunned by Silicon Valley. The meeting, scheduled for next Thursday at the offices of law and lobbying firm BakerHostetler, will include trade groups like the Information Technology Industry Council and the Internet Association that represent major Silicon Valley companies."
WHAT WILL PASS?
McConnell Doubts Criminal Justice Reform Can Pass This Year
3 hours ago
ALSO FIRED UNATTRACTIVE WAITRESSES
Trump Did Business with Cuba
4 hours ago
THE LATEST
Today in bad news for Donald Trump:
Newsweek found that a company he controlled did business with Cuba under Fidel Castro "despite strict American trade bans that made such undertakings illegal, according to interviews with former Trump executives, internal company records and court filings." In 1998, he spent at least $68,000 there, which was funneled through a consluting company "to make it appear legal."
The Los Angeles Times reports that at a golf club he owns in California, Trump ordered that unattractive female staff be fired and replaced with prettier women.