March 13, 2014, 7:40 a.m.
Four battle­ground Sen­ate sur­veys con­duc­ted in mid-Feb­ru­ary from lead­ing Demo­crat­ic poll­ster Har­ris­on Hick­man il­lus­trate just how dif­fi­cult the polit­ic­al en­vir­on­ment is shap­ing up to be for Demo­crats in 2014. The polls, con­duc­ted in mid-Feb­ru­ary, show Sens. Mary Landrieu (D-LA), Mark Pry­or (D-AR), Kay Hagan (D-NC), and Mark Ud­all (D-CO) in vary­ing de­grees of trouble "" from dire to vul­ner­able.

— The most alarm­ing num­bers were in Louisi­ana. Landrieu's fa­vor­ab­il­ity is 10 points un­der­wa­ter (42/52), and she loses to a gen­er­ic Re­pub­lic­an by 11 points, 47-36%. Against her lead­ing GOP chal­lenger Rep. Bill Cas­sidy, she trails 46-42%. The ads at­tack­ing her on Obama­care have made an im­pact: 38% view her "very un­fa­vor­ably," not far from Pres­id­ent Obama's 45% fig­ure.

— If any­thing, Pry­or's num­bers, while mid­dling, looked bet­ter by com­par­is­on. His per­son­al fa­vor­ab­il­ity is still sol­id at 47%/36%, even with Obama's dis­mal 32%/65% num­bers. And among likely voters, he's tied with Rep. Tom Cot­ton (R) at 46%. But there are clear warn­ing signs: Likely voters sup­por­ted a gen­er­ic Re­pub­lic­an 47-39% over Pry­or. And among def­in­ite voters, he trails Cot­ton, 51-42%. These num­bers sug­gest the race is still win­nable, but re­quires Demo­crats turn­ing Cot­ton in­to a polit­ic­al pari­ah "" a dif­fi­cult task, giv­en his bio­graphy.

— The news is also mixed for Hagan. On the pos­it­ive side, Obama's fa­vor­ab­il­ity is much bet­ter in NC, at 46/50. And there's a great­er in­tens­ity level of sup­port for the pres­id­ent (33% strongly fa­vor­able), along with angry op­pos­i­tion (40% strongly un­fa­vor­able). And Hagan's net fa­vor­ab­il­ity (41/42) is bet­ter than her lead­ing, less­er-known GOP rival Thom Tillis (13/20). But Hagan only leads Tillis 45-41%among likely voters, and trails a gen­er­ic Re­pub­lic­an, 44-38%.

Like Pry­or, Ud­all's fa­vor­ab­il­ity is re­spect­able but very soft. He's viewed pos­it­ively by 46% of voters, but barely led flawed, one-time GOP chal­lenger Ken Buck, 46-42%. (The poll was con­duc­ted be­fore Rep. Cory Gard­ner entered the race.) Against a gen­er­ic Re­pub­lic­an, he trails 41-36%. Obama's ap­prov­al is 44%, with in­tens­ity on the side of his op­pos­i­tion. These are the types of num­bers that led Gard­ner to change his mind and chal­lenge Ud­all. And all the polls paint a pic­ture of a Demo­crat­ic party whose Sen­ate ma­jor­ity is hanging in the bal­ance.
— Josh Kraush­aar
What We're Following See More »
ABSENT FROM LIST: GENNIFER FLOWERS
Most Trump Guests Have Military Ties
39 minutes ago
TOP OF MIND
Trending on Google: 'Why Should Trump Not Be President'
49 minutes ago
THE DETAILS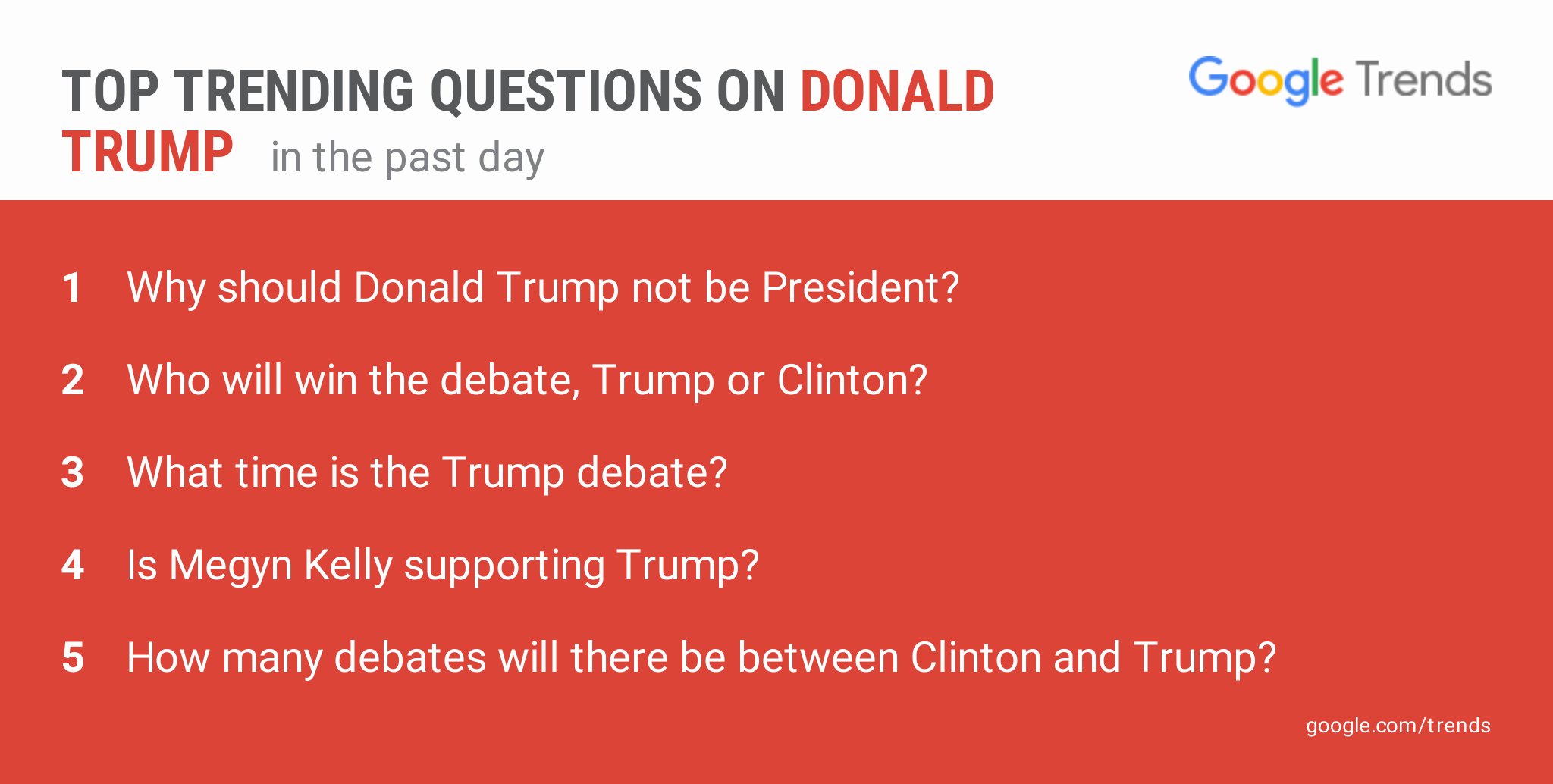 WHO PLAYED THE DONALD?
Longtime Clinton Aide Played Trump in Mock Debates
3 hours ago
THE DETAILS
After keeping the information private for most of the lead-up to the debate on Monday, it has been revealed that longtime Clinton aide Philippe Reines has been playing the role of Donald Trump in her debate prep. Reines knows Clinton better than most, able to identify both her strengths and weaknesses, and his selection for a sparring partner shows that Clinton is preparing for the brash and confrontational Donald Trump many have come to expect.
WEEKEND POLLING ROUNDUP
New Polls Still Show Razor-Thin Margins
3 hours ago
THE QUESTION
How Many Times Has the Trump Campaign Emailed Ted Cruz's Supporters?
3 hours ago
THE ANSWER
More than 30 times, in the case of some donors. Long before Cruz endorsed Trump—and before he even snubbed the nominee at the Republican National Convention—"the senator quietly began renting his vast donor email file to his former rival, pocketing at least tens of thousands of dollars, and more likely hundreds of thousands, that can be used to bankroll the Texan's own political future."