April 29, 2014, 12:39 p.m.
House Ma­jor­ity Lead­er Eric Can­tor asked Louisi­ana Rep. Vance Mc­Al­lister to con­sider resign­ing after the polit­ic­al fal­lout from his "kiss­ing scan­dal," says the em­battled law­maker.
But Mc­Al­lister, who an­nounced Monday that he won't seek a second term, is not chan­ging his mind about stay­ing in of­fice through Novem­ber.
"[Can­tor] asked me why I would want to put my­self through this for the next eight months if I'm not run­ning for reelec­tion. He did ask me to con­sider resign­ing, but I re­spect­fully dis­agree with him, and my fam­ily is be­hind my de­cision," Mc­Al­lister said in a state­ment Tues­day. "I do not feel it's in my con­stitu­ents' best in­terest to leave them without rep­res­ent­a­tion for the second time in less than a year. My dis­trict de­serves a voice and a fair elec­tion pro­cess, not an ex­pens­ive po­ten­tial spe­cial elec­tion that be­ne­fits the es­tab­lish­ment."
It's been a little over three weeks since a video was leaked to the press, show­ing the mar­ried law­maker, who cam­paigned as a Chris­ti­an con­ser­vat­ive, kiss­ing a then-staffer. He has since apo­lo­gized and said he and his wife de­cided that he not seek a second term.
The Can­tor-Mc­Al­lister meet­ing was first re­por­ted by Politico. Can­tor has "has fre­quently said that mem­bers of the con­fer­ence should hold them­selves to a high stand­ard of con­duct con­sist­ent with the priv­ilege of serving in the House," Can­tor spokes­man Rory Cooper said via email. "The ma­jor­ity lead­er thinks the con­gress­man has fallen short of that stand­ard and he told him that he thinks he should resign his seat."
Later, Mc­Al­lister was asked by re­port­ers wheth­er he feels it's un­fair that Re­pub­lic­an Rep. Mi­chael Grimm of New York, who has been charged with 20 crim­in­al counts, isn't fa­cing sim­il­ar calls from lead­er­ship to resign. "I don't think Mr. Grimm has any­thing to do with me," Mc­Al­lister said.
Demo­crats charge there is a polit­ic­al reas­on­ing be­hind the Re­pub­lic­an lead­er call­ing on Mc­Al­lister, who has ad­mit­ted to im­pro­pri­et­ies, to step down but not Grimm, who main­tains his in­no­cence. 
"Re­pub­lic­an lead­ers made one thing clear today; it is worse to kiss the wrong per­son in a safe Re­pub­lic­an seat than to face a 20-count crim­in­al in­dict­ment in a swing dis­trict," said Josh Schwer­in, a spokes­man for Demo­crat­ic Con­gres­sion­al Cam­paign Com­mit­tee.
What We're Following See More »
ABSENT FROM LIST: GENNIFER FLOWERS
Most Trump Guests Have Military Ties
2 hours ago
TOP OF MIND
Trending on Google: 'Why Should Trump Not Be President'
2 hours ago
THE DETAILS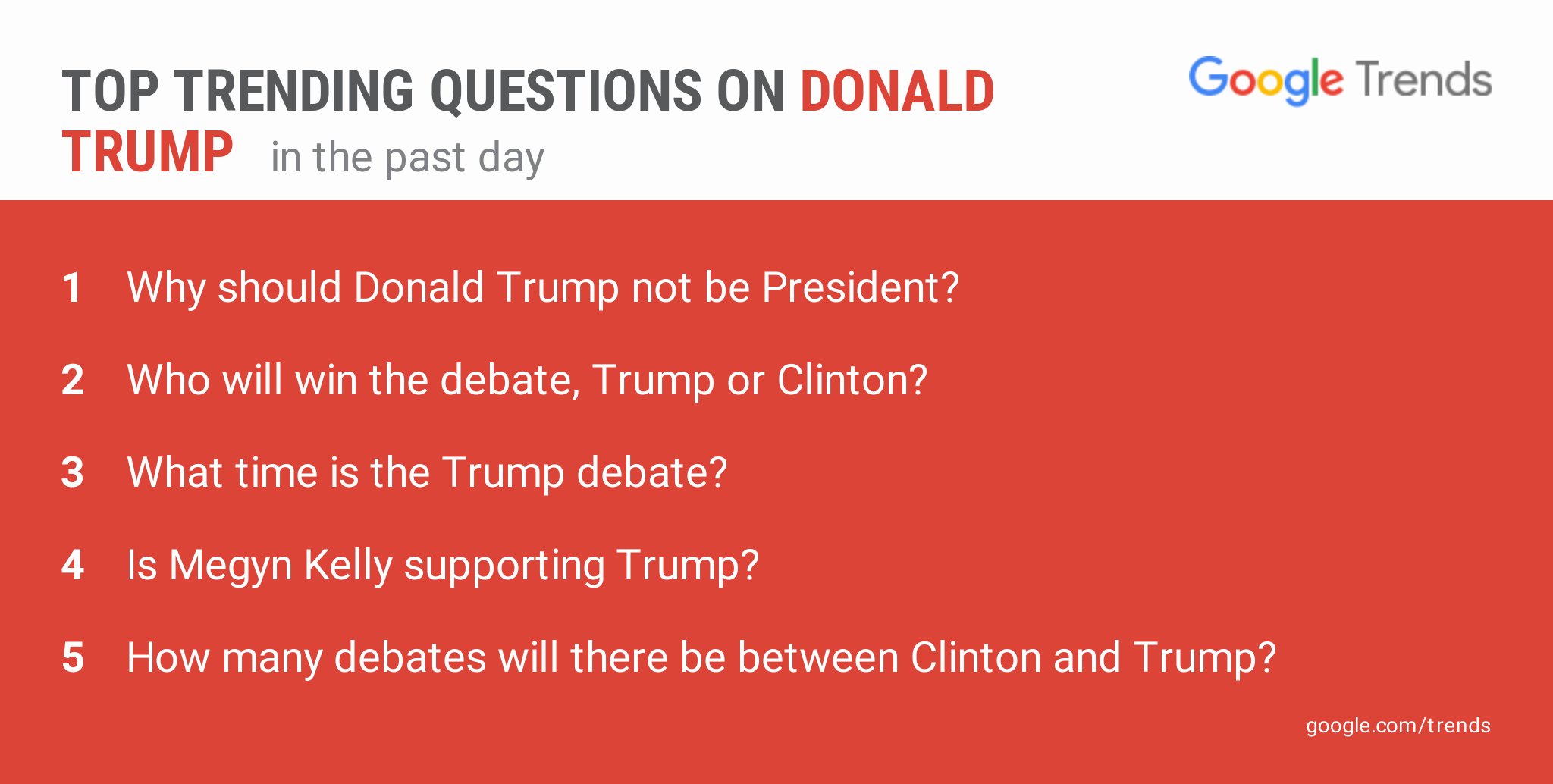 WHO PLAYED THE DONALD?
Longtime Clinton Aide Played Trump in Mock Debates
5 hours ago
THE DETAILS
After keeping the information private for most of the lead-up to the debate on Monday, it has been revealed that longtime Clinton aide Philippe Reines has been playing the role of Donald Trump in her debate prep. Reines knows Clinton better than most, able to identify both her strengths and weaknesses, and his selection for a sparring partner shows that Clinton is preparing for the brash and confrontational Donald Trump many have come to expect.
WEEKEND POLLING ROUNDUP
New Polls Still Show Razor-Thin Margins
5 hours ago
THE QUESTION
How Many Times Has the Trump Campaign Emailed Ted Cruz's Supporters?
5 hours ago
THE ANSWER
More than 30 times, in the case of some donors. Long before Cruz endorsed Trump—and before he even snubbed the nominee at the Republican National Convention—"the senator quietly began renting his vast donor email file to his former rival, pocketing at least tens of thousands of dollars, and more likely hundreds of thousands, that can be used to bankroll the Texan's own political future."