Texas Gov. Rick Perry's speech at the Com­mon­wealth Club of Cali­for­nia on Wed­nes­day night was go­ing well — he com­pli­men­ted the Cali­for­nia cli­mate, and even spoke kindly of Hil­lary Clin­ton. But then he said this, in San Fran­cisco no less:
"I may have the ge­net­ic cod­ing that I'm in­clined to be an al­co­hol­ic, but I have the de­sire not to do that," he said. "And I look at the ho­mo­sexu­al is­sue in the same way."
This is im­port­ant, as it re­flects the think­ing of the Texas Re­pub­lic­an Party at large, which re­cently ad­op­ted a party plat­form that sup­ports the leg­al­ity of gay-con­ver­sion ther­apy. That plat­form reads,
We re­cog­nize the le­git­im­acy and value of coun­sel­ing which of­fers re­par­at­ive ther­apy and treat­ment to pa­tients who are seek­ing es­cape from the ho­mo­sexu­al life­style. No laws or ex­ec­ut­ive or­ders shall be im­posed to lim­it or re­strict ac­cess to this type of ther­apy.
The ther­apy is much de­rided by the psy­cho­lo­gic­al sci­entif­ic es­tab­lish­ment. "The long-stand­ing con­sensus of the be­ha­vi­or­al and so­cial sci­ences and the health and men­tal-health pro­fes­sions is that ho­mo­sexu­al­ity per se is a nor­mal and pos­it­ive vari­ation of hu­man sexu­al ori­ent­a­tion," the Amer­ic­an Psy­cho­lo­gic­al As­so­ci­ation wrote in a res­ol­u­tion con­dem­ing such ther­apies. Fur­ther­more, the as­so­ci­ation finds that the ther­apies can cause more harm than good.
Re­cently, some states, such as New York, have sought to ban the ther­apies out­right, prompt­ing Texas Re­pub­lic­ans to pree­mpt such meas­ures at home. In a such strongly con­ser­vat­ive state, it's un­likely that such meas­ures would stand a chance. (It's re­min­is­cent of the bans on sharia law in very Chris­ti­an-dom­in­ated areas: All bluster.)
Perry's com­ments rep­res­ent a com­plete con­fla­tion of the sci­entif­ic is­sue. Al­co­hol­ism is a dis­ease. Al­co­hol­ism is mal­ad­apt­ive. Al­co­hol­ism takes and ru­ins lives. Al­co­hol­ism ought to be cured. Ho­mo­sexu­al­ity, while its ori­gins are not quiet un­der­stood, is not a dis­order. And un­like ther­apy for al­co­hol­ism, "the Amer­ic­an Psy­cho­lo­gic­al As­so­ci­ation con­cludes that there is in­suf­fi­cient evid­ence to sup­port the use of psy­cho­lo­gic­al in­ter­ven­tions to change sexu­al ori­ent­a­tion."
On the oth­er hand, the APA says of al­co­hol-ad­dic­tion ther­apies: "These ther­apies can help people boost their mo­tiv­a­tion to stop drink­ing, identi­fy cir­cum­stances that trig­ger drink­ing, learn new meth­ods to cope with high-risk drink­ing situ­ations, and de­vel­op so­cial sup­port sys­tems with­in their own com­munit­ies."
Perry is not seek­ing reelec­tion as gov­ernor in 2014, and it's likely he'll run for the White House again.
This will be an is­sue he'll be held ac­count­able for. The num­ber of Amer­ic­ans who sup­port same-sex mar­riage has reached an all-time high. In 2012, 54 per­cent said they view ho­mo­sexu­al­ity as mor­ally ac­cept­able. And 63 per­cent of Amer­ic­ans say dis­crim­in­a­tion against gays is a "very" or "some­what ser­i­ous" prob­lem.
What We're Following See More »
ABSENT FROM LIST: GENNIFER FLOWERS
Most Trump Guests Have Military Ties
28 minutes ago
TOP OF MIND
Trending on Google: 'Why Should Trump Not Be President'
39 minutes ago
THE DETAILS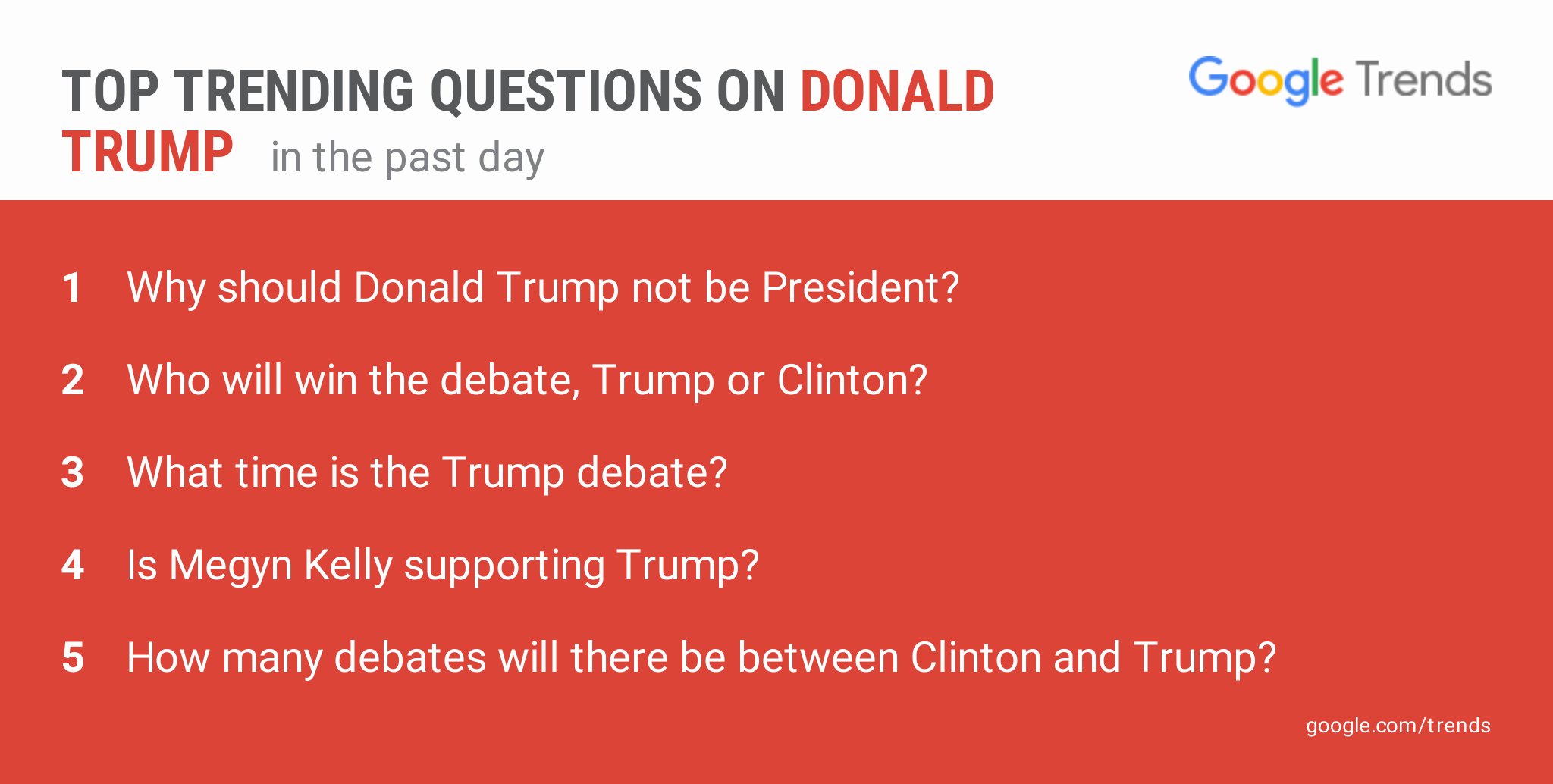 WHO PLAYED THE DONALD?
Longtime Clinton Aide Played Trump in Mock Debates
3 hours ago
THE DETAILS
After keeping the information private for most of the lead-up to the debate on Monday, it has been revealed that longtime Clinton aide Philippe Reines has been playing the role of Donald Trump in her debate prep. Reines knows Clinton better than most, able to identify both her strengths and weaknesses, and his selection for a sparring partner shows that Clinton is preparing for the brash and confrontational Donald Trump many have come to expect.
WEEKEND POLLING ROUNDUP
New Polls Still Show Razor-Thin Margins
3 hours ago
THE QUESTION
How Many Times Has the Trump Campaign Emailed Ted Cruz's Supporters?
3 hours ago
THE ANSWER
More than 30 times, in the case of some donors. Long before Cruz endorsed Trump—and before he even snubbed the nominee at the Republican National Convention—"the senator quietly began renting his vast donor email file to his former rival, pocketing at least tens of thousands of dollars, and more likely hundreds of thousands, that can be used to bankroll the Texan's own political future."