At Pres­id­ent Obama's second in­aug­ur­a­tion, as mem­bers of Con­gress took their seats, one of their ranks crouched in the aisle, apart from the crowd. He had a cam­era with a long lens on it, and he was snap­ping away like a pro. "He looked like a side­line pho­to­graph­er. He was cap­tur­ing everything," re­calls Freddy Barnes, a then–con­gres­sion­al aide who was help­ing to dir­ect law­makers to their places.
The cam­era-wield­ing con­gress­man was Sam Farr, a Cali­for­nia Demo­crat who, since ar­riv­ing on the Hill in 1993, has made an un­abashed pur­suit of doc­u­ment­ing scenes both mo­ment­ous and mundane. Farr's haul that day in­cluded a couple of lovely pho­tos of Obama with Sasha and Malia—and a paparazzo-worthy shot of Bey­on­cé and Jay-Z.
Farr first picked up a cam­era in Medel­lin, Colom­bia, when he was a Peace Corps vo­lun­teer just out of col­lege in 1964. Writ­ing let­ters was dif­fi­cult for Farr, who has dys­lex­ia; he was look­ing for some way to share his ex­per­i­ences when he came across a second-hand Olym­pus in a cam­era store. Col­or film was more ex­pens­ive to de­vel­op, so he star­ted send­ing home black-and-whites. "I found that I could be ex­press­ive with a cam­era," he tells me.
Since then, Farr has taken thou­sands of pic­tures, of sub­jects ran­ging from his garden to Pope Fran­cis. It is al­most im­possible to come in­to his or­bit without stum­bling in­to his view­find­er. I was not im­mune. Dur­ing our in­ter­view, one minute he was show­ing me his cam­era, the next he was hold­ing it about a foot from my nose and snap­ping away. (I haven't yet seen the res­ults.) Farr's press sec­ret­ary, Adam Rus­sell, tells me that be­fore he brought his girl­friend to the staff Christ­mas party to meet the con­gress­man for the first time, he warned her that she'd prob­ably find a cam­era in her face at some point in the night. When they ar­rived, Farr went right up to her and, with no in­tro­duc­tion, star­ted shoot­ing pho­tos. One of those pic­tures now hangs on their wall at home.
But Farr's tar­gets some­times don't know they've been pho­to­graphed un­til he hand-de­liv­ers a print of the shot, of­ten on the House floor. That's how Rep. Bar­bara Lee, who first met Farr when they were both serving in the Cali­for­nia state le­gis­lature back in the 1990s, found out about his habit. "I didn't even know this about him un­til he star­ted giv­ing me pho­tos, some of which I didn't know he took," Lee says. She now has a col­lec­tion of Sam Farr ori­gin­als that in­clude pic­tures from their trips to Cuba as well as snaps of her five grand­chil­dren. "He has a very good eye for put­ting people in con­text of what they're do­ing and where they are," she says.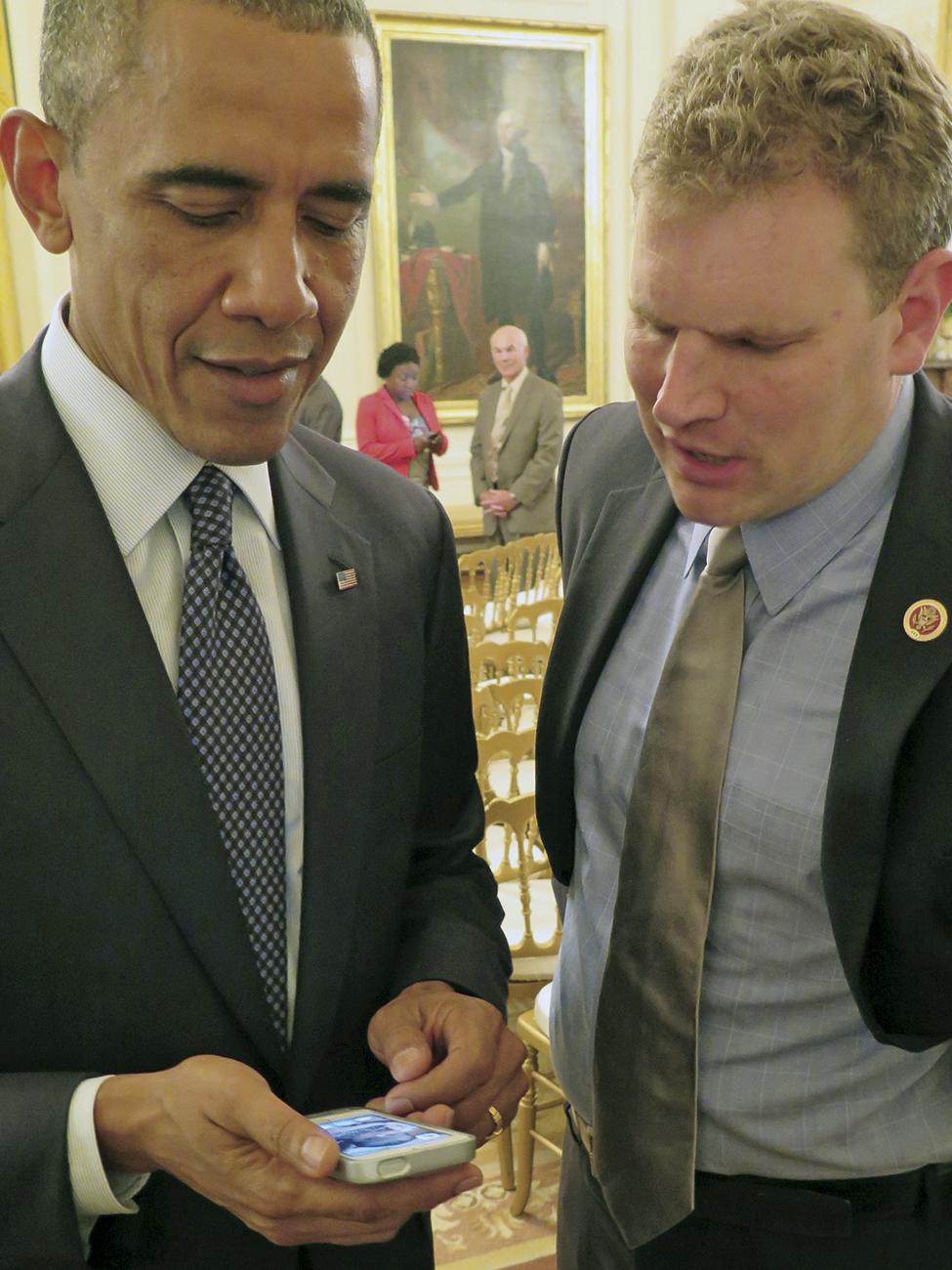 How do oth­ers on the Hill feel about Farr's self-ap­poin­ted role as un­of­fi­cial con­gres­sion­al pho­to­graph­er? Many say they genu­inely ap­pre­ci­ate it. Farr's staffers told me they en­joy com­ing in­to the of­fice to find can­dids of them­selves on their desks, and law­makers I spoke to said they're grate­ful to Farr for cap­tur­ing mo­ments that are light­hearted, or simply genu­ine, when most of what is me­mori­al­ized on film in polit­ics is ser­i­ous—or staged. "He gets shots you wouldn't or­din­ar­ily get. He gets the un­posed shots. Those are nice to have," says Rep. John Yar­muth of Ken­tucky.
It's also a pleas­ant sur­prise to hear from a fel­low mem­ber of Con­gress who isn't ask­ing for any­thing, says Rep. Dan Maf­fei of New York. "You're so used to get­ting, 'Can you co-spon­sor this?' or 'Come to this fun­draiser' or something else in­volving fun­drais­ing, to ac­tu­ally get an en­vel­ope and see nice pic­tures—it's nice to have a little bit of a per­son­al thing in Con­gress." (On the Hill, of course, the per­son­al is nev­er too far from the polit­ic­al; a Sam Farr can­did of Maf­fei show­ing Obama a photo of his new­born daugh­ter at a White House re­cep­tion in the sum­mer of 2014 was spun by Maf­fei's staff in­to a news story about two reg­u­lar fath­ers bond­ing over their daugh­ters. Farr got a photo cred­it.)
Farr no longer car­ries the old Olym­pus, but he isn't plan­ning to join the iPhone crowd any­time soon. His cur­rent day-to-day cam­era is a di­git­al Can­on G7X (with a slightly broken lens) that fits in his coat pock­et. His of­fice is dec­or­ated with pho­tos by An­sel Adams (a fam­ily friend and Farr's first-ever cam­paign chair, al­though Farr tells me he nev­er had the cour­age to ask the le­gendary pho­tog for point­ers); a corner cab­in­et con­tains piles of Farr's pic­tures that have been prin­ted and sor­ted, in­clud­ing a rub­ber-ban­ded stack of shots of Sen. Tom Ud­all of New Mex­ico and his wife on a trip to Africa. On a table across the room is an­oth­er set: pho­tos of Cali­for­nia's Big Sur high­way prom­in­ently stud­ded with tele­phone poles. Farr tells me he plans to show these to AT&T. ("It's sup­posed to be the most beau­ti­ful high­way in the world, but there's these damn util­it­ies," he grouses. "I'm gonna use these to poke them in the face and say, 'Hey, come on.' ")
When I ask Farr which of his pho­tos is his fa­vor­ite, he looks at me for a mo­ment and then tells me a story. Years ago, he says, he met fash­ion pho­to­graph­er Bruce Weber in New York and asked him, "How many great pho­tos can you take in a life­time?" Weber paused be­fore reply­ing. "I was like, Wow, he's really think­ing about this," Farr tells me. "And he fi­nally says, 'You're really lucky if you get one great pho­to­graph.' " Since then, "I think I've been try­ing to take it," Farr says. "I just haven't taken that photo yet."
An­oth­er thing Farr hasn't taken yet: a pho­to­graphy class. Through all his years as a shut­ter­bug, he has re­mained en­tirely self-taught, al­though that could soon change. "That's one thing I'm look­ing for­ward to in re­tire­ment," Farr tells me, just a week after an­noun­cing that he isn't run­ning for reelec­tion. "Get­ting some pro­fes­sion­al coun­sel­ing."
"Pro­fes­sion­al coun­sel­ing on pho­to­graphy or life in gen­er­al?" his press sec­ret­ary asks.
"On pho­to­graphy," Farr cla­ri­fies.
But first he has a New Year's res­ol­u­tion to keep. Be­fore he re­tires in 2017, he tells me, he plans to sort through the stacks and boxes in his apart­ment and of­fice to find the pic­tures he has taken on the Hill over the years. "I've got to find and dis­trib­ute all these con­gres­sion­al pho­tos," he says.