April 18, 2013, 4:10 p.m.
The tide is rising fast on Louisi­ana. A re­port late last year by the Na­tion­al Ocean­ic and At­mo­spher­ic Ad­min­is­tra­tion con­cluded that along the Gulf Coast, the sea level is sur­ging three times faster than the glob­al av­er­age — and stud­ies have for years singled out New Or­leans as the U.S. city most vul­ner­able to de­struc­tion from the ef­fects of cli­mate change. Louisi­ana's rap­idly rising threat from the sea was even the sub­ject of a 2012 Academy Award-nom­in­ated film, Beasts of the South­ern Wild, which de­picts an im­pov­er­ished com­munity dev­ast­ated by rising wa­ters and vi­cious hur­ricanes.
"Louisi­ana might just be the most vul­ner­able state in the coun­try, in terms of cli­mate change," said Barry Keim, the state's of­fi­cial cli­ma­to­lo­gist. It faces a double whammy: The sea level is rising above miles of slowly sink­ing and erod­ing wet­lands. That com­bin­a­tion means, Keim said, "re­l­at­ive sea-level rise here is off the charts com­pared to any­where else."
Cli­mate change presents Louisi­ana with an ex­ist­en­tial crisis — and its law­makers with a wrench­ing polit­ic­al prob­lem. The Pel­ic­an State is at the nex­us of two pro­foundly con­flict­ing forces: fossil fuels and glob­al warm­ing. Oil is the eco­nom­ic lifeblood of the eco­nomy in this state at the heart of the na­tion's off­shore oil- and gas-drilling in­dustry, home to thou­sands of jobs at re­finer­ies, ports, con­struc­tion firms, and oth­er in­dus­tries that to­geth­er ac­count for up to 20 per­cent of Louisi­ana's jobs.
That's why many of its law­makers don't even ac­know­ledge the sci­ence of cli­mate change, and why even those who do are op­posed to tough reg­u­la­tions on fossil-fuel pol­lu­tion. "It's just a shib­boleth that you have to pro­tect and shill for the in­dustry — that's the key to be­ing seen as tak­ing care of Louisi­ana," said Pear­son Cross, who heads the polit­ic­al-sci­ence de­part­ment at Louisi­ana State Uni­versity. "But it all takes place in the con­text of the most threatened coast­line in Amer­ica. There's this dis­junc­tion that ex­ists between the full-throated de­fense of the oil in­dustry and the vul­ner­ab­il­ity to the sad, and what ap­pears to be in­ev­it­able, rising sea levels and a chan­ging cli­mate."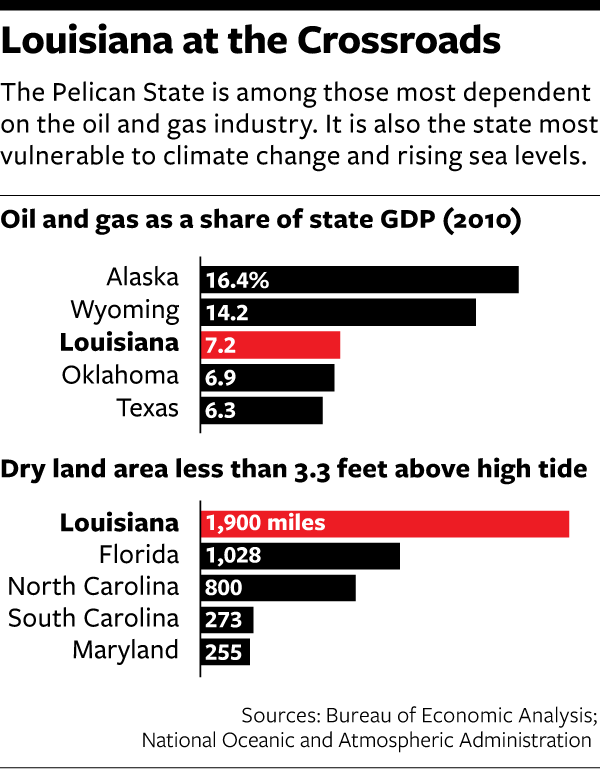 Louisi­ana's two sen­at­ors, Demo­crat Mary Landrieu and Re­pub­lic­an Dav­id Vit­ter, ex­em­pli­fy that bind. Both rank among the top 20 mem­bers of Con­gress who have re­ceived the most cam­paign con­tri­bu­tions from the oil and gas in­dustry since 1990, ac­cord­ing to the non­par­tis­an Cen­ter for Re­spons­ive Polit­ics. That al­le­gi­ance ap­pears to put them on a col­li­sion course with Pres­id­ent Obama's State of the Uni­on vow to fight cli­mate change, likely by us­ing the En­vir­on­ment­al Pro­tec­tion Agency to reg­u­late fossil-fuel pol­lu­tion.
As the new top Re­pub­lic­an on the Sen­ate En­vir­on­ment and Pub­lic Works Com­mit­tee, Vit­ter is tasked with lead­ing the fight against that agenda. His pre­de­cessor in that seat, Sen. James In­hofe of Ok­lahoma, for years ral­lied con­ser­vat­ive op­pos­i­tion to cli­mate-change policy, fam­ously call­ing cli­mate sci­ence a hoax. In past speeches, Vit­ter has called him­self a "big cyn­ic" on the sci­ence of glob­al warm­ing, and he has slammed EPA's "garbage can of reg­u­la­tions and fail­ures."
But those ex­pect­ing Vit­ter to be the new con­ser­vat­ive field gen­er­al in the war against reg­u­lat­ing car­bon were sur­prised when Gina Mc­Carthy, Obama's nom­in­ee to lead EPA, came be­fore the com­mit­tee last week. Vit­ter barely men­tioned cli­mate change, in­stead us­ing his time to ques­tion Mc­Carthy on EPA's e-mail prac­tices, fol­low­ing up on com­plaints that her pre­de­cessor, Lisa Jack­son, had used an ali­as ac­count. Did his si­lence mean Vit­ter re­cog­nizes the tight spot he's in? He wouldn't say. The sen­at­or doesn't speak to re­port­ers in the hall­ways of the Cap­it­ol. His of­fice de­clined a re­quest for an in­ter­view and re­fused to an­swer ques­tions on the sub­ject.
Landrieu, too, is in a pre­cari­ous po­s­i­tion. She's run­ning for reelec­tion next year — and as a Demo­crat in a Re­pub­lic­an state, she is viewed as one of the na­tion's most vul­ner­able in­cum­bents, one who is de­term­ined to pro­tect jobs at home. "Beat­ing up on the fossil-fuel in­dustry and the pet­ro­chem­ic­al in­dustry is not the way to move for­ward," she said in an in­ter­view. "I don't agree with the Obama ad­min­is­tra­tion and their ap­proach."
In the same breath, she was quick to praise Beasts, the Louisi­ana cli­mate-change par­able. "I ab­so­lutely thought it was spec­tac­u­lar "¦ and ac­cur­ate," she said. "I have been think­ing about sea-level rise since I ar­rived in the United States Sen­ate, and I've been a lead­ing pro­ponent of mit­ig­at­ing against it by build­ing levees that don't fail, restor­ing wet­lands, and lead­ing the fight to se­cure bil­lions of dol­lars for fund­ing ne­ces­sary to pro­tect the Gulf Coast."
In 2006, Landrieu pushed through a law that rerouted a por­tion of rev­en­ues gen­er­ated from off­shore drilling from the fed­er­al treas­ury to Gulf Coast states. So far, the law has sent $29 mil­lion to Louisi­ana, to be used in part to re­build the state's erod­ing coastal wet­lands that serve as pro­tect­ive bar­ri­ers against storm surge. It's pro­jec­ted that in the com­ing dec­ades the law could fun­nel up to $40 bil­lion in fresh funds to the state.
Vit­ter dif­fers from his con­ser­vat­ive col­leagues when it comes to gov­ern­ment aid. He's been a vo­cal ad­voc­ate of fed­er­al spend­ing to pre­vent and re­pair dam­ages from ex­treme weath­er and was one of a hand­ful of Re­pub­lic­ans who voted for the $50 bil­lion in aid for re­cov­ery from su­per­storm Sandy. This week, he in­tro­duced a bill to reau­thor­ize the $47 mil­lion Wet­lands Con­ser­va­tion Act. Earli­er this month, Vit­ter slammed Obama for cut­ting spend­ing on levy con­struc­tion in Louisi­ana in his fisc­al 2014 budget pro­pos­al.
It may be, however, that as the rising sea be­gins to dam­age Louisi­ana's eco­nomy, the polit­ics may start to change. Ac­cord­ing to the draft Na­tion­al Cli­mate As­sess­ment pre­pared by 13 fed­er­al agen­cies earli­er this year, cli­mate change is already pos­ing a threat to Louisi­ana's oil and gas in­dustry, as more-ex­treme storms dam­age off­shore in­fra­struc­ture and trig­ger pro­found eco­nom­ic con­sequences. Said LSU's Cross, "My guess is that after 2016, it's not go­ing to be a polit­ic­al is­sue any­more. By 2020, we're not go­ing to be able to be cli­mate den­iers."