March 21, 2013, 4:10 p.m.
SAN ANT­O­NIO — It's hardly self-evid­ent that you can trans­form a city's work­force by teach­ing 4-year-olds how to count to 10. But that's what a may­or­al task force here con­cluded last year. And voters found its ar­gu­ment so con­vin­cing they op­ted in Novem­ber to raise taxes by an eighth of a cent to pay for it. Just three months later, Pres­id­ent Obama pitched the same idea — uni­ver­sal pre­kinder­garten edu­ca­tion — in his State of the Uni­on ad­dress. Now this city is about to be­come a na­tion­al prov­ing ground.
Ask San Ant­o­nio's lead­ers what's hold­ing the city's eco­nomy back and you'll get a one-word an­swer: edu­ca­tion. The South Texas city weathered the re­ces­sion well, but its pop­u­la­tion of 1.4 mil­lion has less edu­ca­tion and a high­er dro­pout rate than sim­il­arly sized cit­ies. Civic lead­ers have wor­ried openly about work­force de­vel­op­ment and the school sys­tem since 2009, when a re­port from the Fed­er­al Re­serve Bank of Dal­las poin­ted out that only 24 per­cent of San Ant­o­nians 25 and older had a col­lege de­gree, com­pared with 27.1 per­cent in Phoenix and 38.8 per­cent in Aus­tin. So when May­or Ju­li­an Castro em­paneled his task force and in­struc­ted it to find the best use for the frac­tion­al tax hike, it re­com­men­ded all-day preschool. Plenty of fam­il­ies, Castro tells Na­tion­al Journ­al, "don't make enough to write a check for good pre-K, but they don't make so little that they can get it for free, either."
Stud­ies show that stu­dents who have bet­ter early-child­hood learn­ing ex­per­i­ences are more likely to gradu­ate from high school, and that early in­ter­ven­tions have the biggest im­pact on a child's cog­nit­ive growth. Obama and Castro both point to a dec­ades-long Chica­go study be­gun in 1985, which found that every dol­lar in­ves­ted in pre-K res­ul­ted in a roughly $7 re­turn on in­vest­ment. But the data aren't air­tight: The Chica­go sur­vey com­pares chil­dren en­rolled in a high-qual­ity pro­gram with those who would oth­er­wise have had no preschool; new­er stud­ies make com­par­is­ons with a pop­u­la­tion much like­li­er to get at least some pre-K, and these show much less dra­mat­ic res­ults. In­vest­ments for dis­ad­vant­aged chil­dren go much fur­ther than for those already up to speed, and a high-qual­ity pro­gram makes a much big­ger dif­fer­ence than the av­er­age pre-K of­fer­ing.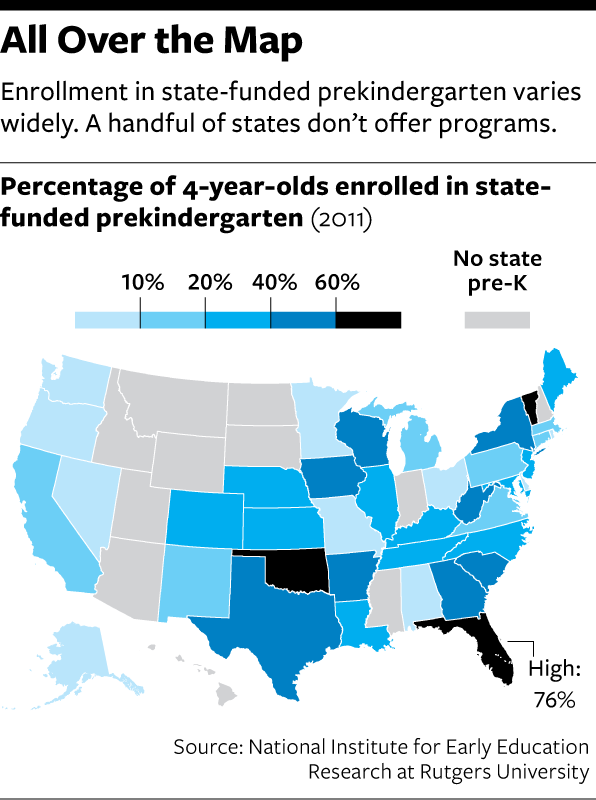 San Ant­o­nio is con­vinced that high-qual­ity pre-K is worth the in­vest­ment: Its plan, which launches this fall, em­phas­izes teach­er train­ing, par­ent­al in­volve­ment, and top-flight aca­dem­ics. The ma­jor­ity of its chil­dren are already en­rolled in some kind of pre-K pro­gram — wheth­er it's half-day, full-day, or home-school­ing — but, ac­cord­ing to City Hall, 5,700 chil­dren eli­gible for state-fun­ded pre-K aren't en­rolled in a full-day pro­gram. There is money to help im­prove their life­time po­ten­tial, and it's not be­ing used.
To cap­it­al­ize, Castro put his pan­el's re­com­mend­a­tion up for a vote. The bal­lot ini­ti­at­ive passed with 53 per­cent, thanks in part to a joint lob­by­ing ef­fort by mu­ni­cip­al and busi­ness lead­ers. It lifts the city's sales tax to the max­im­um al­lowed by the state, 8.25 per­cent, for eight years to serve 22,000 4-year-olds dur­ing that peri­od. It tar­gets both fam­il­ies who meet Texas pre-K eli­gib­il­ity cri­ter­ia — in­clud­ing those liv­ing at or be­low 185 per­cent of the poverty level; those learn­ing Eng­lish as a second lan­guage; those in foster care; those without homes; and those with mil­it­ary par­ents — and middle-class fam­il­ies, who will pay in­come-based tu­ition. The aim is to re­duce the achieve­ment gap in lan­guage by 25 per­cent, math by 33 per­cent, and lit­er­acy by 90 per­cent com­pared with eli­gible chil­dren who don't at­tend the cen­ters. Full-day pre-K could also jump-start the city's eco­nomy by al­low­ing more par­ents to re­turn to work.
Obama, who also cited the eco­nom­ic im­per­at­ive, won't have such an easy time with pre-K ac­cess. The pres­id­ent would ex­pand full-day eli­gib­il­ity to all fam­il­ies at or be­low 200 per­cent of the poverty level, and the Edu­ca­tion De­part­ment would push states to means-test it for middle-class fam­il­ies. Obama has yet to say how much his plan would cost, but in a polit­ic­al mo­ment so fo­cused on de­fi­cit-cut­ting, House Re­pub­lic­ans are not likely to find the cash.
And even if they could, crit­ics say the Chica­go Lon­git­ud­in­al Study is no longer re­li­able. A range of stud­ies shows a range of res­ults. But doubters es­pe­cially cite a Health and Hu­man Ser­vices De­part­ment re­port last Decem­ber in which Head Start, the ma­jor fed­er­al preschool pro­gram, does al­most noth­ing to im­prove a low-in­come child's edu­ca­tion­al tra­ject­ory. Head Start stu­dents dis­played ini­tial gains in lan­guage and lit­er­acy, but those all but van­ished by the end of third grade. Things look worse now partly be­cause most of today's con­trol group is en­rolled in pre-K, too, un­like in 1985 Chica­go, mean­ing the edu­ca­tion qual­ity in Head Start is no longer su­per­i­or to what chil­dren else­where re­ceive. (Head Start de­fend­ers note that the pro­gram's fund­ing dropped 13 per­cent from 2002 to 2008, dur­ing the peri­od of study.)
It's un­likely that ex­pan­ded pre-K in San Ant­o­nio (let alone a na­tion­al ver­sion) would re­turn 700 per­cent of the in­vest­ment, as the Chica­go study found. Even reap­ing a $3 re­turn for every dol­lar spent would be hard in a city where preschool en­roll­ment is com­mon. That's why this city's com­mit­ment to high-qual­ity schools over more middle-of-the-road ones will shape the out­come. As for Pres­id­ent Obama, he has yet to put his money where his mouth is.