April 17, 2013, 3:08 p.m.
What many con­sider to be the golden age of con­gres­sion­al over­sight can be summed up by a word coined but no longer heard much on Cap­it­ol Hill: "Din­gell-gram."
Some­times used with love and af­fec­tion — but more of­ten as­so­ci­ated with fear — the term de­scribes the many poin­ted missives sent to of­fi­cials in the ex­ec­ut­ive branch and else­where over sev­er­al dec­ades by Rep. John Din­gell, D-Mich., and his vaunted staff on the House En­ergy and Com­merce Com­mit­tee.
"Some­times, you write a let­ter as part of an in­vest­ig­a­tion; some­times, you write it just to find out what's go­ing on," said Din­gell, now chair­man emer­it­us of the com­mit­tee after 16 years as its chief and 12 as rank­ing mem­ber. "Some­times, you write that let­ter to see to it that the people who are be­ing in­vest­ig­ated know what they are do­ing. And, not in­fre­quently, it has the prac­tic­al ef­fect of scar­ing the day­lights out of them."
Dur­ing his prime years as chair­man, 1981 through 1994, Din­gell in­vest­ig­ated everything from sci­entif­ic fraud and Wall Street cor­rup­tion to Su­per­fund mis­man­age­ment and product safety. His in­quir­ies ex­posed waste and mal­feas­ance in gov­ern­ment, busi­ness, and aca­demia, and earned him a repu­ta­tion as one of the most power­ful mem­bers in con­gres­sion­al his­tory. Din­gell's de­lib­er­ate, pen­et­rat­ing in­ter­rog­a­tions led to Wash­ing­ton sem­inars on how to deal with a probe by his pan­el. "In so many ways, he's one of a kind," said Uni­versity of Cali­for­nia (Los Angeles) polit­ic­al sci­ence pro­fess­or Joel Aberbach, au­thor of Keep­ing a Watch­ful Eye: The Polit­ics of Con­gres­sion­al Over­sight.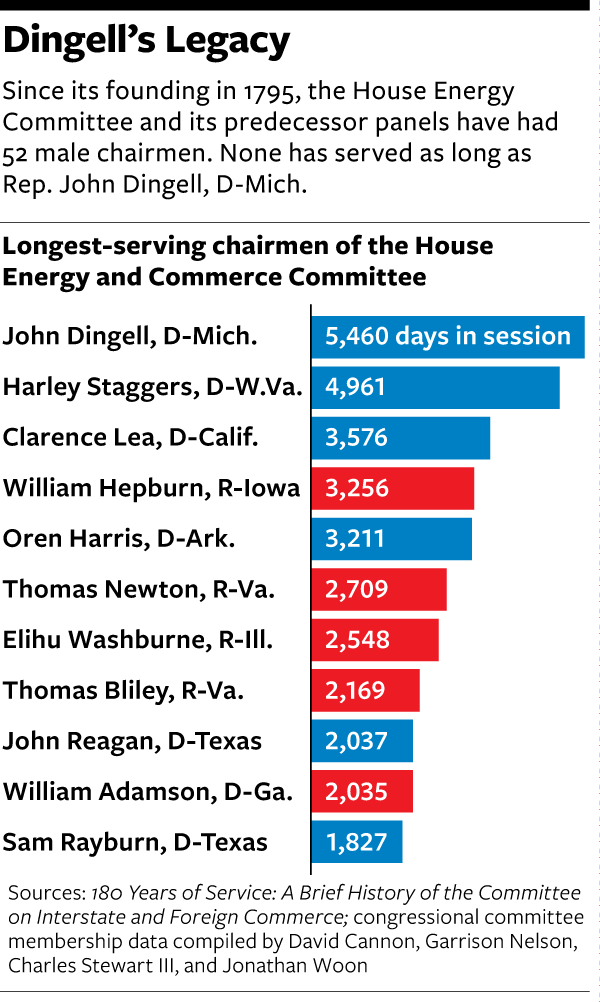 Din­gell, 86, is not only the longest-serving mem­ber of the House in U.S. his­tory (his first term began on Dec. 13, 1955), he also took over the seat from his fath­er, John Din­gell Sr., who served more than 22 years un­til his death in Septem­ber 1955. On June 8, as­sum­ing he re­mains in of­fice, Din­gell will sur­pass the re­cord of the late Sen. Robert Byrd, D-W.Va., as the longest-serving mem­ber of Con­gress, hav­ing put in 57 years and 157 days on Cap­it­ol Hill.
In terms of over­sight, Din­gell as chair­man trans­formed a long-neg­lected con­gres­sion­al func­tion in­to an at­ten­tion-get­ting pub­lic ser­vice, es­pe­cially when the even­ing news spot­lighted wit­nesses sweat­ing in the face of his re­lent­less ques­tion­ing. He was well on the way to be­com­ing a tax­pay­ers' hero in 1985 when he un­covered a Pentagon con­tract with what was then Lock­heed Corp. to sup­ply toi­let seat cov­ers for mil­it­ary air­craft at $640 apiece.
Aberbach com­pared the Michigan icon to the late Sen. Wil­li­am Proxmire, D-Wis., who fam­ously awar­ded "Golden Fleece Awards" to gov­ern­ment of­fi­cials who egre­giously wasted pub­lic funds. "The com­par­is­on is some­what un­flat­ter­ing," Aberbach said, be­cause "Din­gell-grams" were far more than a pub­lic-re­la­tions gim­mick — the let­ters res­ul­ted in policy changes, new laws, and oc­ca­sion­ally pris­on terms for wrong­do­ers.
"I'm an old tri­al law­yer and pro­sec­utor," Din­gell said. "I un­der­stand our unique his­tory for folly. I've stud­ied what the Con­gress does, and one of the most im­port­ant func­tions is over­sight — to see that money is prop­erly spent, that the laws are faith­fully im­ple­men­ted, to see to it that agen­cies do what they're sup­posed to."
Former Rep. Bart Stupak, D-Mich., be­came the Over­sight and In­vest­ig­a­tions Sub­com­mit­tee chair in 2007, after Demo­crats re­gained con­trol of the House and Din­gell again be­came En­ergy and Com­merce chair­man but op­ted not to also run the sub­com­mit­tee as he had earli­er. Stupak ac­know­ledged he was filling big shoes — and not just be­cause of the 6-foot-3-inch frame that earned Din­gell "The Truck" and "Big John" as nick­names. "He is very thor­ough," Stupak said. "His ques­tions are al­ways well put, which is im­port­ant when you only have five minutes to get an an­swer."
Din­gell fought in World War II and prac­ticed law in De­troit in the post­war years. He said he nev­er an­ti­cip­ated serving in Con­gress but was urged to run in the spe­cial elec­tion after his fath­er's death. He im­me­di­ately took on his fath­er's top cause, in­tro­du­cing a bill call­ing for uni­ver­sal health care cov­er­age at the start of every Con­gress.
An avid hunter, Din­gell has al­ways been an ad­voc­ate for both gun rights and en­vir­on­ment­al pro­tec­tion, au­thor­ing the En­dangered Spe­cies Act of 1973. And as a rep­res­ent­at­ive from the Mo­tor City, he has long been the auto in­dustry's go-to man in Wash­ing­ton.
But he is far from a single-is­sue law­maker. The list of prob­lems he has tackled from the helm of En­ergy and Com­merce in­cludes cli­mate change, auto safety, health care costs, product li­ab­il­ity, cor­por­ate cor­rup­tion, tele­com­mu­nic­a­tions mono­pol­ies, lend­ing fraud, and tox­ic waste.
"I try to do things," Din­gell said. Re­cent ex­amples in­clude bills to im­prove the safety of food, phar­ma­ceut­ic­als, and pipelines — all of which were passed with Re­pub­lic­an co­spon­sors after months of com­mit­tee hear­ings and in­vest­ig­a­tion.
"I al­ways used over­sight as a tool to make things change," he said, "either by mak­ing people out there re­form them­selves, or by do­ing something equally im­port­ant, which was get­ting le­gis­la­tion that would cor­rect the prob­lem."
Asked about his style as chair­man, de­scribed by some crit­ics as bul­ly­ing, Din­gell said, "I rarely ar­gued with any­body, I just asked ques­tions. When they found they couldn't an­swer the ques­tions, all of a sud­den there'd be a change in be­ha­vi­or or a change of policy."¦
"Some­times we didn't need le­gis­la­tion be­cause we'd write "˜Din­gell-grams' "¦ and these let­ters would get what we needed in the way of an­swers about what was go­ing on. If we caught people ly­ing, we'd haul them in be­fore the com­mit­tee. But we al­ways did it with cour­tesy and re­spect."