For years, con­gres­sion­al Re­pub­lic­ans have ob­served an an­nu­al rite of spring, as pre­dict­able in Wash­ing­ton as cherry blos­soms and tour­ist hordes. As gas­ol­ine prices climb ahead of Me­mori­al Day, fol­low­ing a long­stand­ing his­tor­ic pat­tern, the GOP dusts off its tra­di­tion­al en­ergy talk­ing points, call­ing for new oil drilling and slam­ming Demo­crats for block­ing en­ergy pro­duc­tion.
Al­though it's a chest­nut, the spring­time drilling push tends to res­on­ate with voters, pegged as it is to gas­ol­ine prices — the ul­ti­mate pock­et­book is­sue. The mes­saging al­most nev­er trans­lates to le­gis­la­tion — but it has politi­cized the is­sue of en­ergy ahead of re­cent elec­tions.
This year, the GOP has the per­fect en­ergy is­sue to push: the Key­stone XL pipeline, the con­tro­ver­sial $7 bil­lion pro­ject that would bring oil from the Ca­na­dian tar sands to re­finer­ies on the Gulf Coast — sub­ject to ap­prov­al from Pres­id­ent Obama.
But Re­pub­lic­ans don't have the same his­tor­ic pres­sures on their side: After spik­ing in the first quarter of the year, gas­ol­ine prices are ac­tu­ally drop­ping, from a na­tion­al av­er­age of $3.83 for a gal­lon of reg­u­lar the week of March 4, to $3.71 last week. Pro­jec­tions by the En­ergy In­form­a­tion Ad­min­is­tra­tion, the stat­ist­ics arm of the En­ergy De­part­ment, in­dic­ate that gas­ol­ine prices could keep drop­ping throughout the sum­mer.
The price drop is due to a mix of in­creased sup­ply and flat de­mand, said Doug MacIntyre, dir­ect­or of the Of­fice of Pet­ro­leum and Bio­fuels Stat­ist­ics at EIA. In Texas, the com­pany Mo­tiva is dra­mat­ic­ally ex­pand­ing an ex­ist­ing gas­ol­ine re­finery, bring­ing more fuel to the mar­ket.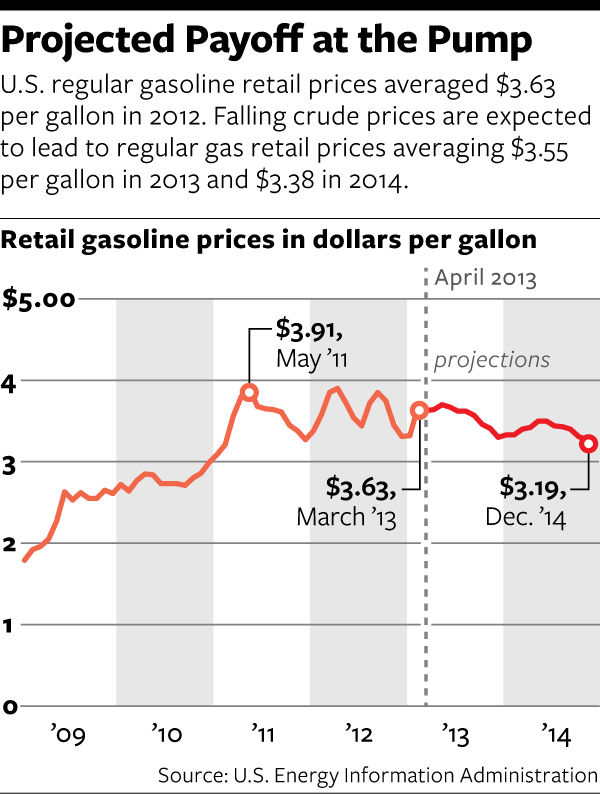 Mean­while, de­mand is lower­ing in part due to an in­crease in auto fuel-ef­fi­ciency stand­ards, the res­ult of a man­date by the Obama ad­min­is­tra­tion's En­vir­on­ment­al Pro­tec­tion Agency. And de­mand is also flat, said MacIntyre, "be­cause of the non-ro­bust eco­nomy."
There are signs that ab­sent the pres­sure of spik­ing gas­ol­ine prices and elec­tion-year polit­ics, law­makers may cau­tiously con­sider mov­ing from en­ergy mes­saging to le­gis­lat­ing.
That doesn't mean they won't first make a vali­ant ef­fort at mov­ing the mes­sage. House Re­pub­lic­ans are mov­ing ahead this week with their an­nu­al en­ergy push: The House En­ergy and Com­merce Com­mit­tee will hold a hear­ing on a bill that would strip the pres­id­ent of his au­thor­ity to per­mit the Key­stone XL pipeline, giv­ing the fi­nal au­thor­ity in­stead to Con­gress. The bill would also grant im­me­di­ate ap­prov­al of the per­mit. Re­pub­lic­an lead­ers ex­pect to bring the bill to a House floor vote shortly be­fore Me­mori­al Day week­end.
Rep. Lee Terry, R-Neb., the bill's au­thor, kicked off the spring­time GOP en­ergy-mes­saging ef­fort last week, in the House Re­pub­lic­ans' weekly ad­dress.
"[T]he Obama ad­min­is­tra­tion con­tin­ues to block Key­stone, us­ing every bur­eau­crat­ic trick and ex­cuse in the book. It's now been more than 1,600 days since the ini­tial per­mits were filed for build­ing the pipeline," he said. "To put that in per­spect­ive, it took the United States a little more than 1,300 days to win World War II, and it took Lewis and Clark about 1,100 days to walk the Louisi­ana Pur­chase and back. The Key­stone XL pipeline is a no-brain­er."
Over the past two years, House Re­pub­lic­ans have also re­peatedly at­tacked the ad­min­is­tra­tion's EPA reg­u­la­tions on coal-fired power plants, de­scrib­ing them as "job-killing reg­u­la­tions" that rep­res­ent gov­ern­ment over­reach. EPA is cur­rently craft­ing cli­mate-change reg­u­la­tions that could freeze de­vel­op­ment of fu­ture coal-fired power plants, though people close to the agency say these aren't likely to be is­sued un­til after the 2014 midterm elec­tions. Without a slate of EPA rules to fight — yet — and without the pres­sure of rising gas­ol­ine prices, Terry said law­makers might, "this sum­mer, have a little breath­ing room and time to work on some real, big-pic­ture en­ergy policy."
Mean­while, House Ma­jor­ity Whip Kev­in Mc­Carthy, R-Cal­if., is as­sem­bling a group of mem­bers in­to a "House En­ergy Ac­tion Team," or HEAT, in or­der to de­vel­op en­ergy-themed talk­ing points.
In years past, the HEAT has ag­gress­ively pushed le­gis­la­tion to ex­pand drilling and roll back or block reg­u­la­tions.
And while drilling is cer­tain to play a cent­ral role, Mc­Carthy also said he'd like to forge mes­sages in areas where mem­bers might ac­tu­ally find agree­ment with Demo­crats — in­clud­ing en­ergy ef­fi­ciency and re­new­able en­ergy.
"En­ergy is the place where you can grab and piece to­geth­er bills, find an area where you can reach an agree­ment," he said. Mc­Carthy ac­know­ledged that that might mean di­al­ing down on rhet­or­ic. But, he said, "It's not ideal to just do a piece but it's bet­ter than not do­ing any­thing."